MonaLisa Twins Biography
Skip biography for Press Quotes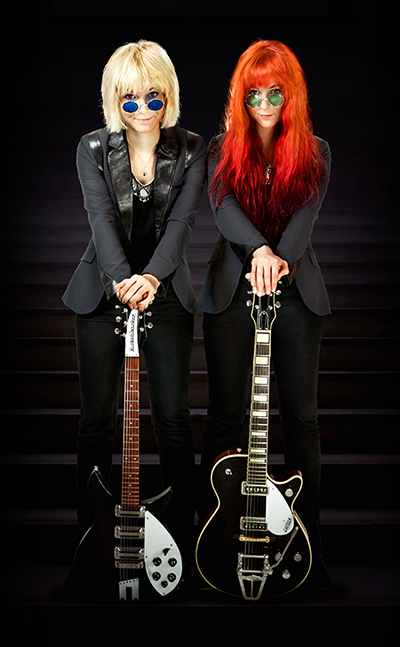 The MonaLisa Twins bring back the song-writing that took off in 1963 ...
They are one of the very few modern artists who write original songs in the 60s Beat music tradition, redefining and reviving the genre with an authentic, fresh twist without sounding pop-ish or trivial. Their signature features are their wonderful close harmonies and the wiry, bright guitar sound. Combined with a mix of humour and depth in their music so much reminiscent of the 60s they naturally speak to a wide range of international audiences.
On their debut album "When We're Together" (2012), which they recorded at the mere age of 16, they present finest Rock 'n' Roll and Beat music, skilfully venturing out in Psychedelic, Folk and even Latin genres, inspired by the likes of The Beatles, Bob Dylan or Simon & Garfunkel.
Their single "That's Life" (2015) with its astute lyrics, funky guitar-solo and classical string arrangements gives a promising foretaste of what is to come on their second album which they are currently working on.
While listening to and playing all different kinds of music genres in their youth real-life twins Mona and Lisa stayed with the 60s song-writing style, something they think is way too much neglected these days:
"We aim to write songs which we ourselves would like to listen to and we always loved the spiritual, humorous and true-to-life mindset of the 60s. However we aren't nostalgic about it or trying to be "retro". We simply believe that something great had been started in this era that is worthy of being continued."
But how? They were born into a country (Austria) that celebrated classical and folk music and that was rather detached from the easy going 60s spirit one associates with England or the States. They picked their parents wisely though. Together with their father, a musician/song-writer/producer, and their step-mother they fully concentrated on the twins' music and over the years built up a professional, full-time family business.
9 years, 4 albums, 92 music videos, 10 million YouTube views, tens of thousands of subscribers and a lot of blood, sweat and tears later, they are living and working in the UK. With a host of live shows in Europe, the USA and Australia, a UK tour with Steve Harley & Cockney Rebel, a recording session in Abbey Road Studios, a weekly residency at the legendary Cavern Club and regular features on BBC and international radio stations under their belt, they have come a long way since daydreaming about the future at the age of 13.
What's really remarkable is that they did it their own way. Every video they released, every song they've written, every album they put out, every blog post on their social media and so much more comes from the collective brain juice of their small but mighty team. (Sound of Music 2.0? :-) ) And that doesn't mean that they don't want or need the help of other people, but it means they're willing to work twice or thrice as hard so they don't have to give away their creative freedom or values for any short term success. They created their own label and took DIY to a whole new level.
If you, too, love and treasure the quality song-writing and positive, witty spirit that exploded in the 60s, the MonaLisa Twins might be the band you've been waiting for for the last 40 years.
They have received praise from many music icons of the "Swinging Sixties". Listen to what others are saying about The MonaLisa Twins! You might enjoy them as much as your 60s idols do ...
"The MonaLisa Twins will be big, really big.
I want them in my touring band!"
Steve Harley (& Cockney Rebel)
-
For Tour dates and tickets click here
"I like your approach to your music! And your own songs on your CD 'When we're Together', especially track 1 and 5."
Donovan
"The Mona Lisa Twins take the music world by storm. 2014 the 20-year-old twins were the star attraction at International Beatle Week, drawing in crowds from across the globe."
Liverpool Echo
"Dese guys are gud. 2 talented, musical, happy, gud looking, blonde & orange chaps, who not only play their own instruments, but also have close Everly Brother style harmonies that close sisters do so naturally. They'll go far."
Mike McGear McCartney (Paul McCartney's brother)
"Yeah, they're really good. Should bring them to play the Casbah sometime."
Vincent "Roag" Best (Pete Best's brother & Neil Aspinall's son)
"Wow! wonderful guitar work and harmonies are beautiful. The MonaLisa Twins sometimes sound like 3 people singing, fantastic! Would love to hear them sing a Melanie song. Lots of artists have covered my hits but I think it would be so cool if the MonaLisa Twins would give this a listen and try it out ("Taking a Bath").
Thank you Tim Quinn & MonaLisa Twins!
We'll all meet down the road <3
Love,
Melanie"
Melanie Safka
"If this was 30-plus years ago and I was back in the PR business, I do believe I'd be pitching for the MonaLisa Twins account. Their harmony work is extraordinary. Don't let them get swallowed up in the contemporary fashion for smothering true talent in a mess of over-produced choreography and outrageous clothing, they don't need that stuff, their musicianship speaks (sings?) for itself!"
Tony Barrow, Beatles press agent 1962-1968
"In the days of Mersey Beat my criteria was TALENT. The national music papers would only feature chart artists, I would give my covers and stories to people who I considered talented – apart from Mersey artists, I'd cover talented acts performing in Liverpool such as the Hollies, the Animals, Herman's Hermits, Dave Berry and others. If I was publishing Mersey Beat today, the Mona Lisa Twins would be on the front cover. They don't need multi-million pound videos or strong-arm tactics from major record companies, they already have what a lot of today's chart artists haven't– talent in abundance, along with charisma, fabulous harmonies, presence and modesty (the lack of conceit or vanity, just the confidence in themselves and the happiness that brings). I will be watching their progress with great interest. "
Bill Harry, college friend of the Beatles and founder of the "Mersey Beat" newspaper
"They're fabulous, sure as you're born! I would seriously enjoy playing on their next project."
John Sebastian of The Lovin' Spoonful
"The MonaLisa Twins? Wonderful music."
Albert Lee, world-renowned british guitarist and producer
"Love this act. Love their choice of material. I am sure they will go wherever they want to go as artists! Please let me know how they wander upwards towards fame and fortune. Is there a fan club?"
Peter Noone of Herman's Hermits
"I love the MonaLisa Twins' version of 'Bus Stop'. It sounds so fresh and the video is great. These girls will go far."
Graham Gouldman 10cc, who wrote the Hollies' song "Bus Stop"
"Have listened/watched YT vids of God Only Knows, San Francisco and Hotel California - they are incredible. I'll do all I can to spread the word about the MonaLisa Twins."
Johnnie Walker, BBC Radio 2 (national radio in UK)
"Get HAPPY: Pharrell Williams has nothing on the harmonic convergence of the misnamed MonaLisa Twins - misnamed because their retro-Sixties sound leaves no confusion as to mood; rather, their smiling sound is infectiously, deliriously upbeat, with crisp arrangements and instrumentation to match the Everlyettes vocals."
Dalton Delan, Executive Producer of "In Performance at the White House"
"I'm hugely impressed."
Bob Merlis/M.F.H. - L.A. based representative of the Jimi Hendrix Estate
"They will be the next super group."
William Overman, USA Musicians' Agent for 40 years
"The likes of Bob Dylan or Sir Paul McCartney wouldn't turn down performing one of these songs"
Music News
"Their skill and ability to craft and play retro rock n' roll songs is borderline genius. Musically, this album really surprised me as it manages to both be almost immediately accessible as well as satisfying with real weight. This is what a distinctive, alternative pop album should be like. "
Jamsphere
"These girls have some great things ahead of them if this is what they are capable of at 19. The Next Big Thing? The Mona Lisa Twins"
Soletron
"I was pretty shocked after hearing the guitar playing on their album "When We're Together" that these two cute Austrian girls are only 19. The guitar work is more intricate than what was on the radio during the sixties. Their strength is their songwriting, their voices are never over emote and stay honest in their inflections."
Hiplanta Music Blog
"The MonaLisa Twins are bringing back the POP in pop. They present pop the way it used to be: sweet, harmonic, with easy breezy lyrics that are impossibly catchy. The two have managed to capture the essence of what art is and what it means to people."
Celebrity VIP Lounge
"Big things could be on the horizon for the MonaLisa Twins, because at 19, they are already accomplished musicians and have a firm direction for their music. Harmonies seem to come natural to them and if they continue to write slick, catchy pop songs that you can tap your feet to, then there's no reason why they can't keep the sound of the 60s alive for a good time to come."
What Culture
If you feel like writing us a message, please do!
top of page