Booking the MonaLisa Twins
The MonaLisa Twins are always happy to show their arts live as well. Be it pubs & clubs, parties or festivals, corporate galas or private events, indoor & outdoor, we're in!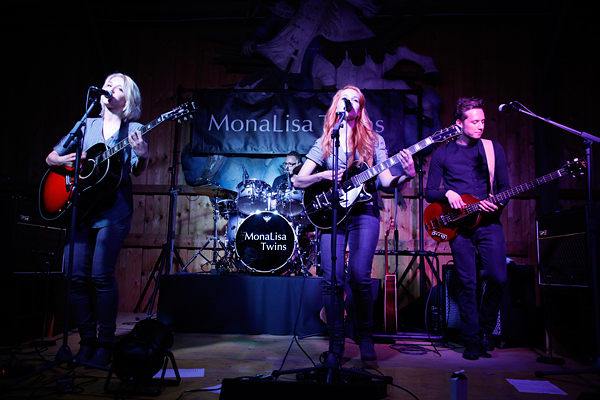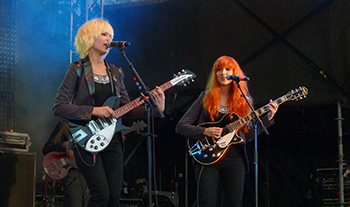 What we play ...
We are proud to perform our own songs of our debut album "When We're Together". True to this style we mix them with covers of world-famous classics of our musical heroes (Beatles, Byrds, Doors, Bob Dylan, Jackson 5, Simon & Garfunkel, ...). As for the interpretation of the songs we try to stick to the originals where possible as we consider the sound and feeling of this era unsurpassed. However with the two femal lead voices it is developing a strong personal touch and the feedback of our fans tells us that they like exactly that.
... and what we don't
Please understand that we are not a commercial "Top 40" band fulfilling song wishes straight through all musical genres and charts! We are committed to the 60ies style and are mainly playing our own music - more or less embedded in well-known cover songs of this era. We focus on backbeat and rock 'n' roll, influenced by folk, latin and psychedelic.
Playing time and band setting
We are writing music for a classical 60ies band lineup: 2 guitars, 2-3 voices, bass and drums. So when you are booking us for a live show we are going to play in exactly that setting. Our repertoire can cover an over-all playing time of 1 to 4 hours that we use to play in 1 to 3 sets with short breaks in between. In this context we are putting together our setlists, of course in alignment with the kind of event and special wishes.
However there are many people who love to hear us unplugged (with acoustic guitars and 2 voices) too so we have arranged many songs for a duo setting as well. Sometimes we integrate them as an "Unplugged Special" in our band concerts or play them at occasions where this formation suits an event better with regard to space or atmosphere.
Music Videos & Audio Clips

All official music videos and live concert recordings on our YouTube channel
Further Information
Booking request
If you think that we and our music would go well with your event and audience, please don't hesitate to send us a booking request. We ask you to include the following data, so that we are able to make you a quick and informative quote:
Date and time of event
Preferred over-all playing time
MonaLisa Twins as a band or as a duo
Kind of event and location/address
Estimated size of audience
Size of area to be treated with sound
What sound/light system (PA) is available or shall we offer to bring our own equipment incl. audio engineer
top of page