MonaLisa Twins News-Blog
You did it - While My Guitar Gently Weeps was meant to be our first video that reaches this crazy milestone.
Recording this cover was a totally spontaneous idea we had after planning a trip to Germany to visit the Musikmesse in Frankfurt (a huge music fair). We wanted to look at and test certain guitars for our future MLT sound there, so it seemed like a fitting, humorous idea to film the video during our trip.
If someone had told us back then that this on-a-whim idea would be watched a million times, 6 years and 1 day later, we'd have laughed. Yet here we are. And we're laughing – in the best way possible :)
Thank you, George Harrison, for this incredible song with words that couldn't describe the world we live in in a more poetic way.
While our guitars gently weep,
Mona and Lisa
"A World Without Love" - New Video!
We've always loved the melody and bittersweetness of the Peter & Gordon song A World Without Love. It was originally written by Paul McCartney when he was just 16 years old! We used to play this song live many years ago. Recently we decided to record it in the studio as a Birthday present for a very dear friend.
The video was done on a playground nearby, and as you can imagine we had to deal with loads of children trying to get in the frame and making it "on TV". Also, to no surprise, temperatures were just above the freezing point but you know by now that we NEVER film outside when it has bearable temperatures. But at least the birds were singing in tune :)
We hope you enjoy our version of "A World Without Love"! Please feel free to share it with your friends and leave a comment.
As always, thanks for reading and listening, have a wonderful day and stay groovy,
Mona and Lisa
Happy New Year 2017!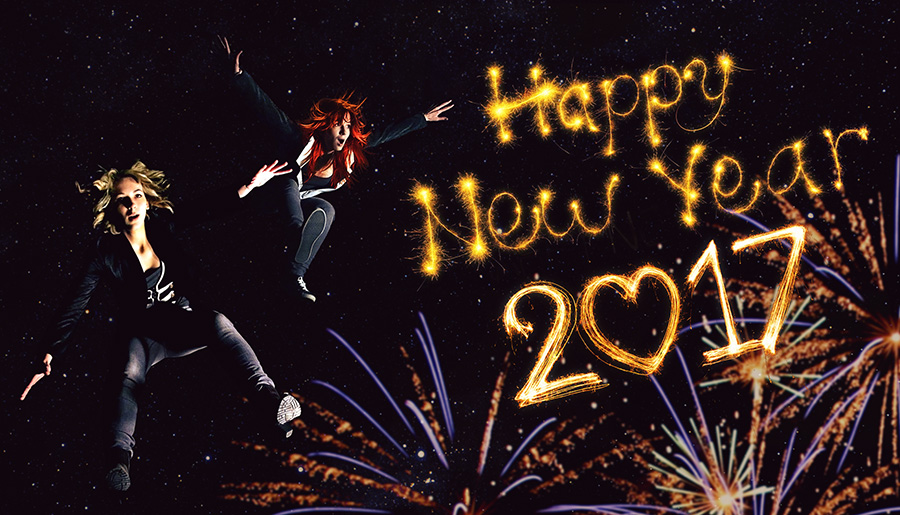 Here we are: the last day of 2016 is finally upon us and boy, what a crazy year that was! It seems that for many this won't be one fondly remembered. But despite of all the devastating world events and the terribly sad losses for the world of music and entertainment we do want to go over and cherish all the good things that happened this year in the MLT universe that were for the most part made possible because of you guys!
We started off the year by doing something that we haven't done in over 5 years - we took two weeks off to travel to a distant place on the Canary Islands to finish writing for our next album. We came up with 11 songs which we've since polished and recorded (for the most part) over the last 12 months.
We have to admit, we originally wanted to get our new album out this year but as life sometimes goes, 2017 will have to become the year of new music. That makes us look forward to it all the more (and gosh, are we excited about the release!).
In April we had the chance to play at the Mick Ronson Memorial Charity Concert and to record at the Abbey Road Studios for a project with Steve Harley which was, to put it simply: amazing, exciting, inspiring and slightly surreal.
Speaking of amazing, exciting, inspiring and slightly surreal, we also reached 10 Million channel views and 30 000 subscribers on YouTube.
We set up a completely new online/e-mail/communication system which allows us to stay in touch with you all in a much more direct way. Our mailing list (YOU!) is now 8 times as big as it was in June, and by that we got to meet SO many new people and fans. Working on stuff like that unfortunately eats up a lot of time "behind the scenes" but it's totally worth it as it will allow us to keep you posted on all things MLT much better and faster in the future!
We've been part of this year's International Beatle week festival in August again which was as much fun as ever. We are also proud to say that we've played our 100th show at the most famous club in the world, the Cavern Club on Mathew Street, Liverpool, and finally finished our great two-year-residency there with a big bang. We cleared our calendars and made one thing the new top priority: creating new original music and setting up a good system to become more efficient with future releases.
We played some truly memorable shows, were on radio shows all over the world, met some very special people from everywhere on this globe, worked with some of our musical heroes, learned and expanded our creative and technical skills, adopted a healthier lifestyle (goodbye McDonald's, it was nice hanging out with you but it couldn't go on like this), formed new friendships and made memories for life.
As always, there is no year without its ups and downs and while overall this hasn't been the smoothest of years, it was another 12 months that were filled with countless magical, joyful, touching and inspiring moments that have taught us an awful lot again.
2017 will be the year of new music, and we thank you all for sticking around and your ongoing support. We hope we can give you back all the joy that you guys bring to us each and every day by sending messages/letters/parcels, by enjoying/playing/covering our music and spreading the word.
Let us know your personal highlights and let's celebrate together!
2017 - bring it on!
Mona & Lisa & the MLT family
Happy Holidays to everyone!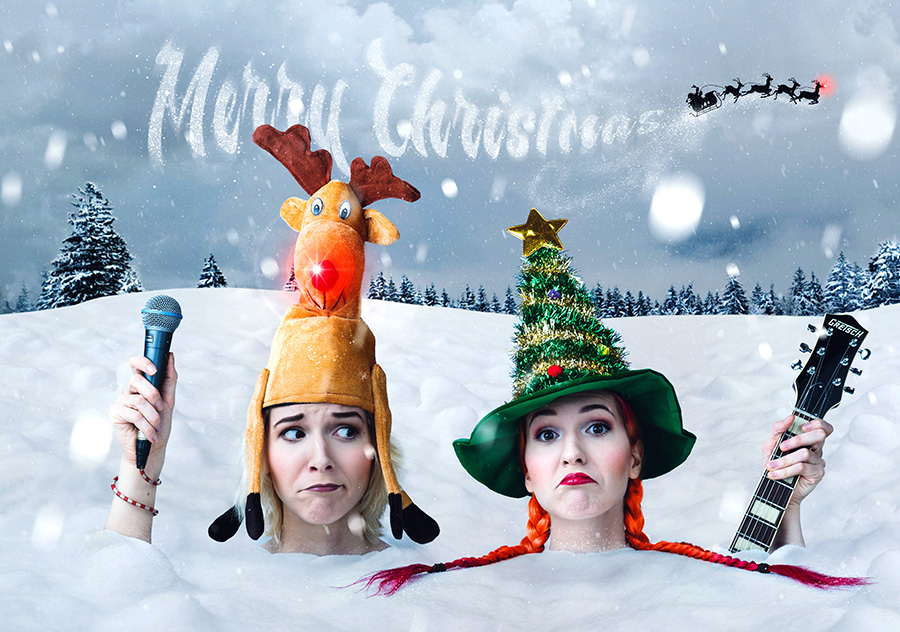 Hello ho ho,
We hope you had a magical weekend filled with love, laughter, music, food and joy whether you were celebrating Christmas, Hanukkah, something else or nothing at all! Personally we want to send our festive love to every single one of you all over the world..
Enjoy the week ahead and stay away from the deep snow,
Mona & Lisa
Only a few more days left until Christmas! We hope you're all feeling very festive already and have your presents sorted, roast dinners planned, gifts wrapped (... if you're anything like us go for SQUARE presents) and plans made for the big day.
We surprised ourselves this year and finished all the shopping last weekend already, ha! This gives us time to soak in the "Most Wonderful Time Of The Year" without breaking out in a cold sweat every time we realize we still have to get presents. Good times!
And of course we prepared a little video for you all, our anual present to you :-) ENJOY!
Please let us know how you liked it and feel free to share it with your loved ones! In case you missed last year's video "Most Wonderful Time Of The Year" you can go watch it here for a double dose of holiday cheer!
You'll hear from us again at the end of the year but meanwhile we hope you are spending the holidays with your family and friends and are enjoying the wonderful Christmas season. Even if you aren't celebrating Christmas we hope you are having a great week ahead.
Lots and lots of groovy, christmassy love,
Mona & Lisa
St. George's Hall, Liverpool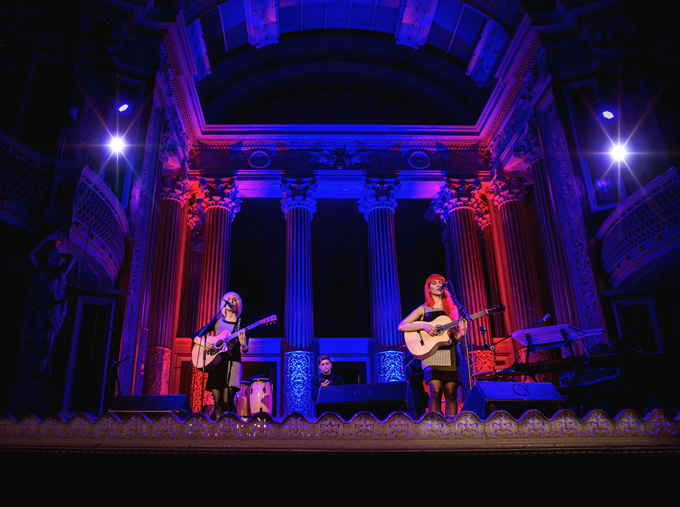 This has been a memorable week on many levels! Yesterday we played a buzzing gig opening up for Steve Harley as an acoustic four-piece and later joined his band for the entirety of the show. Thanks Charlie and Callum for great Cajon-ing and Bass-ing in the absolutely stunning St. George's Hall in Liverpool.
As always, big thanks to Steve Harley for having us and introducing us to his loyal fan base. We also really enjoyed seeing so many MLT fans in the crowd. Now that we are not playing our weekly gig at the Cavern Club anymore it was great to see so many of you following us to different venues, and we want to say a thanks to everyone in particular who came to see us yesterday. We love you all. What a blast that gig was!
Groovy times,
Mona & Lisa
Black Friday Discount -20 % in our Web-Shop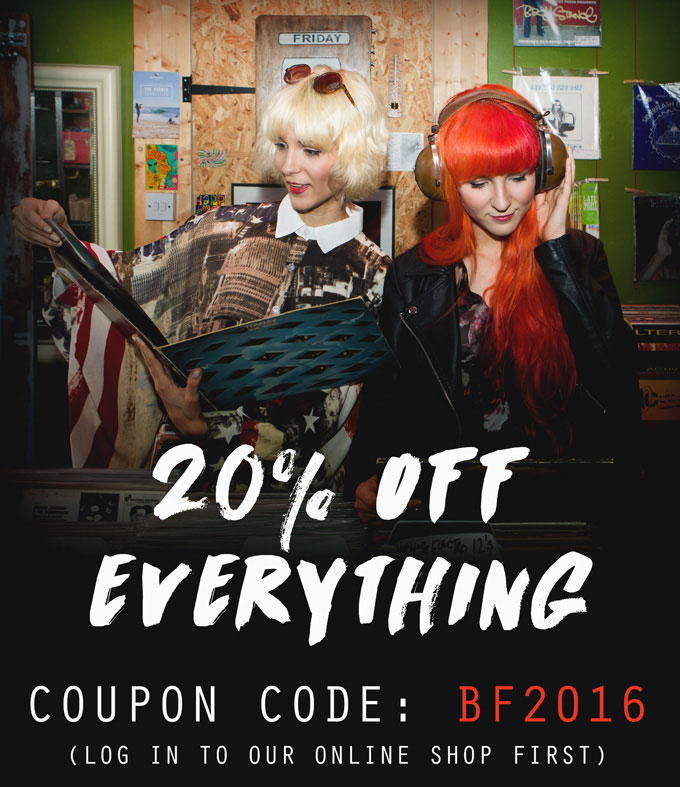 Get 20% off everything in our webstore!!!
We're joining in on the Black Friday craze! Just log in to your account, make your purchase and enter the coupon code "BF2016" at check-out. It will be valid until the end of Sunday 
Groovy shopping,
Mona & Lisa
We're celebrating 30 000 YOUTUBE SUBSCRIBERS - New Video!
You did it - and 29 999 others did it too ...
Thank you for THIRTY THOUSAND YouTube subscriptions!!!
To give something back as a 'Thank You' we think it's time for a new upload. This is our rendition of the beautiful Gaelic folk tune (made famous by Cat Stevens/Yusuf Islam) 'Morning Has Broken'. We love its hauntingly beautiful melody and melodic chord progression, and filming it in the sandy dunes of Merseyside coast really seemed to fit the atmosphere.
Lots of love to all of you. We are proud of this great family the MonaLisa Twins community has become!
Stay groovy,
Mona & Lisa
Opening for/Playing with Steve Harley at St. George's Hall, Liverpool
In a week's time we'll have the pleasure of opening for Steve Harley & Cockney Rebel at the St George's Hall, Liverpool on the 24th of November as an acoustic 4-piece and will then join Steve's band for the entirety of his performance on guitar, uke, percussion and backing vocals.
It will be such a fun, diverse evening and the venue is absolutely stunning. So if you get a chance come and join the party :-)
Tickets are available here.
Back to rehearsing!
Mona & Lisa
MLT Interview to celebrate 10 MIO YOUTUBE HITS - New Video!
To continue the celebrations of 10 000 000 YouTube hits, we made another video! Last week we asked you lovely people for your questions and got a whole lot of feedback. We debated doing a Q & A video but decided to answer in a different way this time and sat down with an interviewer.
In this video we talk about our journey so far and give you a little bit of a backstory on how we ended up where we are today, covering many of the topics we got questions about. The ones that have been with us on this ride for longer will be more familiar with a lot of it but hopefully there is something new for everyone.
We raided our archives once again for old footage and found some fun stuff which we included in the video. It was a great way even for us to look back on our lives.
THANKS to you for watching…. TEN MILLION TIMES. You are legends!
Hope you're all having a lazy Sunday afternoon,
Mona & Lisa
We're celebrating 10 000 000 YOUTUBE VIEWS with a New Video!
Yes, people have pressed that little play button on our videos over 10 000 000 times now - how are your fingers not sore from all that clicking? :)
This is a huge milestone for us and we want to thank you from the bottom of our hearts. We are humbled, amazed, grateful and incredibly happy!
To mark this special occasion we want to share with you our version of one of the grooviest songs ever written: The 59th Street Bridge Song by Simon & Garfunkel.
And there will be a second video coming out fairly soon that'll give you even more of an insight in our journey so far that we are delighted so many of you have decided to join us on. Keep your eyes out for that!
Lead Vocals & Guitar: Lisa Wagner
Backing Vocals & Rhythm Guitar & Shaker: Mona Wagner
Double Bass: Rudolf Wagner (Dad)
Production & Editing: Mona, Lisa & Rudolf Wagner
To get informed about any of our upcoming adventures please feel free to join our mailing list so you won't miss a thing.
Stay as incredibly groovy as you are,
Mona & Lisa
Yesterday we took our last Cavern Club residency bow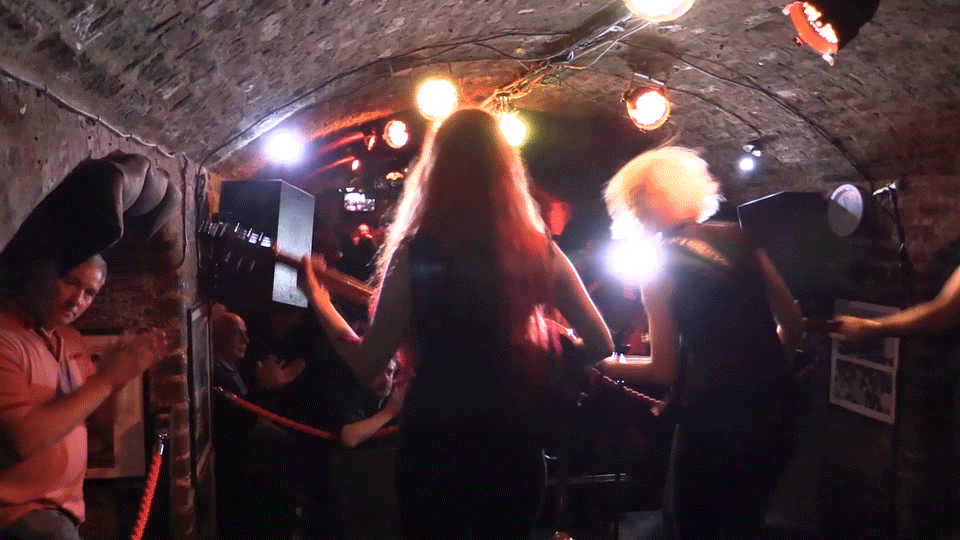 We've done it! Yesterday we took a bow on the Cavern Club Liverpool stage for the 100th time which marks the end of our 2 year residency!
Thank you so much to all of you who came out yesterday - so many familiar faces in the crowd, such a warm atmosphere! And with the air conditioner blowing up during our set, we really did go out with a bang
We've said it before but we want to take the time again to thank Bill Heckle, Jon Keats and the other Cavern directors for having us. Thanks to all the other great bands that make sure the place rocks day in day out and who have been fantastic to be around.
Our best wishes to Martin Quinn and his band who will be taking over our spot, we're sure you'll have a blast as much as we did! Thanks to the sound engineers, bar staff, security and to all the fantastic musicians that have shared this legendary stage with us over the last couple of years.
Now it is time for us to focus on the things ahead and get the next album out!
To quote today's big Birthday Boy (John Lennon would be turning 76): TO THE TOPPERMOST OF THE POPPERMOST!!!
To get informed about any of our upcoming adventures please feel free to join our mailing list so you won't miss a thing.
Who's with us on this ride?
Mona & Lisa
Official MLT Fanclub delegate from Arizona, US visits our second to last Cavern show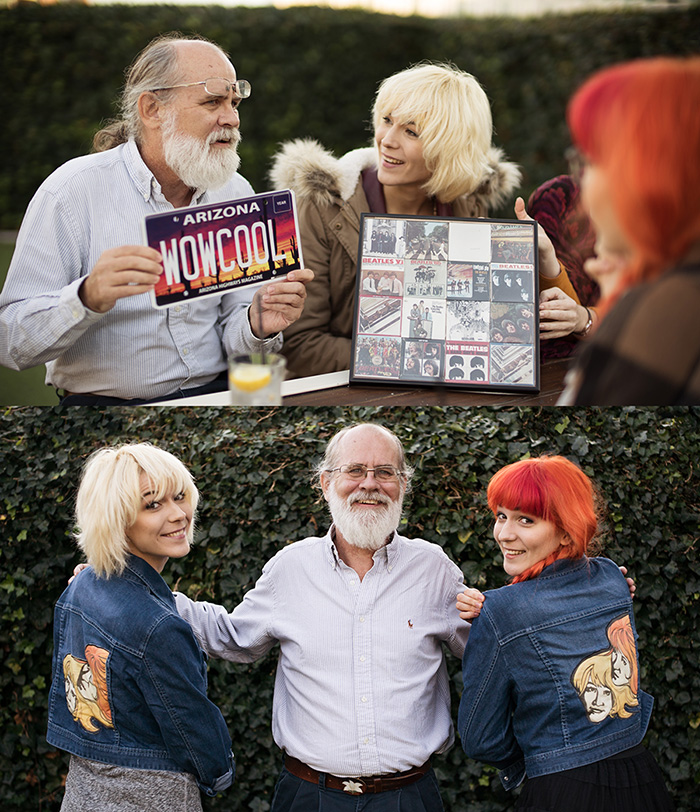 This was a special weekend for us. Thanks to the many of you that came down to see us at the Cavern. Big hugs to all of you, you were a great audience and we had a blast!
A very special thank you goes out to Neill Thompson who flew in all the way from Arizona just for the weekend. Neill co-runs th official MonaLisa Twins Intergalactic Fan Club (together with the lovely Jacki Hopper who created it initially and who was greatly missed), and has been a great supporter, fan and friend over the last years. It's extremely heartwarming to see the community that has formed around our music and we count ourselves very lucky to be in the position to bring people together and see new friendships form. (The jeans jackets we are wearing were made by Neill's partner Kristi Felts who does fantastic stitching and felt work. Thanks Kristi, we love them!!!)
If you want to join the MLT Fan Club you can head over to their fan group page and start chatting and sharing your experiences and thoughts with other MLT fans all over the globe.
Don't miss next Saturday, Oct 8th, to see our last performance of our Cavern residency. 7 - 8 and 9 - 10 will be show time!
To get informed about any future shows or upcoming tours feel free to join our mailing list so you won't miss anything.
We love you all and are humbled each and every day,
Mona & Lisa
Joining Steve Harley & Cockney Rebel again on 24th November in Liverpool
At around this time last year we were out shooting the music video to our cover of 'The Best Years Of Our Lives' by Steve Harley & Cockney Rebel. This video brings back the feeling of joyful anticipation that we felt before going on tour with them a month later, in November 2015, when we were part of the Cockney Rebel band.
We are also happy to announce that we will join Steve Harley again for a show in Liverpool on the 24th of November. Not only will we be playing together with Steve's acoustic trio but we will also open the concert with a 30 minutes acoustic set of our own in the magnificent St. George's Hall.
Get your tickets here!
To get informed about any other future shows or upcoming tours feel free to join our mailing list so you won't miss anything.
Stay groovy,
Mona & Lisa
"All Good Things Must Pass" - Cavern residency ending Oct 8, 2016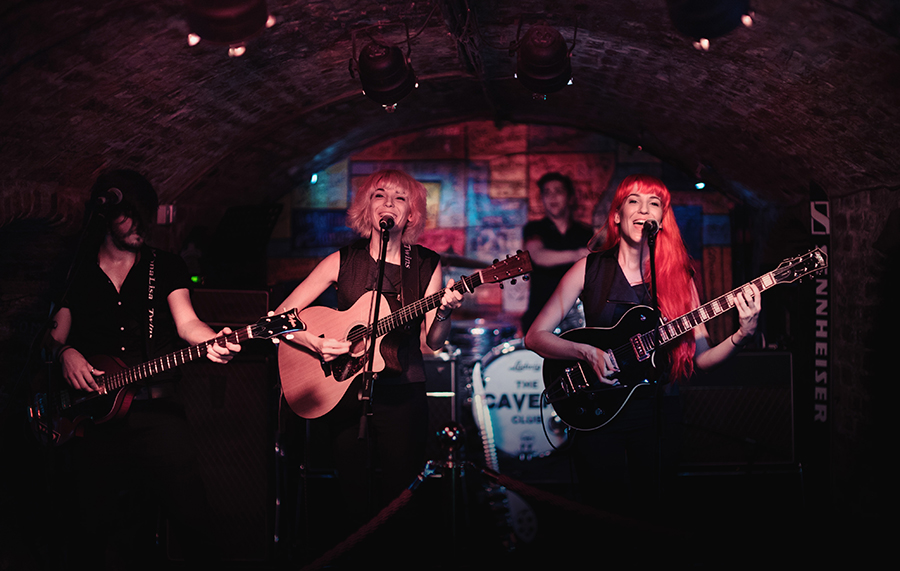 Ladies and Gentlemen, after 2 years and pretty much exactly 100 shows at the legendary Cavern Club we decided to enter the next chapter of our musical journey and end our weekly residency at the "most famous club in the world".
Getting a regular spot at the cellar of all cellars was a dream come true and something we never thought would happen only a few years ago. Every gig was as exciting as the first one and we grew a lot as performers and musicians.
With the recordings of the new album hitting the final stages, our schedules filling up for next year, touring plans shaping up etc. we had to make this decision to be able to concentrate on the next part of our journey and everything that goes together with the new release.
We want to say a big thank you to Jon Keats, Bill Heckle and everyone in the Cavern management for taking us on board, it was a real honour. We also thank all the other Cavern residency bands for welcoming us so warmly, sound-engineers Tom and Ricky for making us sound good and all the security and bar staff for the big smiles every time we walked down those steps :-) And of course the many fantastic musicians we rocked this stage with every Saturday, it's been a ridiculous amount of fun!
And last but not least a HUGE thanks to all of you who came to watch us there week in, week out. One of the best things about this residency was meeting so many new people and we're not gonna lie - we'll miss you!
Our last residency show will be on October 8, 2016, so join us and make this a truly special night. These are all the gigs left: 17th September, 1st October, 8th October. (No show on 24th September!!!)
To get informed about any future shows or upcoming tours feel free to join our mailing list so you won't miss anything.
We will see you around!
Much love to all of you,
Mona & Lisa
Meeting Micky Dolenz/Monkees and Clem Burke/Blondie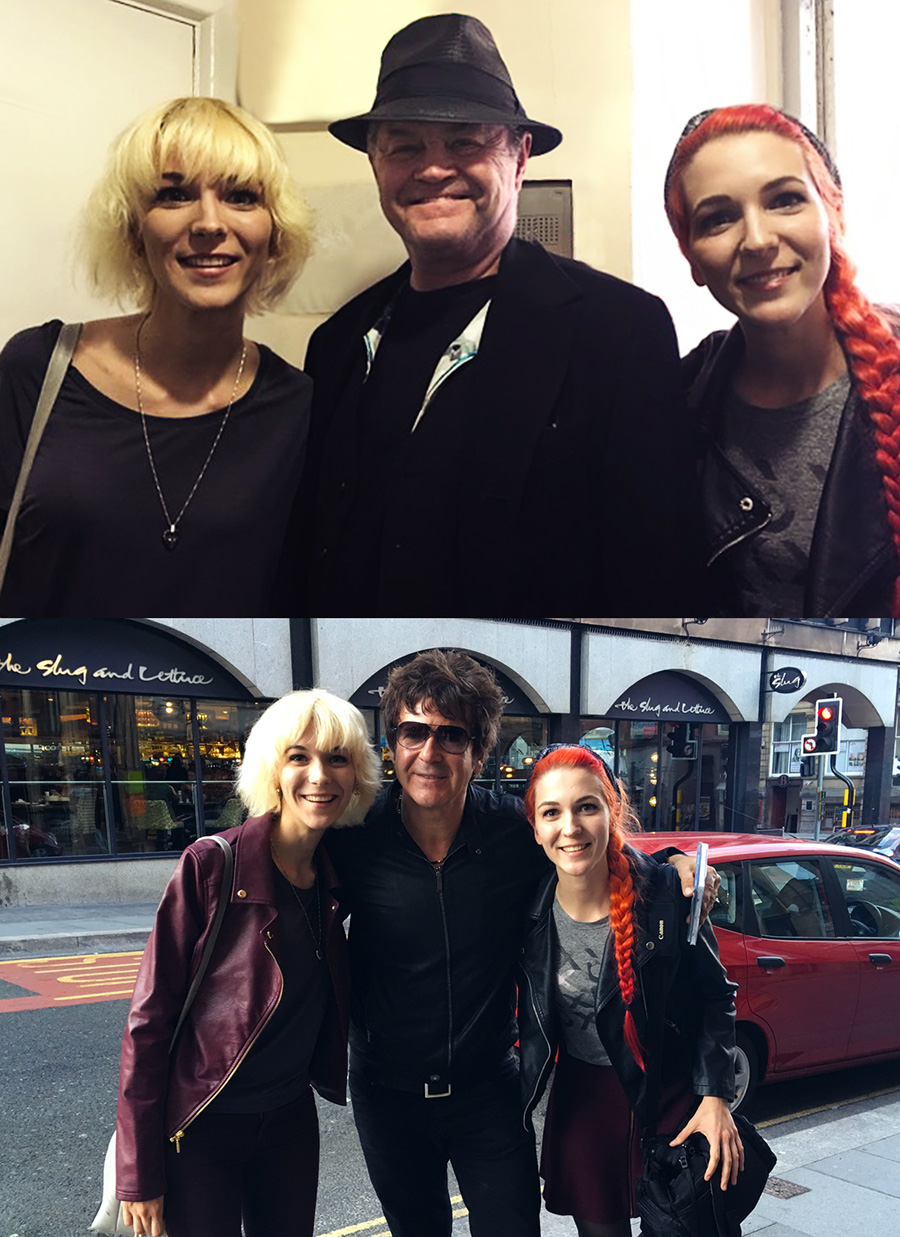 We had the absolute pleasure of meeting the one and only Micky Dolenz of The Monkees and hanging out with the fab Clem Burke (legendary drummer in Blondie) yesterday, after both of them played fantastic shows at the Cavern.
What a way to spend a Tuesday and celebrate the end of this year's international Beatleweek. It's been a pleasure, it's been a joy and it was wonderful to meet so many old friends and make new ones.
If you've taken any pictures of or with us over the last couple of days, please share them on our page, we'd love to see them!
Stay groovy,
Mona & Lisa
Updated Beatleweek Show Dates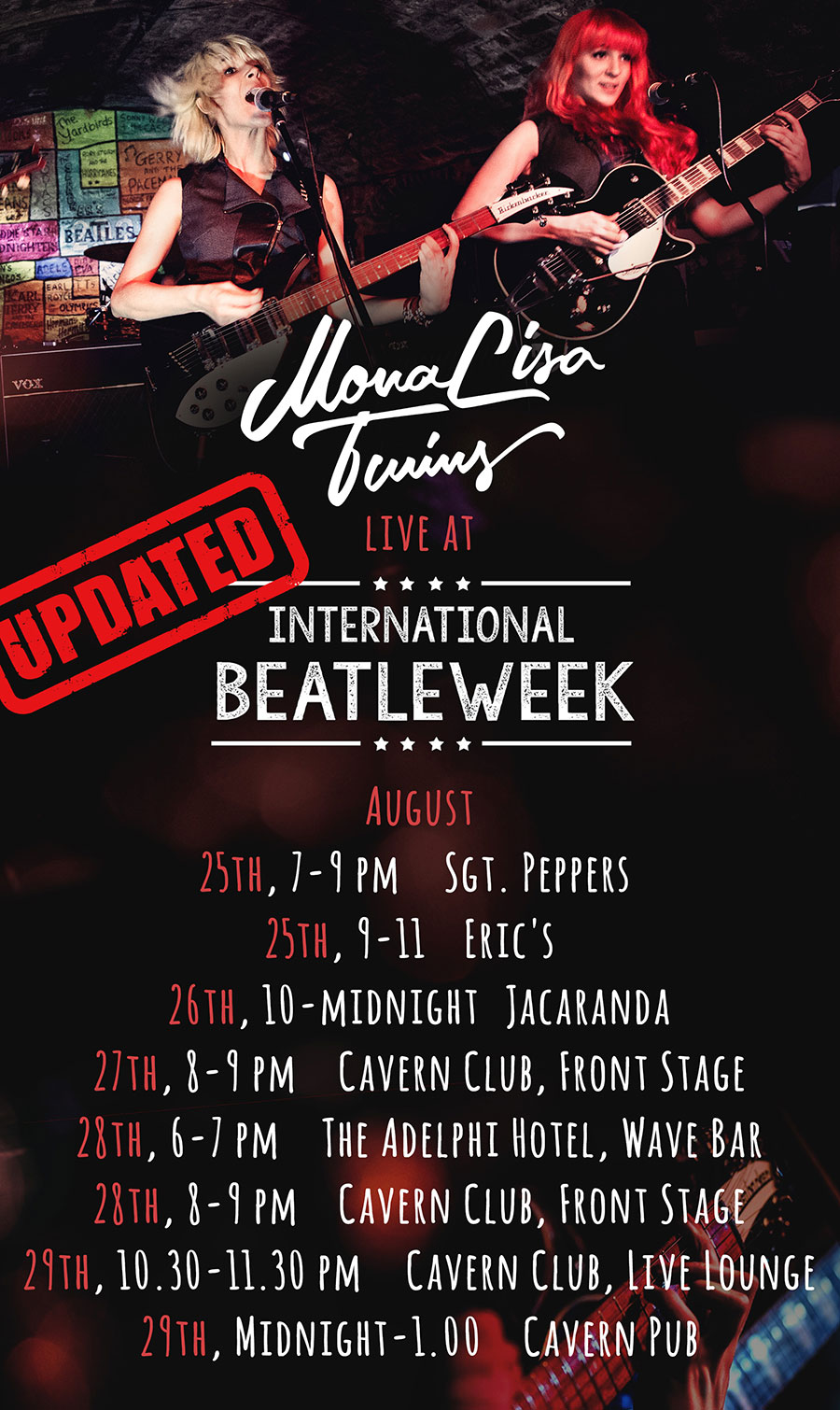 Let's kick it off!
With yet a couple more minor changes (today's gigs now start at 7 pm instead of 7.30 pm at the SGT Peppers Mathew St and 9 pm instead of 10 pm at Eric's Liverpool, and our show at the Crompton's Bar on Sunday got moved to the Wave Bar next door) we should be all set for some crazy next few days. And we're starting it all off with 4 consecutive hours of Rock 'n' Roll tonight! Bring it on :)
See you there,
Mona & Lisa
50 years of "Revolver"!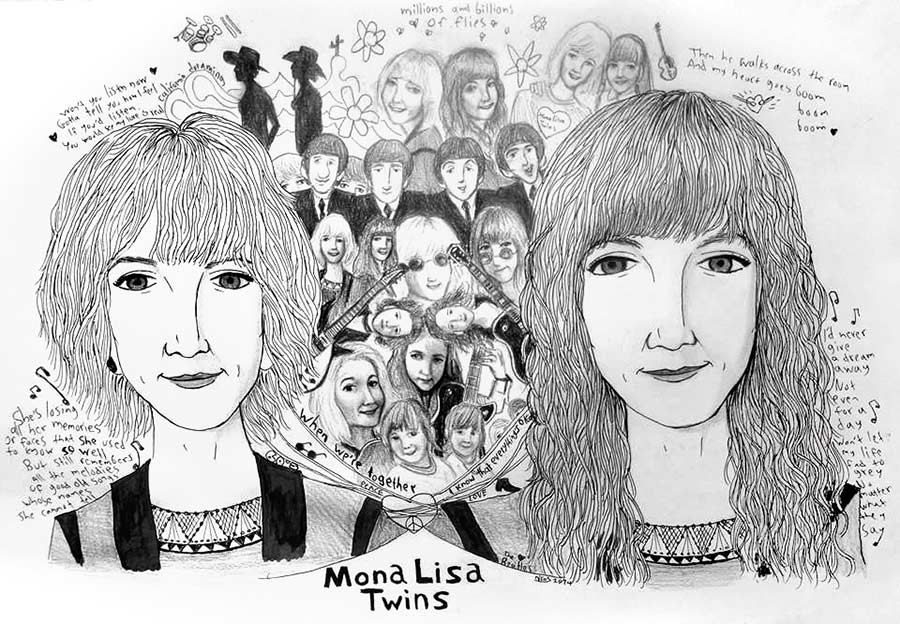 Our favourite album (tied with Rubber Soul) is celebrating its 50th Birthday today. Guess what record was blasting through the house all day today? ;-) Quite a while ago the talented Nikos from Greece drew a picture of us very reminiscent of the Revolver artwork style so we thought what better day to share it than today on "Fan Art Friday".
We added the opener "Taxman" to our setlist recently and will be playing it tomorrow at the Cavern Club Liverpool during our usual spots from 7 - 8 and 9 – 10 pm. Come join the party!
Stay groovy,
Mona and Lisa
30 000 Facebook Likes!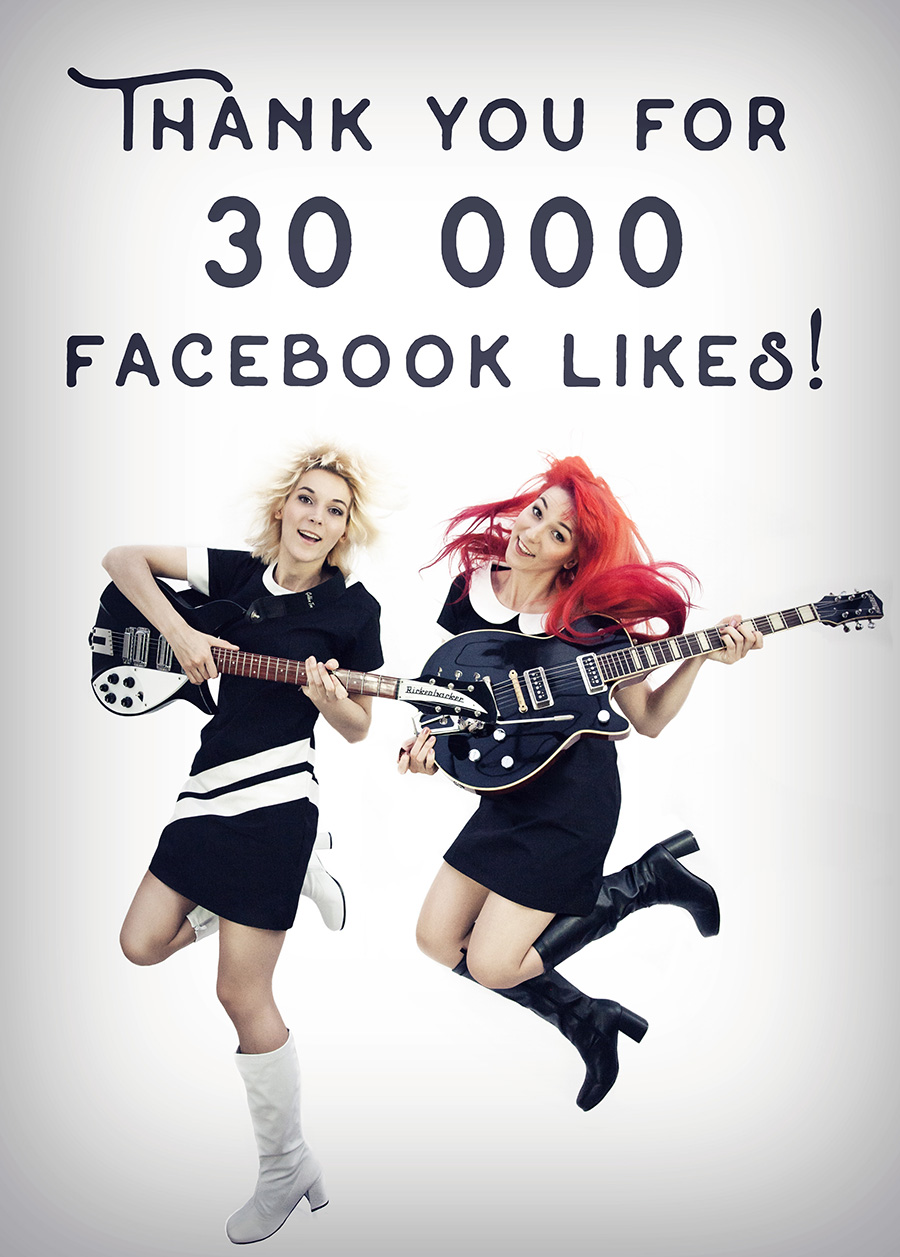 Thank you very, very, very, very much for 30 000 Facebook likes!
The family of groovy people is growing, and we welcome each and every one of you :)
Love,
Mona and Lisa
New Fan Mail Address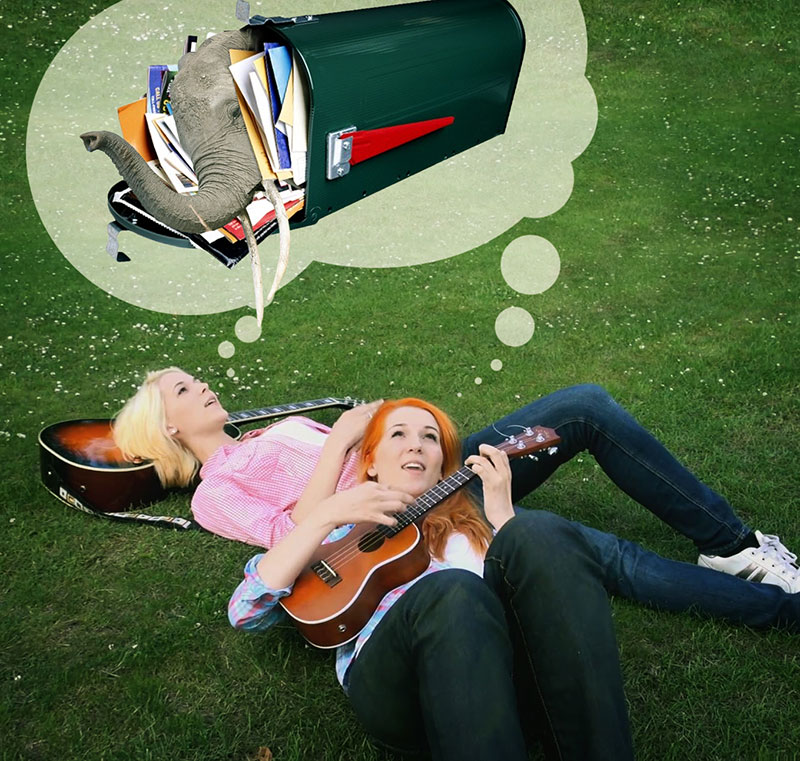 We've got a new Fan Mail address! So from now on, if you lovely people want to send us anything please address it to:
MonaLisa Twins
Suite W0108
35 Victoria Road
Darlington
Co Durham
DL1 5SF
UK
It makes our day every single time the mail man knocks on the door to bring us something from any of you and your kindness, lovely letters and parcels baffle and flatter us every time.
We also invite you all to sign up to our mailing list, for all sorts of special information, discounts, announcements etc.
Back to recording,
Mona and Lisa
International Beatleweek 2016 Live Calendar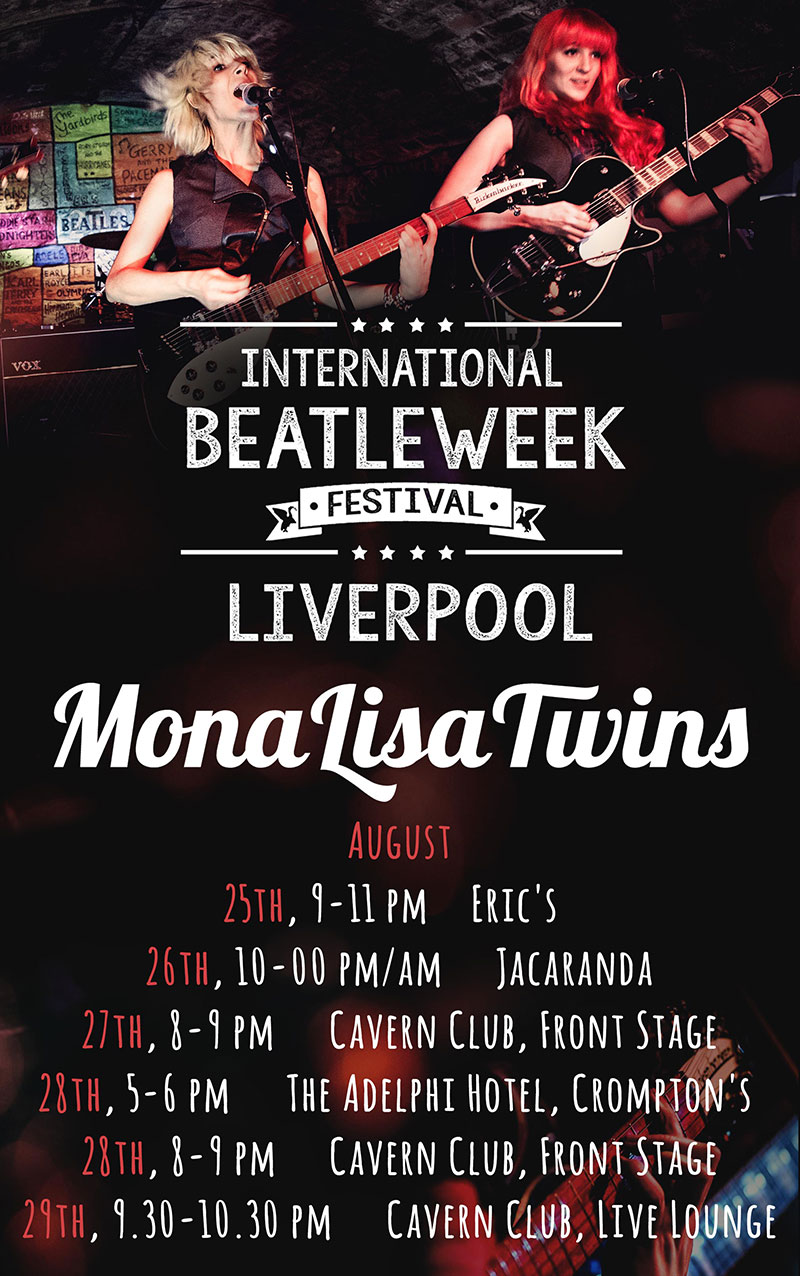 We are happy to announce that we'll be part of this year's International Beatleweek in Liverpool again. The town will be buzzing, there'll be live music on every corner and there'll be thousands of people coming together to celebrate and soak in the spirit of the Beatles. Oh how we love it :)
Can't wait for August! Who of you are we going to see there?
Get groovy,
Mona and Lisa
25 000 YouTube Subscribers
We reached 25 000 YouTube subscribers!!!
Not only do we thank you all for being part of this wonderful MLT family but we also apologise for the lack of new videos lately. The making of the next album and new website is currently taking up all our time. But hey, there's 97 videos on our channel already! With an average length of let's say 4.5 minutes, that would make for nearly 7 hours of content. That's less than all 'Lord of the Rings' movies combined … anyone up for a challenge?
Thanks for bearing with us, new music is brewing and it's already smelling super tasty (can you tell we haven't had dinner yet?). We hope you are all having a magnificent day!
Stay groovy,
Mona and Lisa
BBC Radio Manchester with Mike Sweeney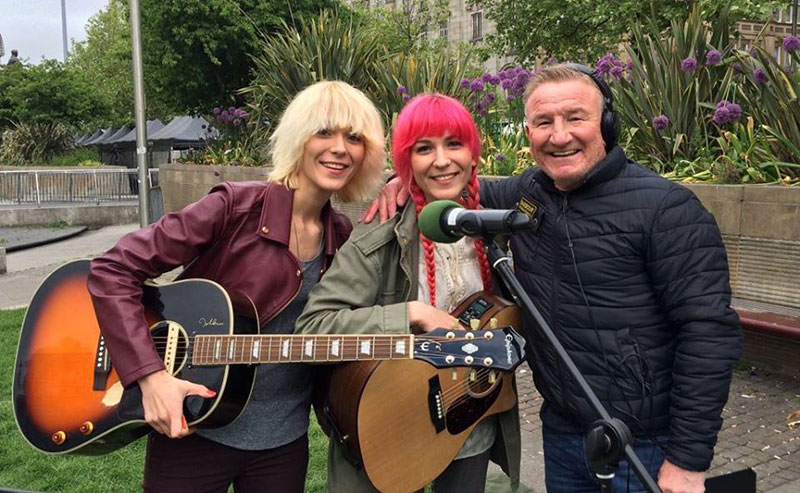 There's a whole lotta radio going on! Today we spent the first half of the day in Manchester, performing on Mike Sweeney's show on BBC Radio Manchester live from the Piccadilly Gardens in the city centre.
What started off as a cold and windy morning turned into a glorious, sunny day and we had a blast meeting many of you there! It was good as always to catch up with Mike and his team, and they never cease to make us feel so loved and welcome! We topped off the show with a fun sing-along of "Money (That's What I Want)" featuring Mike on fab vocals, as we also did a while back live in concert.
Tomorrow we'll be up early again to be on Sally Naden's morning show on BBC Radio Lancashire to celebrate the BBC Music Day! Tune in from 9.30am until 12 noon to join the party! Stay in your pyjamas (our favourite kind of party) and listen in online (stream here). Or why not come and celebrate with us live at the studio in Blackburn? In that case, better not in pyjamas. There'll be plenty of live bands performing throughout the morning and we're looking forward to being part of it!
Stay groovy,
Mona and Lisa
Mick Ronson Memorial Concert in Hull, UK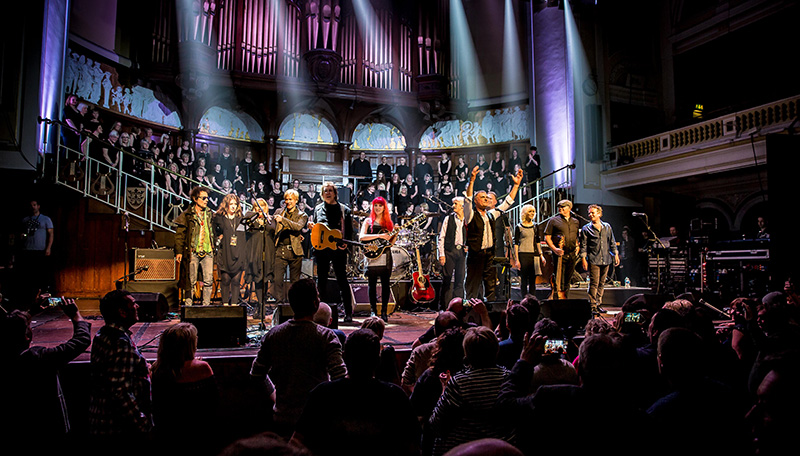 Last week we took a trip across the land to play in Hull where Steve Harley put together a show in memory of Mick Ronson to raise money for a foundation to help young people in the arts.
Ronson is best known for his work as a guitarist, multi-instrumentalist and arranger in David Bowie's band "The Spiders From Mars" but he also worked with the likes of Morrissey, Van Morrison, Ian Hunter, Bob Dylan and many more. He left behind a stunning amount of work before he passed away in 1993.
Steve Harley got together his and Mick's mutual musical friends and put on this wonderful show to raise money in Mick's spirit to give to young students to further their musical education.
The stage was packed with fantastic musicians and it was an honour to be playing amongst them for such a great cause. We played some classic Bowie songs together with Mick Ronson's daughter Lisa and sister Maggi, had the "All for One" choir join us for a hauntingly beautiful version of "Sebastian", rocked the stage with guitar legend Earl Slick, listened in awe to Steve Norman's (Spandau Ballet) saxophone solos, enjoyed the heck out of playing Steve Harley's songs together with his brilliant band and also performed some of our own music, just the two of us, to a wonderful, appreciative crowd.
Biggest thanks to Steve Harley for letting us to be part of this, to Mick's family and everyone involved. And thanks to all who came to the show!
We don't think anyone left the room without a smile or maybe even a cheeky little tear on their face.
Moved,
Mona and Lisa
Abbey Road Studio One - What a day!

So yesterday we spent the whole day at Abbey Road Studios recording and filming in Studio One – what a day! There is so much history in this place it's unbelievable! The rooms are filled with legendary equipment and the walls are covered in legendary moments. If only they could talk!
We got told that while recording we stood in the same spot that Mick Jagger, Keith Moon and Marianne Faithfull were sat when the Beatles did the live broadcast of "All You Need Is Love". They still use the same microphones as they did back then, and everything still looks like we all know it from the countless pictures and videos.
We recorded a few songs there with Steve Harley and afterwards got turned into holograms with a special filming technique! And yeah, it was as much fun as it sounds! We can't wait to see the finished results.
We will keep you posted as we get updated on any news.
So thrilled to have been part of this experience!
Mona and Lisa
Abbey Road, here we come!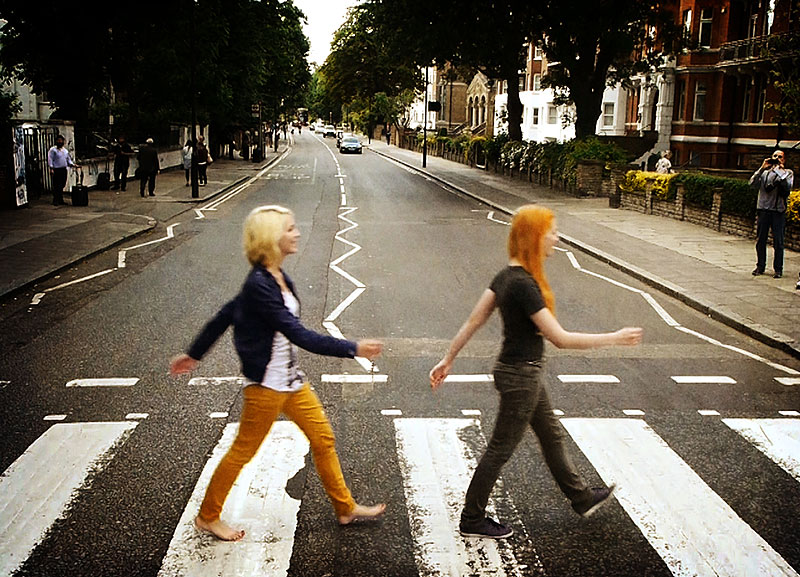 We think subconsciously we all make some kind of bucket list for our lives. Ever since we started our musical journey at the age of 13 we dreamed big. 9 years, 3 albums, 92 music videos, 8 million YouTube views and a lot of sweat and tears later, we are so happy and lucky for all the boxes we were already able to tick:
Moving to England - ✔, our first big tour - ✔, a regular spot at the Cavern Club - ✔, meeting some of our musical heroes - ✔, working with some of our musical heroes - ✔, having our music played on national radio - ✔,… we could go on but the reason we're saying this is not because we want to brag about all the cool things that have happened so far but because we are about to tick the next major big fat box in just a few days! ABBEY ROAD, HERE WE COME!!!!
Yes, this week we will be recording some live sessions together with Steve Harley at the most famous recording studio in the world. YEHAAA! Life is good!
Much love to you all,
Mona and Lisa
Meeting The Hollies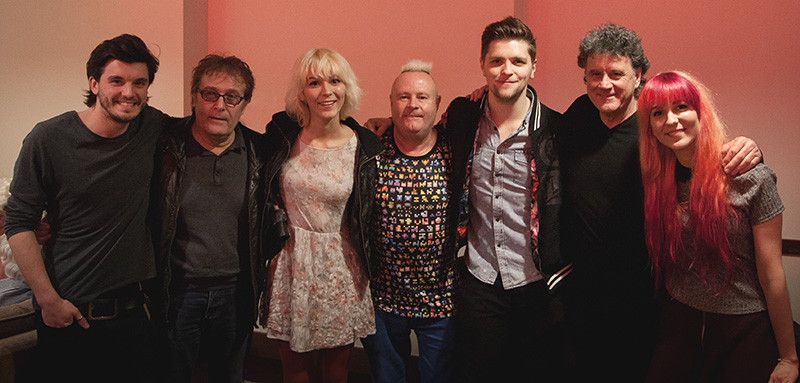 As you might know we covered one of The Hollies' biggest hits "Bus Stop" a couple of years ago.
Last week we went to watch them live in Southport, UK. It was great hearing all those classic songs being brought to life again, and we had a lovely chat afterwards with some of the guys of the current line-up. Our drummer Charlie is friends with their bassist Ray Stiles (second from left), so he kindly introduced us to everyone. Thanks for a great evening!
Stay groovy,
Mona and Lisa
Threshold Festival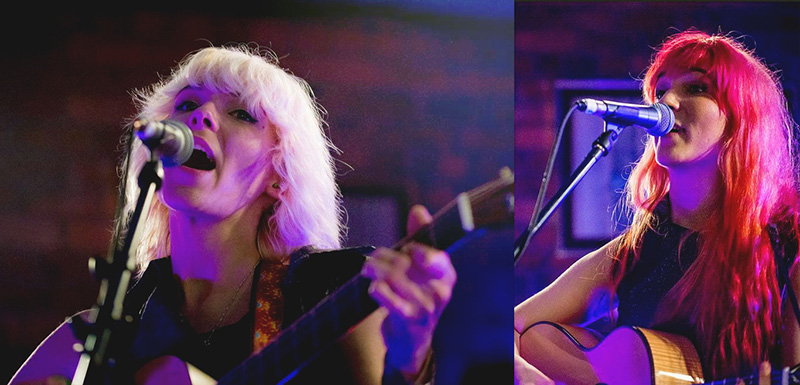 What a great weekend filled with music this has been! A big thank you to all the lovely people that came to see us at The Baltic Social on Saturday as part of the Threshold Festival! We had a fabulous time and of course enjoyed our gig at The Cavern Club later that day, which was fun and groovy as always. Now it's time to hide back in the studio for a week and get on with our recordings.
Much love to you all!
Mona and Lisa
"If I Fell" may have some of the most beautiful harmonies in pop history and it was a joy having a go at this brilliant song. It's been a while since we uploaded a video on YouTube, mainly because we are busy working away on our new album. But this was a great little project to squeeze in and we hope you enjoy it! It's been a blue sky lately so we just had to go out to town and include some shots of Liverpool.
Please leave your thoughts and comments if you like!
Working on our new album ...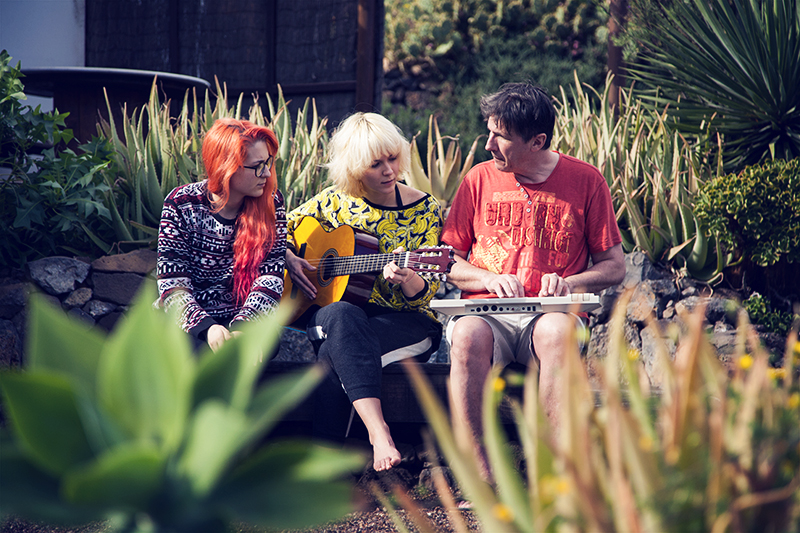 Dad and us working away on one of our new songs in the paradise that was Lanzarote.
Please excuse us for having been a bit more quiet lately but we have a pretty good excuse! We've spent two weeks in Lanzarote/Canary Islands in January. And we weren't just lying around in the sun while it was snowing back home (although we did do a bit of that too ;) ) - we finished writing most of our new album! A house in the middle of nowhere, no computers, gorgeous weather, stunning scenery, healthy food, a bit of exercise and no distractions put us into creative overdrive.
We came back home to Liverpool with the perfect amount of songs for the upcoming album and since then went straight on to working on the lyrics, arranging instruments and voices and recording the songs we've been brewing up. This will still take us quite a bit but while we are locking ourselves in the studio we will try to keep you in the loop as much as we can and throw in a YouTube video for you every now and then. And don't worry, we'll leave the house for the occasional gig - see our live schedule here.
Hope you're all well!
Mona & Lisa
Happy New Year!
In true MLT tradition we would love to recap this year with you and look back on all the highlights of 2015.
As you might remember we kicked off the year with a packed showcase at the Half Moon in London. It was our first proper show in the UK capital and we filled the venue to the brim. Later in the year we flew to Finland twice to play festivals in Tampere and Parikkala. We supported Albert Lee in Leeds and released our single "That's Life" in June. We made friends with our musical hero Donovan, got to meet Rod Stewart, Julie Felix, Gerry Marsden and the Pretty Things, sang on Ian McNabb's new album "Krugerrands" and of course went on a tour for the whole of November with no one less than Steve Harley & Cockney Rebel, where we joined their top-notch band as well as played our own songs to their audiences.
Next to performing on many of the local BBC stations around the country we also just got our first couple of airplays in the nation's biggest station BBC Radio 2, with sometimes up to 10 million listeners.
Throughout all of that we kept up our Saturday night residency at the Cavern Club, played all around town during this year's International Beatleweek and produced 18 new YouTube videos. There were a few changes in the band and management line-up and we were working on optimising our website - more to come next year.
We had to figure right from wrong a few times this year but have learnt lessons for life and future happiness that were well worth it. Right now we're blessed with being surrounded by the loveliest, most supportive, clever and creative bunch of people that we cannot wait to tackle 2016 with.
The big majority of all the work that goes into this is still spread amongst our priceless parents (Dad Rudi and our stepmum Michaela) and the two of us but there is no better feeling than working on the one thing you love most with the people you love most.
2016 – new songs, new album, new videos, new website, new projects!!!
Buckle up, we're going on another journey together this year!
Thanks each and every one of you for everything you've done for us. We can't say enough how much your support, feedback, encouraging comments and critique, gifts, financial support, gig attendance, video sharing, word of mouth or simply just you watching our videos and listening to our music mean to us. It sounds cliché but we really wouldn't be where we are today without all of you out there.
Thanks to our band mates and all the musicians who played with us this year, thanks to all the DJs who played our music, our radio pluggers who introduced them to our music and thanks to everyone mentioned at the beginning of this post for making our life more exciting and our career possible.
Last but not least many thanks to our grandparents for keeping things up and running back in Austria and of course to all our personal friends who have simply been delightful company!
We wish all of you a Happy New Year,
Mona & Lisa
"It's The Most Wonderful Time Of The Year" - Christmas Video!
In Austria (where we are from) today would be the "main" Christmas Day. The 24th is when the family gets together, there is a big dinner, the tree gets decorated and the presents exchanged. Since this is only our second winter living in the UK, it still feels a bit strange to wait until tomorrow for the "big day".
Doing a bit of research we realised how completely different the traditions are, even from Christian country to Christian country. So whenever you are celebrating, or not celebrating at all, we hope you had a wonderful day so far..
Our Christmas present to ourselves this year is to keep the "celebrations" to a minimum and spare us some of the hassle to be able to keep up the intensive song-writing. But that doesn't mean we didn't enjoy dressing up for the occasion and recording this little Christmas video for you.
Enjoy, spread the word and let the music take over!
Peace & Love,
Mona & Lisa
Steve Harley & Cockney Rebel Tour 2015 Review
All good things must come to an end. In this case it is the end of a wonderful tour with Steve Harley & Cockney Rebel that we have been looking forward to playing for almost a full year. Now that it lies behind us we want to thank everyone involved in making the last month such an unforgettable experience.
For us it has been three amazing, fun, educational and inspiring weeks of touring the UK, being part of Steve's band and getting the chance to showcase our own music to his audiences, too.
It has been a novelty for us not fronting a band, and we entered new musical territory as touring musicians and backing singers. We fully enjoyed playing around with so many instruments and vocal melodies on stage and we had the freedom to develop and change our parts as the tour continued.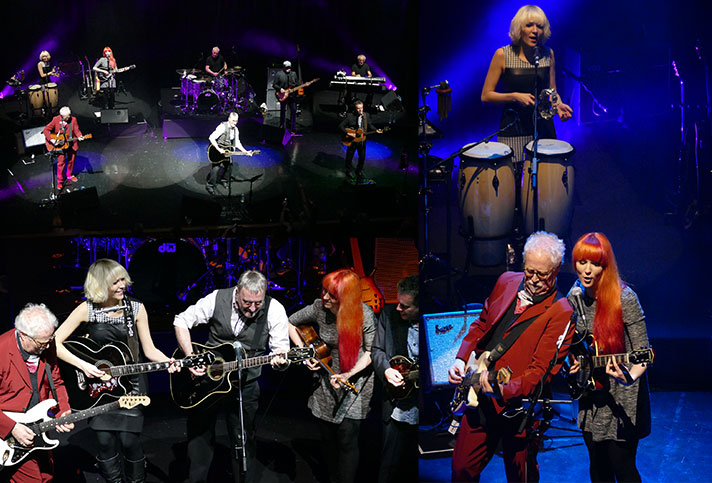 Thanks to Steve's arrangements we got lots of opportunities to show our skills in the solo parts, and we were extremely proud of Lisa joining a guitar duet with Jim Cregan, Mona a vocal duet with Steve Harley and even a harmonica solo centre stage. Not to speak of Steve's generous introducing of us as the MonaLisa Twins and two of our own songs that we got to play to his attentive and equally benevolent audiences during his show. In the first set we were usually playing our song 'I Don't Know Birds That Well' as an acoustic duo, and in the second half we had the honor of Stuart Elliot (drums), Marty Prior (bass) and Duncan Mackay (keyboards) backing us to give our 'Wide, Wide Land' that powerful and atmospheric sound.
As Steve always says the show was 'never the same twice', and so he conducted and presented to his fans an ever-changing, growing, multifarious performance with great solos, lots of improvisational, session-like parts to show each musician's strongest points. It created excitement on and off stage as it turned the show into one of the few these days that aren't over-produced, polished and always 'on the safe side'. There was an element of risk and uncertainty in each night's performance which kept us all on our toes and the audiences on the edge of their seats. We were proud to be a part of that!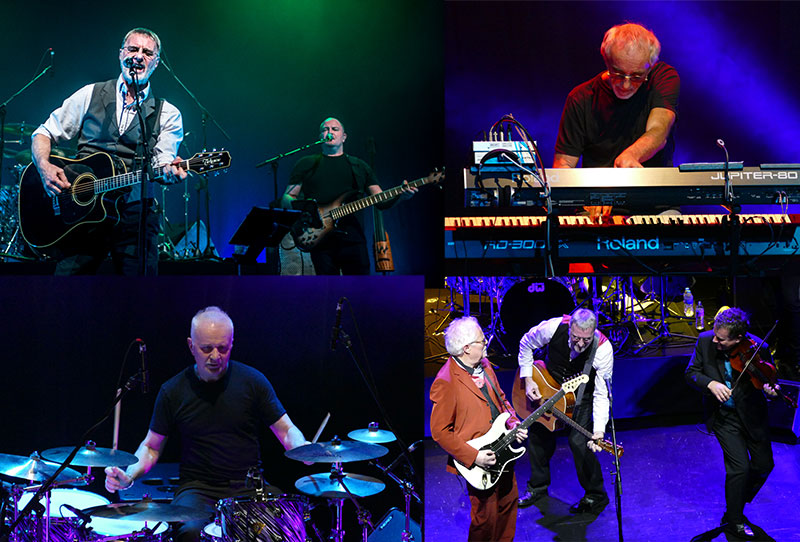 All in all it has been a very fulfilling and emotional experience to contribute to a band and show like this, especially because it has been such an outstanding musician- and friendship between the band members, and also because the fans interacted so passionately with Steve and us on stage. We can only say we certainly grew personally and as musicians while having a blast along the way.
2500 miles on the tour bus, 16 shows and 22 days later we are now back home in Merseyside, exhausted but happy. We played to about 15000 people during the last weeks and shared the stages with legends and world-class musicians.
Thank you to Steve Harley and (in order of appearance in the photo down below) Stuart Elliot (drums), Marty Prior (bass), Jim Cregan (guitar), Duncan Mackay (keyboards), and Barry Wickens (violin, guitar, mandolin) for their outstanding musician- and friendship.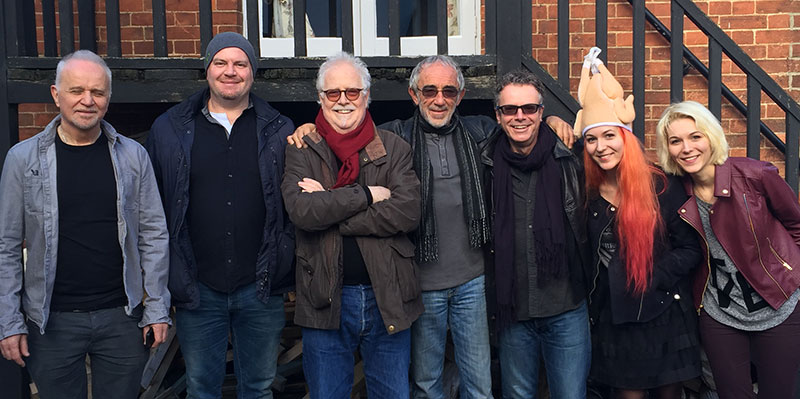 Thanks to Roger Searle (Tour Manager, Lighting - on the photo below in the white shirt left) and Simon Grocott (Assistant Tour Manager, Steve's Personal Assistant - last row center) for the perfect organisation and keeping things running so smoothly, to Andy Linklater (between Mona and Lisa) and John 'JJ' James (unfortunately not in the photo) for making us sound good (on stage and in the house), to Matthew Hunter (sitting to the right), Swapan Nandi (with glass), Daniel Paine (next to him) and Andy Wheeler for their technical backline support, selling merch, driving us around safely, and all of them for looking after us and being fantastic companions.
It was an enormous joy for us being surrounded by such an experienced and hilarious crew and of course all the legends that make up the original Cockney Rebel line-up. We have been welcomed and accepted as part of the band from day one and were valued as band members from everyone in the group which we did not take for granted. The love and respect that could be felt each night on stage was overwhelming and we are thankful from the bottom of our hearts to Steve Harley, the band and the audiences for their support.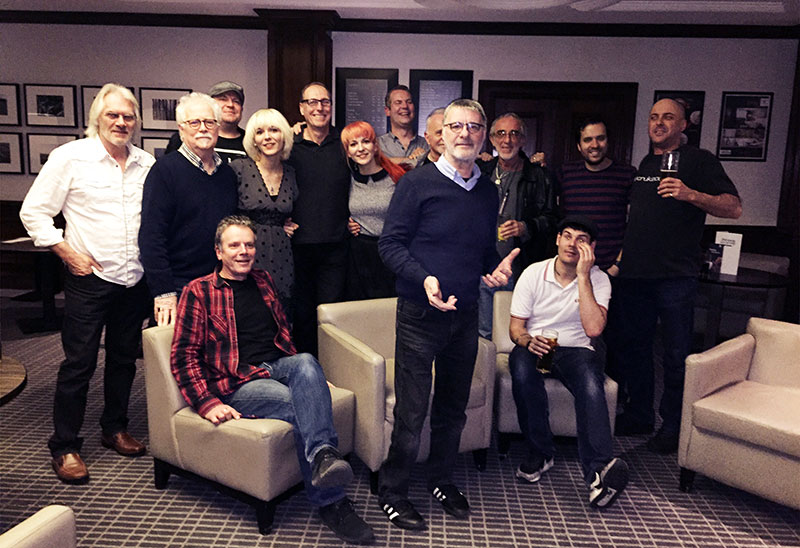 Lots of laughs have been shared on and off stage and many memories were made to be remembered forever. If you saw us for the first time during one of Steve's concerts and are still sticking around we warmly welcome you to the MonaLisa Twins family and are looking forward to sharing more of our own music with you! Thanks to everyone who came to see one or more shows and for the great feedback we got live and on our and Steve's social media ...
'Well The Best Years tour is over but what a pleasure to hear the album that was pivotal to my musical education played so well. There seemed to be a real joy on the stage as Steve brilliantly mixed the old with the new! It was great to see Stuart, Jim and Duncan back together again superbly assisted by Barry and Marty. And The Monalisa Twins are a brilliant breath of fresh air. It's been great to read the wonderful reviews online and to get a glimpse of the joy via social media of the fans' massive enjoyment of the shows! ... A big THANX to all concerned for a fantastic tour ... '
Stewart G
'Excellent end to the tour last night. No great surprises during the first half with a fans' choice of songs that hardly 'pushed the boat out' so to speak. Thought 'Nothing is Sacred' was one of the best live versions of the song that I've heard. ... The second half 'Best Years' performance was spot on ... We'll miss the Mona Lisa Twins a lot. Their backing really enhanced so many of the songs ... Hats off also to Jim and Duncan. Jim's guitar really stood out as it did back in 75/76. All in all a really successful tour which should be repeated next year with the complete 'Timeless Flight' album. Hands up who would like to see that?? '
Mr Raffles
'What a wonderful end to the tour and who knew there was so much emotion to be felt in Guildford. Steve Harley and his wonderful band worked a potentially reserved audience from ripples of applause into a sea of love and appreciation by the end of the evening. The great thing about these concerts is that every one is different but all superb and it is easy to tell from the reviews on this site that no audience has missed out on a quality re-working of this seminal album plus extras. I feel lucky to have lasted the 40 years it's taken to get these musicians back together and yet for me the icing on the cake has been the addition of Mona and Lisa who are more than worth their place in the line-up. I hope to enjoy more of their work on a future SH Tour. ... The only sad thing is that now this tour is over. I feel like a kid who has opened his Christmas presents early and no longer has them to look forward to. I may just have to hibernate for the winter and look forward to a Harley New Year.'
Charmpri
Read more on the official Steve Harley forum.
T'was a joy, a great joy!
Have a lovely Sunday,
Mona & Lisa
Roll on to the 'Magical Mystery Tour'
Howdy! Just a quick Sunday resumé from our first week of touring before we're heading off to 'The Dome' in Doncaster tonight. It's quite unusual for us to write from two different perspectives at the same time - as 'Steve Harley and Cockney Rebel' band musicians and as MonaLisa Twins who are presenting their own songs within the same concert.
Generally we're simply happy with how great everything is moving and grooving. Playing a show every night in a different venue for a different audience is new for us and very exciting. Of course we are used to travel for days with lots of gear and technical equipment, we also played grand stages already but that was only for single concerts so far, not within a big tour setting.
Sitting in a tour bus, chatting with world-class session musicians and listening to their fascinating stories about their experiences in the music business and their work with some of the biggest acts - that literally feels like a ride on the 'Magical Mystery Tour'.
Each of the symphony halls we're playing has its own unique atmosphere, each audience interacts differently and, together with Steve and the band, creates its own magic night. Yesterday for example we left quite emotional as people were still singing after we had left the stage. Goosebump moments!
No two shows are ever the same since Steve likes to surprise his fans with slightly altered arrangements, improvisational parts and new anecdotes between the songs. Many of his fans are coming to see two or more shows, and they appreciate hearing songs or different versions of them on this tour that they probably won't ever be able to hear live again.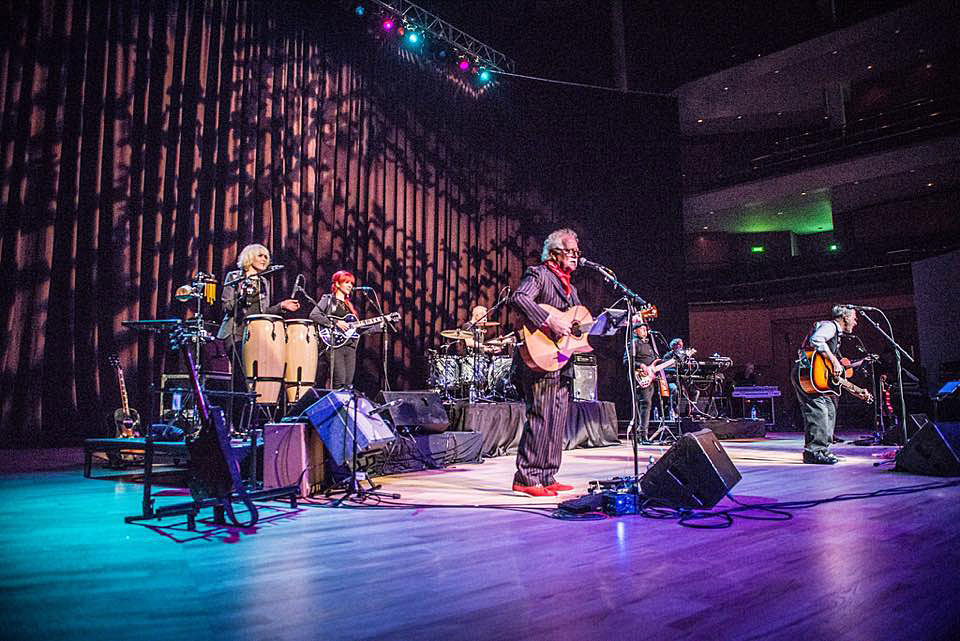 From the MonaLisa Twins point of view we can only say that Steve is very generous to introduce our own music to his audience, and to give us two prominent spots during his sets to play our originals. This kind of support for a newcomer band is very unusual and we're very proud and thankful for this opportunity to get heard by thousands of his fans throughout the country. We think it's very kind of his fans, too, to give us their full attention during the show, and many of them even take their time afterwards to write us appreciative messages or share our videos with their friends. This is the real thing and so much better than any 'XY-factor' vote could ever be.
We're off to sound-check now, so we'll leave you with some fan reviews of the concerts. We hope that will inspire some of you who were thinking of buying tickets. Please go ahead an grab the last remaining seats. We're confident to say you won't regret it.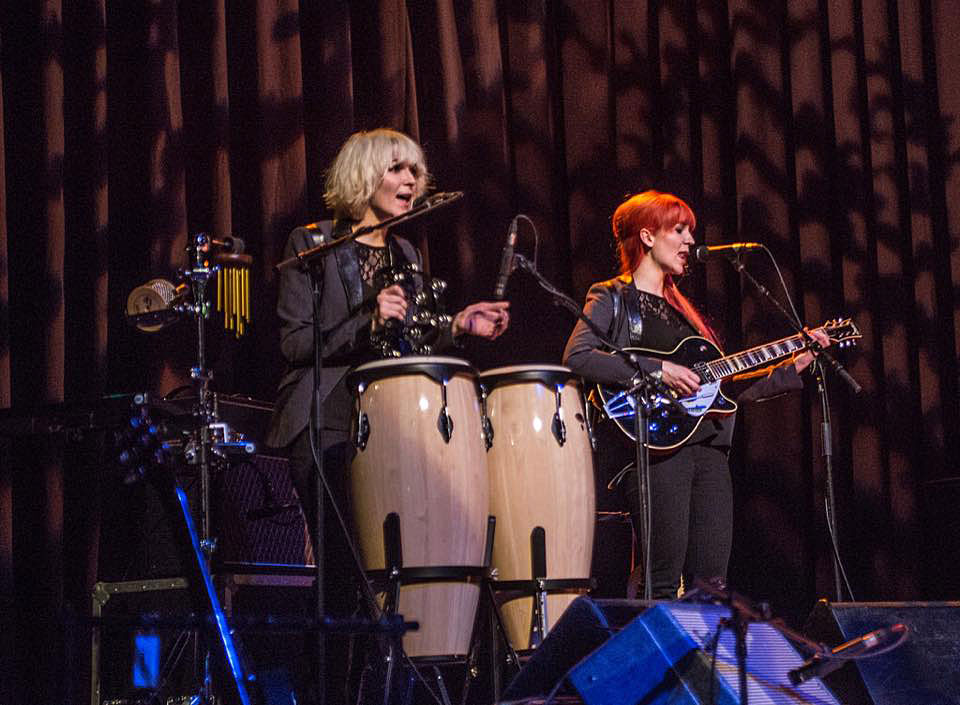 'Really special in Manchester. The twins are a wonderful addition to great rock band . Their harmonies were spine tingling. Especially on Sebastian and Compared With You. Lisa's guitar playing was superb, and she got lifted higher and higher by the Great Jim Cregan . There are lots of memorable moments in this show. And the girls play one song in each set, not at all to give anyone a rest, i don't think!!!! Steve is obviously priud to have discovered them and to introduce heir solo spots. If you're a fan, you won.t want to miss this tour. Fantastic programme 52 pages too.'
Jollyroger
'I came from Frankfurt and was glad I did. The show, generally, was exceptional. Re band, Best Years in total and in sequence, the Twins in the band AND in support - some people have missed the point, SH ACTUALLY introduces them as a sort of "Support Band", but with a difference, they are IN THE BAND. The girls play leas than 10 minutes in a show lasting, in playing terms on stage, two hours twenty minutes of their TWO songs. Good on SH for introducing young talent to us oldies, especially two such brilliant musicians. Anyone who plays that side down, sure doesn't go to many gigs and sure doesn't know perc players and guitarists of high standards when they stare him in the face. There were a couple of ragged endings, admitted, and Jim missed a few cues and notes but this was a first night of a long tour and that happens, I guess. I felt proud to be there, as the moments of pure magic (Riding The Waves, All In A Life's Work (Lisa's guitar, WOW!), "Compared With You, "Sebastian" "Back To The Farm" etc. etc. far outweighed the couple of fluffs. This is a great 8 piece band and I can't wait til I fly back for the Phil gig in Liverpool - those first-night nerves will have settled down I reckon !!'
ROB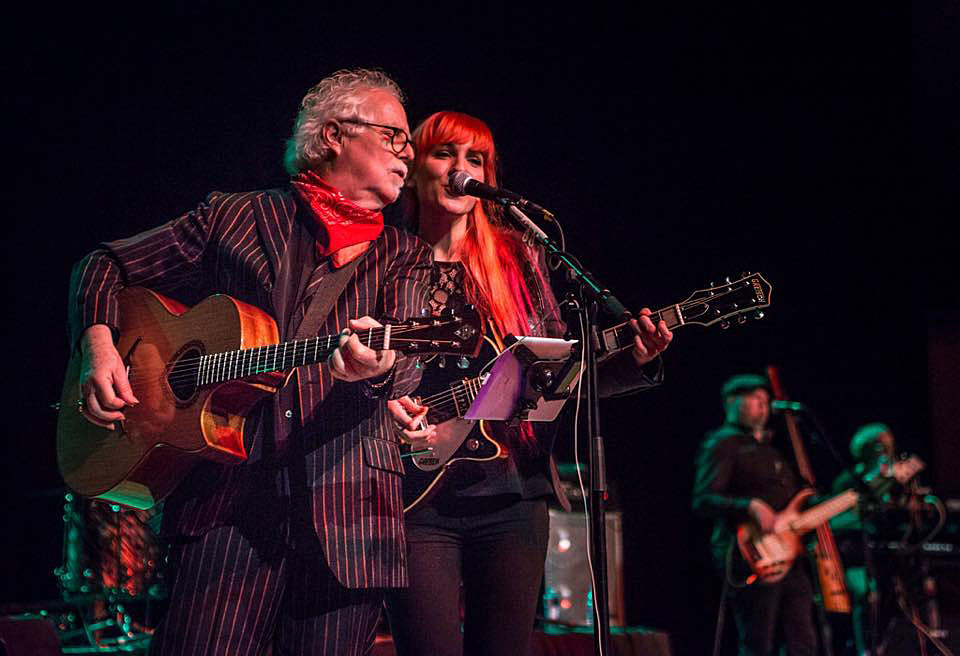 'Breathtaking!!!
The Mona Lisa twins enhanced what was already a great line up and a set list chosen by the fans. I thought they were brilliant and personally I liked the way Steve slipped them in with their songs, showing them loads of respect for being the brilliant musicians they are.
I love the demo version of MMS. Brilliant in my opinion and one of many highlights. The thing that will live with me forever though, is that simply unbelievable version of Best Years. I was totally moved by that and the twins were amazing in helping make that song what it was last night.'
Rich W
'Agreed re Best Years song. At the end, the players gathering around the main man, playing improvised music, riveting. That section will live long in the memory. Spell-binding, to be completely honest. One guy I heard talking to his friend after, was saying he's been in Manchester and that didn't happen, so like Steve always says, "never the same twice", but I hope future audiences get to witness that special moment. Still buzzing.'
Groverhead
Read more on the official Steve Harley forum.
We're looking forward to seeing you somewhere along the way. Still two more weeks to rock 'n' roll!
With love,
Mona & Lisa
"You're Going To Lose That Girl" - New video!
This week we present you with one of our newest covers in our set list. We feel our regular concert visitors deserve some variety in our live shows, so we add some new songs from time to time :).
'You're Going To Lose That Girl' from the album and film 'Help!' is not played by bands a lot but is always greatly appreciated by the audience. We especially like the great harmonies and the quite unusual way of declaring one's love to somebody. It is in fact the thing we like so much about the Lennon/McCartney song-writing - they can express the most personal feelings and bring it down to earth without becoming trivial.
Please leave your thoughts and comments if you like!
Although we love making videos we have to admit that it's getting increasingly difficult to maintain the bi-weekly upload schedule. We've been very busy rehearsing for the upcoming tour with Steve Harley and Cockney Rebel and with so many other projects that are going on. Thanks to all the work we've put in over the past years there are now more and more wonderful opportunities popping up for us. It is rewarding to see the momentum building and the interest in our music growing. On the other hand it's becoming a bit too much trying to make it all work at once.
Our main focus at the moment is writing new songs. Unfortunately we didn't find as much time for it as we would have wished for. That's why we're going to shift things a bit during the next few months to be able to concentrate on our own material again. We will still keep uploading videos, of course, just not as frequently and not following a strict schedule.
Many half finished songs are spinning round in our heads and are waiting for us to finalise them. It feels good returning to the thing we love the most - turning our own wild ideas into songs. You'll be the first to hear them ;)
With love,
Mona & Lisa
"The Best Years Of Our Lives" - New video!
Our big tour with Steve Harley & Cockney Rebel is just around the corner. So we decided it's only fitting to cover our favourite song and at the same time title track of the album "The Best Years Of Our Lives". We consider the live performance of this song, especially the one on Steve's first live album "Face to Face" one of the most touching live moments in rock history. It clearly shows why he belongs to the exclusive circle of live entertainers who can mesmerise an audience in style without having to play cheap tricks. On the upcoming November tour the "The Best Years Of Our Lives" album will be performed from beginning to end, celebrating its 40 year anniversary.
We decided to go for an acoustic version of this song, and to give it our own spin we added some harmonies and a blues harp solo. The video was quite a quick shot this time because we'd rather spend our time on practising for the tour at the moment ;). So the whole shooting was done on an early morning at the coast of Crosby (the place where you can see Gormley's Iron Men).
Come up and see us play with Steve and his fantastic band at one of the 17 UK dates. We will be joining his backing band on guitars, percussion and voices, as well as play a couple of our own songs during his show. The tour kicks off on the 2nd of November! Here you can get all the tour dates and ticket links and more info about Steve Harley on his official website.
Please leave your thoughts and comments on our take on this beautiful song!
We hope you are and will be having a beautiful autumn with lots of yellow and red and sunshine! We're looking forward to seeing you somewhere sometime in November. This tour will certainly make that month less misty and grey :)
Take care,
Mona & Lisa
"Twist & Shout" Beatles Cover with Mike Sweeney live at the Cavern - New video!
International Beatle Week 2015 with Donovan
We've just finished another great Beatle Week. As you know we haven't been on the official program and promotion this year but our shows still were packed and the atmosphere was wonderful at every gig. We are truly blessed to have such a dedicated following, and it was good to see so many people coming to watch us regardless of where we played.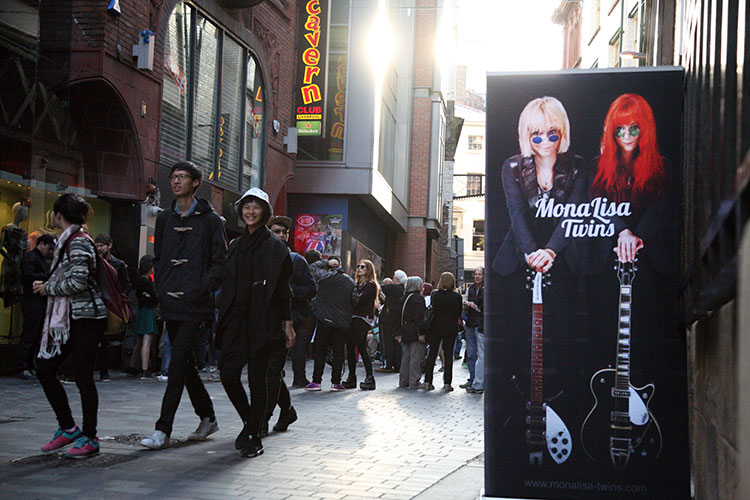 It was a pleasure for us to meet so many old and new fans and friends, some of whom we have met along our way many years ago and who have came from near and far to see us again (as well as many other bands, of course, who played around town during the festival). As always during Beatle Week there was this love and excitement in the air that no 1000 X-factor seasons could ever create. It's the magic and inspiration that the Beatles and all the other great 60s artist have spread around the world during and since that special period in time.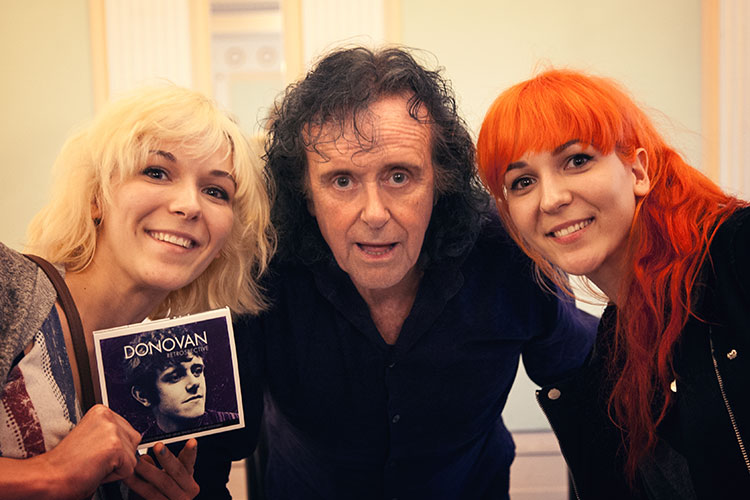 Here is a photo of us and Donovan who we met at the Beatles Convention last Sunday, where he gave a really interesting talk about his relationship and experiences with John, Paul, George and Ringo. Donovan's music has been a part of our lives ever since we can remember, and his album "Fairytale" is one of our all-time favourites! We had a chance to give him our album "When We're Together" as well, and we were amazed to get an e-mail from him on the very next day, saying that he loves our approach to music and especially enjoyed track #1 "When We're Together" and track #5 "Dreams". Check them out and let us know what you think :)
Now it's back to writing new songs, making more videos and preparing for the November tour with Steve Harley & Cockney Rebel, where we'll see many of you again.
Love, love, love,
Mona & Lisa
"I Don't Know Birds That Well" Live - New video!
For this week's video we want to share with you a live performance from our kick-off show for Beatleweek in Liverpool last weekend. We had the pleasure of playing to a wonderful audience at the Eric's Bar on Mathew Street in the Cavern quarter, and we were able to film and record the show. This is our original song "I Don't Know Birds That Well" from our debut album "When We're Together", live on stage featuring James Rookyard on the bass and Paul Everett on the drums.
Feel free to leave your thoughts and comments!
International Beatle Week - MLT Shows 2015
For everyone planning to see a MonaLisa Twins show during Beatle Week 2015, here's another reminder with our show dates. We added a few more songs to our repertoire, so that our regular visitors will get something new to hear as well.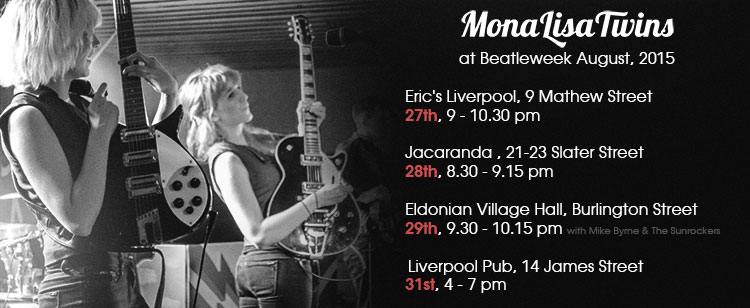 In concert with Steve Harley & Cockney Rebel #2
Wickham Festival attracted around 10 000 people that Saturday to gather in a beautiful scenery of hills and fields with Tangerine trees and marmalade skies in the very south of England. They had a colorful mixture of festival clothes shops, fairy painting for kids, fortune tellers and delicious food stalls (including original German sausages - wunderbar!) surrounding the three stages.
With the sun setting in the sky the festival visitors assembled in and around the big main tent to see the headliners of the night, "Steve Harley & Cockney Rebel" and "10cc". To say the atmosphere was excellent would be an understatement - the crowds were bopping and chanting along like a well-rehearsed massive choir, and we experienced another wonderful show on stage with Steve and his great band.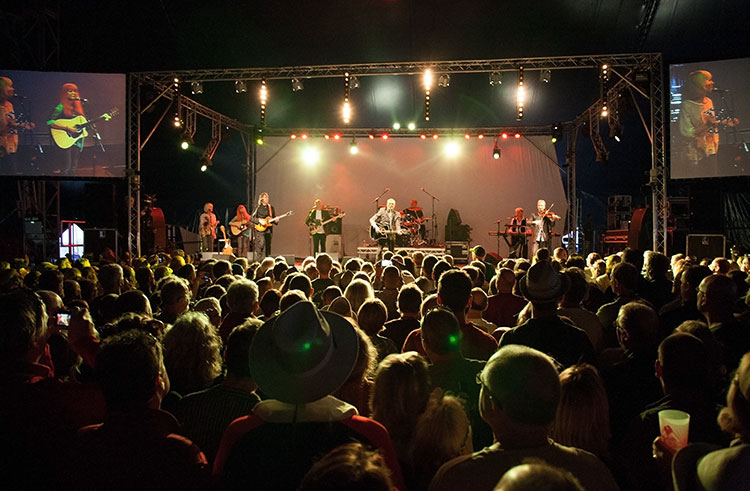 We are greatly looking forward to playing the tour in November, and right after Beatle Week we'll go back to Cockney Rebel songs and intense rehearsing. We hope to see you at one of his shows. Here's the tour schedule as a reminder.
And here's a photo with the man who commented on our Bus Stop Video:
"I love the MonaLisa Twins' version of 'Bus Stop'. It sounds so fresh and the video is great.
These girls will go far."
Graham Gouldman of 10cc, who wrote the Hollies' song "Bus Stop"
That's a great honor, and even more so that he was up for a little chat and taking a picture with us in his dressing room after their fulminant show was over.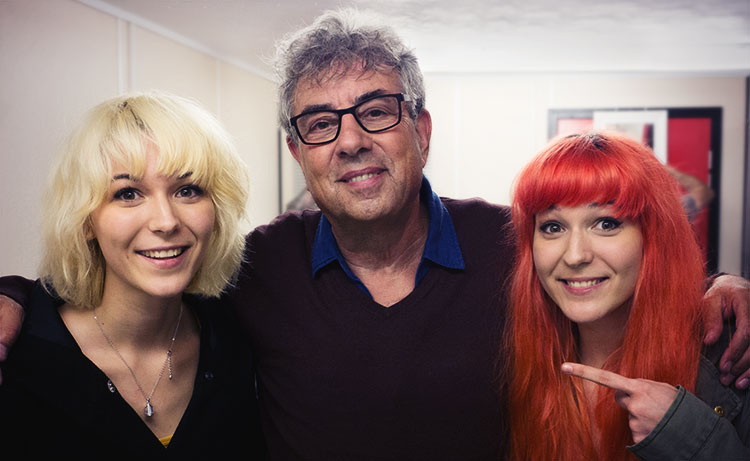 "Two Of Us" Beatles Cover - New video!
For this week's video we definitely spent more time going through the footage and choosing the right scenes than it would have been necessary. What a great way to re-experience all those sweet memories ... We did have a wonderful childhood, no doubt, but we have even less to complain about our adult life so far. Life is a great adventure, and heaven forbid we ever forget that!
What is your favorite "Two Of Us" memory? We'd love to hear your story!
On air with the radio pirates
"Pirate radio" in the UK first became widespread in the early 1960s through music stations such as Radio Caroline and Radio London who started to broadcast from offshore ships in international waters. At that time BBC radio had a very limited airtime to play pop music whereas the pirates were broadcasting 24 hours a day, 7 days a week!
By 1965 they had about 10 to 15 million daily listeners and it still took the BBC two more years before they created Radio 1 which would play pop music for the new generation. The UK government also put a law in place to close the international waters loophole, however, Radio Caroline continued to broadcast until 1990 (with off-air periods between 1968–72 and 1980–83).
Last week we visited the LV18, which is a survivor from the heyday of British shipping and the southern sister ship to the Lightvessel "Planet" berthed on the Liverpool docks. Lightvessels like that used to help other ships navigating through the dangerous waters around the UK coasts and they still protect them from running aground. The LV18 is now a beautiful museum and anchored at the docks of Harwich. Once a year people like Programme Director Tony Currie (BBC Scotland, International Radio 6) bring pirate radio back for a week, in this case to celebrate "50 Years of Pirate Radio"! Last year we've been in Liverpool, and this year we were honored to join the pirates in the South!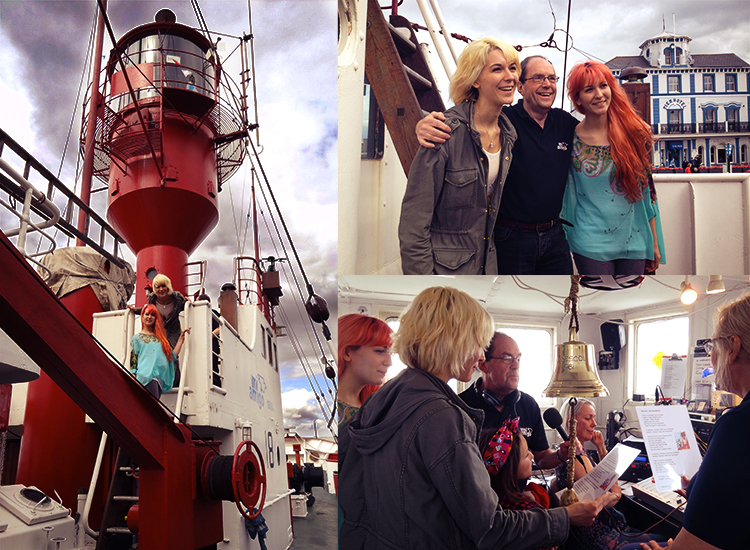 Tony Currie (the man in black) and his team delivered a wonderfully varied and informative program with lots of good music, just like in the old days. Speaking of good music, in 2014 his radio also voted our song "This Boy Is Mine" Record of the Year :). We were invited to play some of our songs acousticly and also do a little interview about our music. They did not have enough mic stands there for voices and guitars, so in perfect pirate improvising manner the other presenters helped out holding the mics for us while we were playing. On the photo right below you see us all cramped in the tiny little studio built in the tiny little conning bridge, and in the middle of us all our new friend Scarlett who helped everyone as much as she could like a pro.
Last week we got to see many different people and places, and it's exactly that variety of experiences we enjoy so much. Thanks to all these people who ask us to be part of their lives and projects, and thanks to you for sharing the excitement with us.
Have a great time with your own adventures, and if you want you can tell us about them too. We are always happy to hear from you,
Mona & Lisa
In concert with Steve Harley & Cockney Rebel
Excerpt from Steve Harley's Online Diary
"Holt was special. Beautiful setting: an amphitheatre in the woods around Gresham's School. A thousand souls (sold out many weeks in advance) prepared for all elements that might get thrown at them. It had poured the day and evening before, so the track downhill to the backstage area was slippy, but the weather stayed fine for us; clear, blue skies and a cool, dry evening for the show. I saw many anoraks with hoods. Not needed after all! Mona and Lisa Wagner were with us, on stage with us for the first time. What a debut …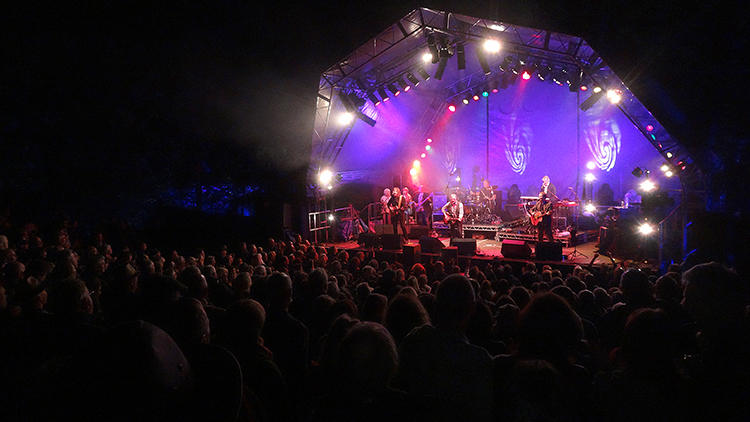 "They looked fabulous with their mad hair and big smiles and sang and played like hard-nosed professionals. Lisa took a surprise guitar solo (I pointed to her and encouraged her without rehearsal) during a dynamic hush in "Riding The Waves", and she delivered a musical and dynamic piece for at least 32 bars. I was proud of her, and I bet her mum and dad were, too, as they watched from the arena.
"I like young people and I love to see them break through, experience something new and special. The girls will be a bonus around us old blokes in November!"
Wow! We can only say: What a day ...
We too had a fantastic time in Holt and playing the first show with Steve was truly a highlight of our career so far. He really has a one of a kind ability to connect with the audience and turn a gig into a highly memorable event. He's not just about singing songs, he's all about telling stories, pulling the listeners in and giving them a unique, personal concert experience. It was fascinating to watch him, and we can and will learn a lot from him!
We are incredibly flattered by the write-up on his website and can only say that it will get even better with every show. It was a great way for us to get into the swing of it and to play the songs with the band for the first time. And what a band! We are proud to be part of all this and are looking forward to the next few months immensely.
For all of you in the UK who weren't sure yet if they should buy tickets for one of Steve's shows in November: You should! Go ahead and book asap! Tickets are going fast, so treat yourself to an unforgettable night.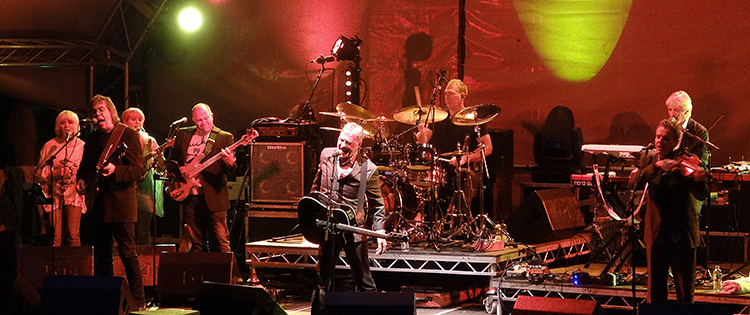 "What a Day for a Daydream" - Lovin' Spoonful Cover - New video!
Last time we were painting it black, this week we are daydreaming away. And today the sun is out for a change which makes it even more fitting. British Summer – We tell ya! Anyway, this lovely song by the Lovin' Spoonful was written by their frontman John Sebastian. Last year we got this amazing quote by him:
"They're fabulous, sure as you're born! I would seriously enjoy playing on their next project."
John Sebastian of The Lovin' Spoonful
We have yet to take him up on that (he lives in the States which makes it all a bit more difficult) but we'll make sure to do that at some point and appreciate the tip of the hat immensely. We hope you enjoy our cover, please share it with the world if you do and let us know your opinion!
"A Hard Day's Night" Festival, Finland - Review
In comparison to our usually quite hectic schedule we felt oddly relaxed during our trip to Finland. Yes, there was a whole lot of travelling involved and we played a busy concert there but the beautiful Finnish countryside, the perfect weather, and the extremely hospitable people made us feel like we were on holidays. The Finnish sauna and the dips into the nearby lake didn't hurt either ;)
The "hard day's night" for us was playing a full 90 minutes Cavern Club set for all our Finnish fans and the festival audience of Parikkala - on a top-notch equipped stage with a bombastic sound created by two very good sound engineers who definitely knew their job.
The "hard day" before the "hard day's night" however, consisted of us being invited to visit the Finnish Border Control Station near Parikkala, where we learned about the daily work at the Russian border (which seems fun in summers but is also to be done at - 35°C and covered in thick snow). We also got to watch trained black German Shepherd dogs sniffing for and also finding very small items like a paper clip in the grass. After that we were genuinely surprised with a campfire picnic on the peaceful lakeshores. A lovely couple was busy with brewing smokey coffee and baking pancakes over the open fire for us, which we topped with hand-picked blueberries from the woods and self-made honey from Finn-bees :)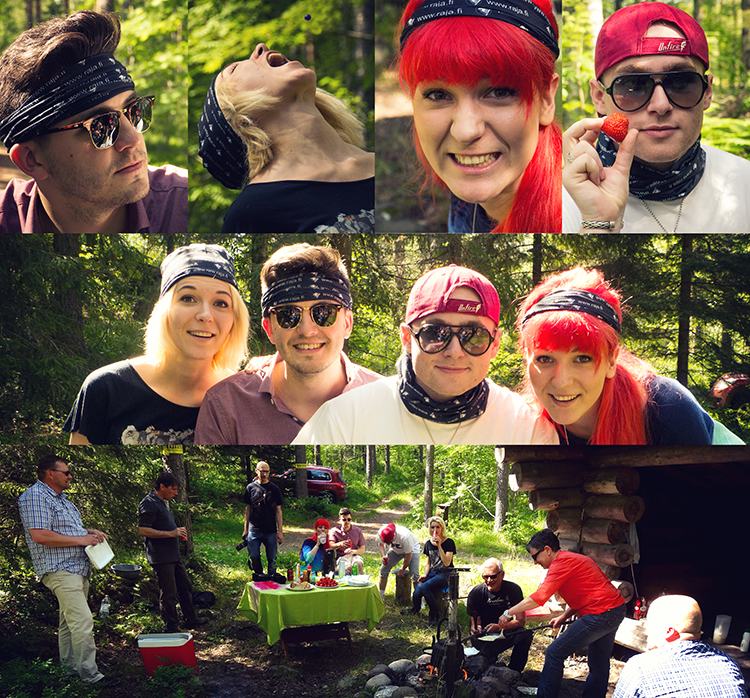 To prevent things from getting too tranquil and serene our hosts drove us out to the "Sculpture Park of Veijo Rönkkönen" afterwards. During his whole lifetime this artist had built hundreds of creepy looking concrete figures that he plastered his garden with, mostly depicting himself mastering all these unbelievable Yoga positions. But he also created animals, sculptures, and figures that feature glass eyes and real dental prostheses. That place is now a famous tourist spot, and while it's totally fine to walk through it during the day you don't wanna be there at witching hour. Thank God the Finnish nights are very short at this time of the year, it doesn't even get fully dark.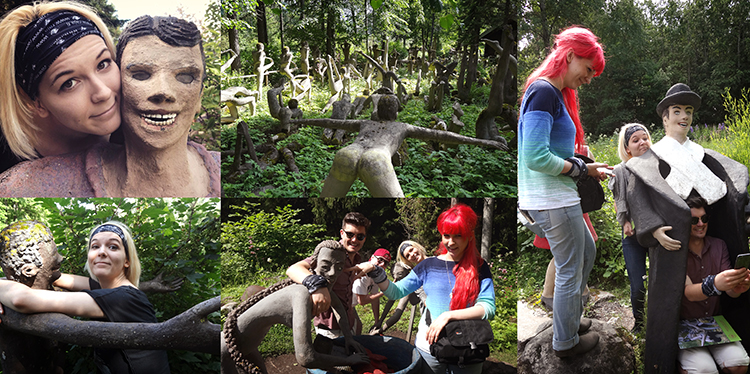 This really "hard day" continued with sunbathing and swimming in the lake before we got ourselves ready for soundcheck. That's when we first got to see the festival grounds, the stage and impressive technical equipment. We checked the sound, took photos and chatted with other bands while the "hard day" slowly turned into its night. By the time our show started (10 pm) the place was crowded and during the performance everyone seemed to be bopping and singing along. It was a beautiful sight and we enjoyed our time on stage immensely. We even premiered our new single "That's Life" and our recent cover of "Paint It Black" which both went down a storm.
The "hard day's hard night" ended with selling lots of CDs and T-shirts, writing autographs, taking photos with everyone, and enjoying Jiri Nikkinen and his band who played an absolutely magnificent version of the whole "Magical Mystery Tour" album.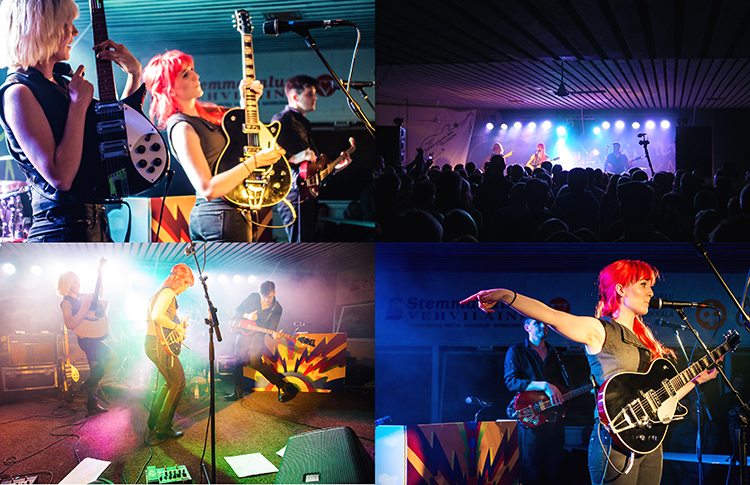 The next morning we left Parikkala at 8 am to drive back to Helsinki airport, our bodies firmly planted and fastened in the bus seats but our minds roaming either in dreamland or still in Parikkala where we all had such an amazing time.
We thank Raine and his team for an absolutely smooth and perfect organisation, Pete for being our roadie, chauffeur and "security guide" through "Sleepy Hollow", Pasi, his officers and dogs for the trip to the Russian border and the sweet couple who surprised us with that delicious picnic in the woods. You all made these two days unforgettable and highly inspiring for us! And while we're on it: We don't thank you, legions of mosquitos, although you also had some hard days and nights trying your best to make that trip unforgettable for us.
"Boots Are Made For Walking" - Nancy Sinatra Cover - New video!
We've just returned from a 4 days' trip down to South-England that included our first stage appearance with Steve Harley & Cockney Rebel, some business meetings and a photo-shoot in London, as well as a radio show with BBC presenter Tony Currie which took place on the light-ship LV 18 located in Harwich harbour to celebrate 50 Years of Offshore Broadcasting in Europe. We'll tell you more about all that in our next newsletter when we will have our photo archive fully updated to pick the best pics.
The last weeks have been so incredibly busy with going to Finland, rehearsing for the Steve Harley concert and preparing for our London adventures, so we decided to take it a bit easy on the latest video and cut together a live version of one of our performances at the Cavern Club, paired with some scenes from back stage.
We tried our best to capture the magical atmosphere that you can find there every Saturday night when we attempt to shake the walls and rattle the roof. Enjoy our version of Nancy Sinatra's "Boots Are Made For Walking"! We have been playing this song live for quite a while now, so it was about time to share it with you all. Please leave us a comment on how you liked it!
"Paint it black" - Rolling Stones Cover - New video!
For this week's video we are painting it black!
Stay groovy,
Mona & Lisa
"That's Life" - Our new original and video!
We can't believe this is actually happening!
After spending quite some time on moving and setting up in a new country and music scene, we finally present you with our very latest original song today.
And all without a proper heads-up, really. We decided to simply do it this Sunday. We've always been collecting and working on ideas and recording bits and pieces but haven't gone all the way to finishing a song. But now that we made this our priority again we're all buzzing with motivation and will go straight into working on more original songs. We're not talking album here yet, as we want to get some of our music out to you as quickly as we can, but we will definitely think about working on an EP or album after you get to hear a few new singles. That's the beauty of being an independent artist – we can publish our music the way we want and whenever we like.
We are not quite certain where all the time has gone, but it feels like a lifetime since we released our debut album. So much has changed since then, and besides celebrating all the ups we also had to deal with the occasional downs. But all in all we couldn't be happier in terms of where we are today. We like to think we have developed enormously since "When We're Together"; got tighter and closer as a songwriting unit (we and our dad Rudi) and have certainly gained enough experience and inspiration to get the creative juices flowing again.
Needless to say, we are beyond excited to present to you our new song "That's Life" (download here), together with its music video (download here) that we've put together over the past few days. We would be lying if we said that we weren't even the tiniest bit nervous but we are fairly positive that it will be up most people's alley. So please leave us a comment and let us know what you think!
Enjoy, spread the word and let the music take over!
Stay groovy,
Mona & Lisa
"MonaLisa Twins in London (Showcase at the Half Moon, Putney)" - New Video!
Earlier this year we played a big showcase in Putney, London. It was an unforgettable night and to make sure that you can be part of it as much as possible we filmed the whole adventure. We finally finished editing and cutting it together and now proudly present you: MonaLisa Twins in London
Follow us through the two day experience and see us pack, prepare, drive, sound check, play and having a good time. Thanks to everyone that was a part of this event if it was only through motivating comments and messages online.
We'll be coming back to London in November as part of "Steve Harley & Cockney Rebel". Check out the tour dates here !
"That's Alright Mama" - New Video!
This week's video is from our 7th May performance at the City Variety Hall in Leeds where we supported guitar master Albert Lee and his Hogan's Heroes. It was a magical gig that we'll remember for a very long time. We decided to play our version of "That's Alright Mama", a song made famous by Elvis when he recorded it during the legendary Sun Studios recording sessions in 1954. We sneaked in some other Elvis song elements too, see if you can spot them all and leave us a comment!
"International Beatle Week" Show Dates 2015
Earlier this year we learned that we (and some other popular Merseyside bands) did not get selected to be part of the 2015 "official" Beatle Week program. Considering our last year's success this came very unsuspected to us and many of our fans, some of which having already been in the process of booking flights and hotels. "Oh, what a bummer!" we thought, but the organisers wanted to give other bands a chance to play the Cavern as well, and that's fair enough. However, all's well that ends well, we have good news!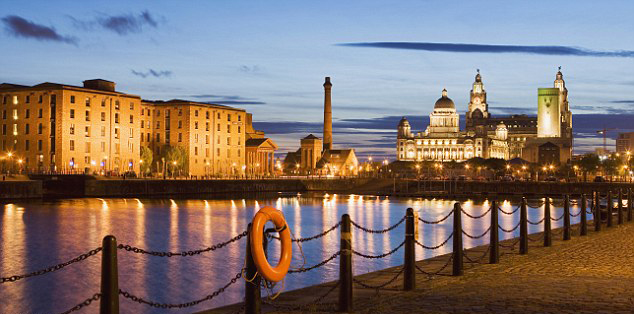 Whoever wanted to hop on a plane, a train or in a car to see us playing at the biggest Beatle spectacle of the year: Go ahead! Liverpool has many great live music venues that were keen to have us on during Beatle Week. One of them is the recently reopened, legendary Jacaranda, another one is Eric's right opposite the Cavern Club on Mathew Street.
We'll be playing four shows on four different days, so that everyone can find their preferred time(s) to see us. Liverpool is such a wonderful city, it definitely pays off to come for a couple of days and have fun!
Here are the show dates: https://www.monalisa-twins.com/live_shows_monalisa_twins#ibw2015. The days are fix, and the missing times will be added shortly. We will also be attending the Beatles Convention at the Adelphi Hotel on Sunday (30st August), to meet, with a bit of luck, Peter Asher (Peter & Gordon) and Donovan, and hopefully you too!
By the way, if someone is interested in a Beatles tour through Liverpool during this week: We are proud to know the loveliest, wittiest and most knowledgable person to show you around. Just send us a message and we'll connect you! But be quick, chances are she'll be booked out soon!
See you,
Mona & Lisa
New PO Box for Fan Mail
Every now and then we get asked for an address because people want to send us lovely things. So we finally opened up a new UK PO Box! We wouldn't ever expect anyone to, but in case you want to send us a letter, drawing, chocolate, CD, guitar, car, elephant, gold bar, unicorn ... this is the address:
MonaLisa Twins
Box 60
Office 6 Slington House
Rankine Road
BASINGSTOKE
RG24 8PH
UNITED KINGDOM
But honestly, we're constantly moved by the lovely gestures and great support on and off line and we will definitely read and reply to everything we get sent. A lot of stuff also makes it on the wall in our studio!
Love,
Mona & Lisa
500 000 YouTube views on "While My Guitar Gently Weeps"- Video!
Our cover of "While My Guitar Gently Weeps" has been watched over 500 000 times today! This is insane. THANK YOU so much for watching our videos and spreading the word. It's because people like you are enjoying and sharing our music, that we get to experience so many fun and exciting adventures.
While My Guitar Gently Weeps - thank you George Harrison for inspiring us to pick up our guitars.
Mona & Lisa
Meeting Charlie Adlard - illustrator of "The Walking Dead" and the MLT T-Shirt
Today we finally got a chance to meet the guy that designed our band shirts! (Get yours here). No one other than Charlie Adlard – creator and illustrator of "The Walking Dead" and countless other comics and graphic novels such as "Savage", "The X-Files" and "Batman".
He and our "Head of Special Projects" Tim Quinn (who has worked for Marvel and many other comics and magazines throughout his life) were part of a panel and signing at the Liverpool library. We had the pleasure of spending a lovely evening with Charlie and his family.
Love, love, love and a few zombies is all you need,
Mona and Lisa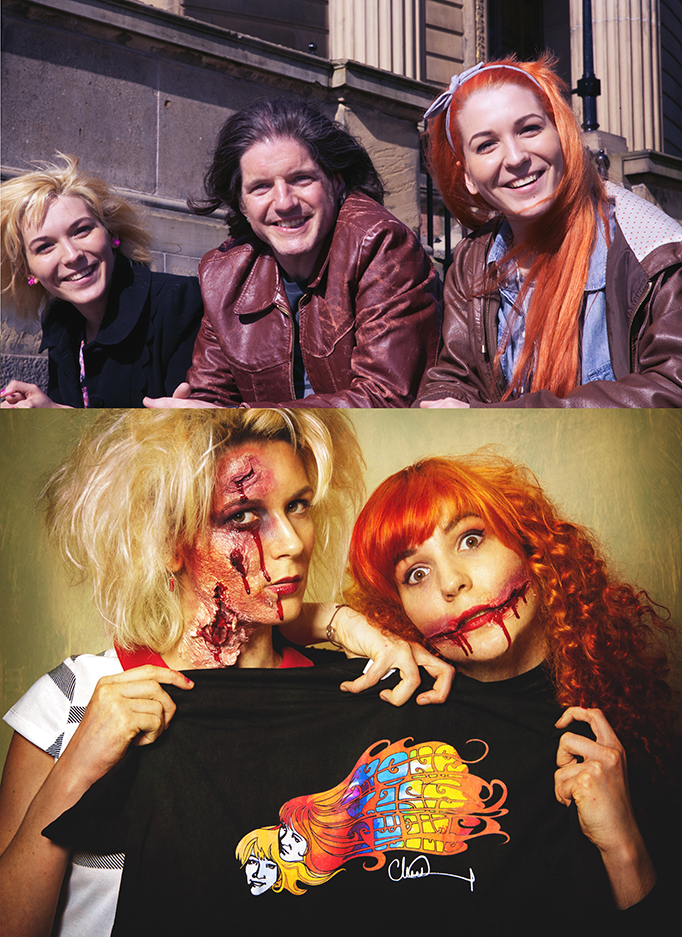 Watch your back when watching our - New Video!
No one knows what happened after the 3rd verse, so he might still be around ... Maxwell swinging his Silver Hammer
Recently we travelled back to the 60s to record "Maxwell's Silver Hammer", and then even further back to film the video for our version. But on the way something must have gone wrong with our time capsule cause we multiplied! Phew, from now on the stage at the Cavern Club will be even more crowded ;)
It would be great to hear your thoughts on the video, so please leave a comment, if you managed to escape death that is ... bang! bang!
Mona & Lisa
On stage and on the road
On May 7th we got to support guitar legend Albert Lee and his band "Hogan's Heroes" at the City Variety Hall in Leeds. Our "Head Of Special Projects" Tim Quinn used to work there during his teens in the 70s, so our trip started with an extensive history lesson about that beautiful old theatre together with lots of fascinating, funny tales.
We then met Albert, and an exciting evening of more stories and great music started. Although having come for the master himself, the audience was also incredibly appreciative of our music, and we left the theatre late at night not only with inspiring personal encounters to remember but also with a much lighter merch box.
Albert and his bandmates said the kindest things about us, they discussed our "great guitar sound" and said they will help us whenever they can. Also check out this great concert review by Allan Wilkinson from Northern Sky: www.northernskymag.com/reviews/live-reviews/albert-lee-and-hogans-heroes-monalisa-twins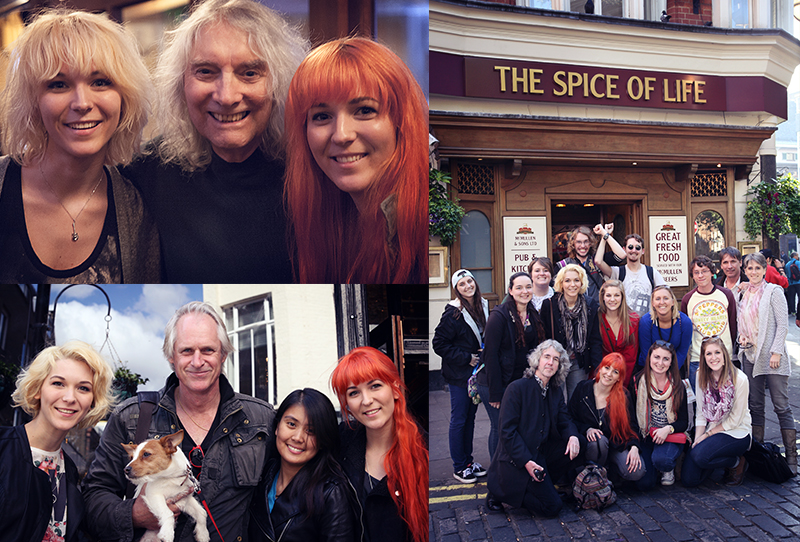 To top off those great two weeks we went to London a few days ago to meet Gregory Paul Martin, eldest son of Sir George Martin, the man who produced all of the Beatles' albums and is often referred to as the "fifth" Beatle. From his looks to the way he talks Gregory certainly can't deny his roots, however, he's not only a famous son but a renowned actor, writer and producer in his own right. You bet we had a very interesting chat about hmmm ... things ... and this was probably not our last. Of course, we will let you know if anything should develop out of this :)
Last Saturday we had a lovely group of students from Indiana/USA over in Liverpool. Back home they are studying a course at university called "History Of The Beatles" – how cool is that? After a fun gig at the Cavern we all went out to show them the exciting city that is Liverpool and also bumped into them again on our trip to London three days later. A big shout-out to the lovely girls and boys and their brilliant professor from the Ball State University in Muncie, the very same that David Letterman is said to have once attended.
Exciting times ahead,
Mona & Lisa
MC Mo and some Pedal fun - New Video!
This is what happens when you leave us alone with a voice effect pedal. James (our bassist) brought his pedal board along to the last rehearsal and we discovered Mona's new talent.
We decided to bin all that 60s old school rubbish and make some real music for a change. Enjoy. Forget groovy – let's get funky. (SARCASM ALERT!)
New Q&A Video out on YouTube - New Video!
This time we filmed a little Q&A video and answered a bunch of your questions. We love doing these kind of videos in between uploading new songs, so if you've got more burning questions, feel free to leave a comment underneath the YouTube video, on Facebook or, if you don't want to wait till we film our next Q&A clip to get your questions answered, you can also submit them here, where we check and reply to your comments quite frequently.
Happy day,
Mona & Lisa
"The MonaLisa Twins will be big, really big.
I want them in my touring band!"
Steve Harley - January 28th 2015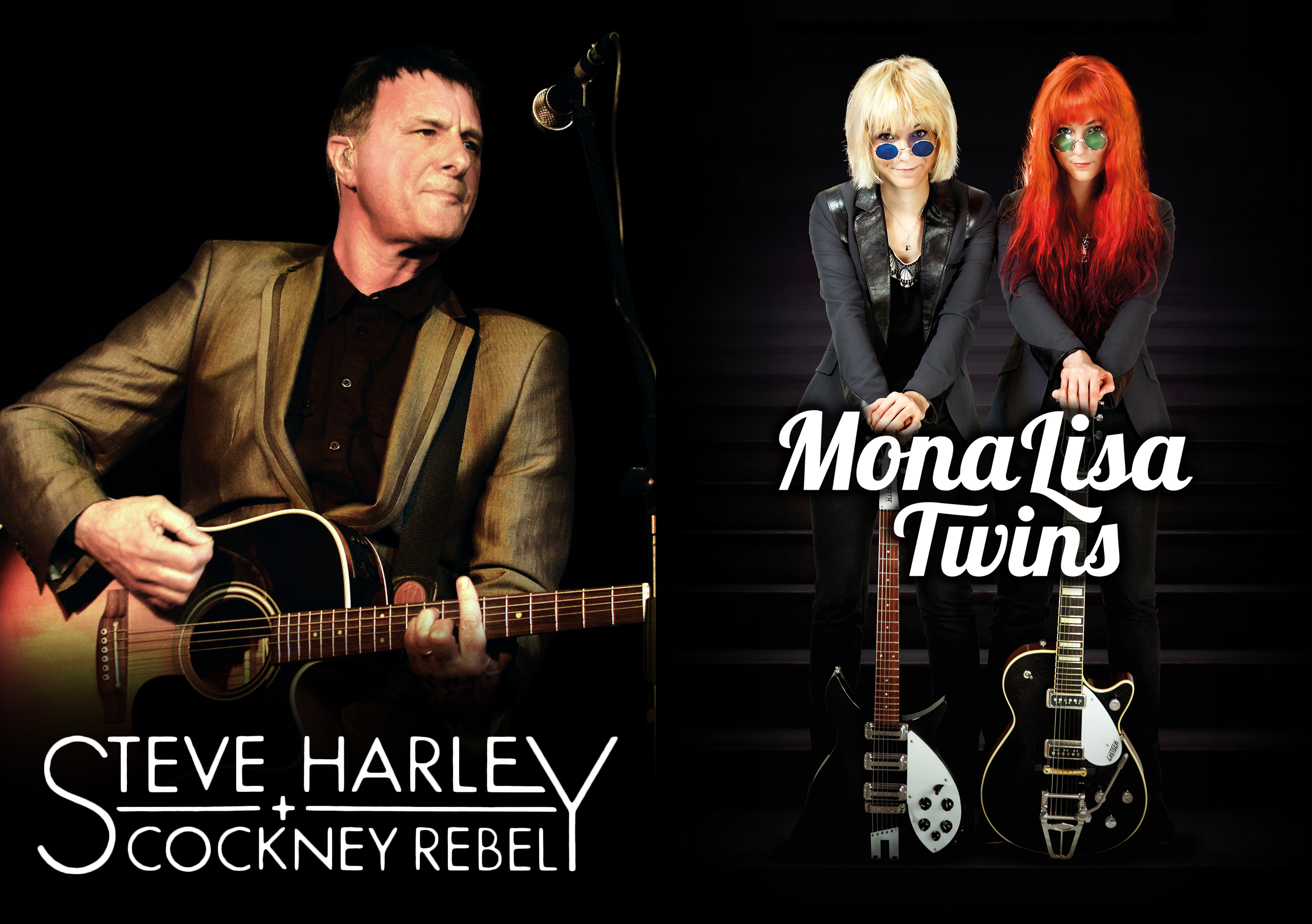 To use a British expression, you can imagine how 'chuffed' we were when we read this on Steve's Facebook page. And today we are over the moon to be able to finally let you all into our Big Secret. It is going to happen! We are going to be part of Steve's band for a huge tour of the UK in November!! So hopefully we will be able to meet lots of you along the way. Here you'll find all dates and cities we shall be hitting. But first let us tell you how this amazing team-up came about ...
Our dad used to buy Steve Harley & Cockney Rebel's records when they came out way back when. He introduced us to Steve's music when we were kids and we loved it. Last year we mentioned this to our friend and mentor and Head of Special Projects Mighty Tim Quinn. It turned out that Tim had produced a couple of shows in the past with Steve. It's a small world! Anyway, unknown to us, Tim sent Steve some of our YouTube links. Steve watched and listened to them and it set an idea in motion in his head. He asked to meet us the day after our showcase gig at the Half Moon in Putney, London. And that is how we found ourselves back in January sitting round a table with Steve Harley enjoying tea and biscuits. Talk about Rock & Roll!
We felt a little nervous going into the meeting but Steve was lovely and soon put us at ease as we talked and laughed about many different topics. It turned out he really liked our music and sound! And then into the conversation he dropped the fact that he would like us to join his band for the upcoming tour in November. The show would comprise one set of tracks compiled from fans' requests, plus a performance of "The Best Years Of Our Lives" album itself in its entirety, for the first time ever. We would play alongside his band members on Steve's own songs and also throw some of our own numbers into the show! Amongst his band members would be original "Best Years" musicians Jim Cregan on lead guitar, Stuart Elliott (drums), Duncan Mackay (keyboards) and long-standing Cockney Rebel member Barry Wickens on violin and guitar. We would be sharing lead and rhythm guitar with them, as well as backing vocals and percussion!
We looked at each other in amazement about such an incredible proposal. Steve asked us to think about it and possibly not book any shows for November. By the time we had stepped outside of the building we had thought about it and you bet we kept November as free as can be!
And so for the past few weeks, alongside the new material we have been working on in our studio, we have also been playing Steve's songs to get ourselves in the right groove to fit in with Cockney Rebel. It's coming along nicely. If all goes to plan we shall be popping up in the media with Steve from September onwards to promote the tour. What an absolutely unique experience these shows will be! We can't wait. We really hope to see you on the road!! Take a look at the wonderful venues we shall be playing and book today. Tickets are going fast!
Much love,
Mona & Lisa
Our video-diary from the "Tampere Beatles Happening" - New Video!
You might have noticed that we've tried to upload more videos on YouTube recently to try to bring back the release schedule we had followed before we moved to Liverpool. As you can imagine, we're having way more opportunities arising in the UK than back in Austria - that's what we came here for after all - but on the other side it took time to groove in and establish new routines. Anyway we are trying to get out videos out more regularly again, and that's why we plan to release a strip every second weekend from now on.
Last week we've spent a wonderful and uplifting musical weekend in Finland where we've played 2 shows at the Tampere Beatles Happening 2015. So our today's video is kind of a video diary of the trip, and if you want to learn more about our Finnish adventures there's a photo story for you below.
Happy Easter,
Mona & Lisa
"Finland Impressions" - Tampere Beatles Happening 2015
Having to get up at 4am in our usual sleeping pattern actually means hardly going to bed at all. And that's how our Finland adventure started, continued and ended: with tiny bits of sleep - on the plane, on the bus and between aftershow parties and breakfast. But hey, who cares, that's the reason why adrenaline and make-up got invented, so we made extensive use of both. Who needs to sleep when you can have a weekend full of Beatles music, meeting fans and great bands from all over the world, working with caring and professional on- and off-stage staff, when you can play two huge stages for all the fans who went out of their way to get you for their festival. And when there is, available around the clock, ... plenty of delicious foooood. Sorry to say that, Brits, but they do it better.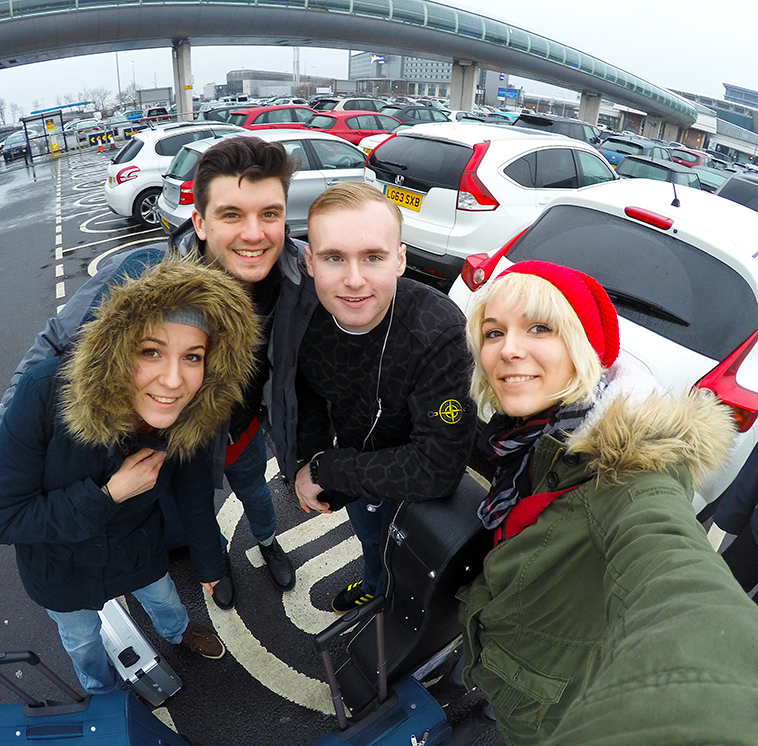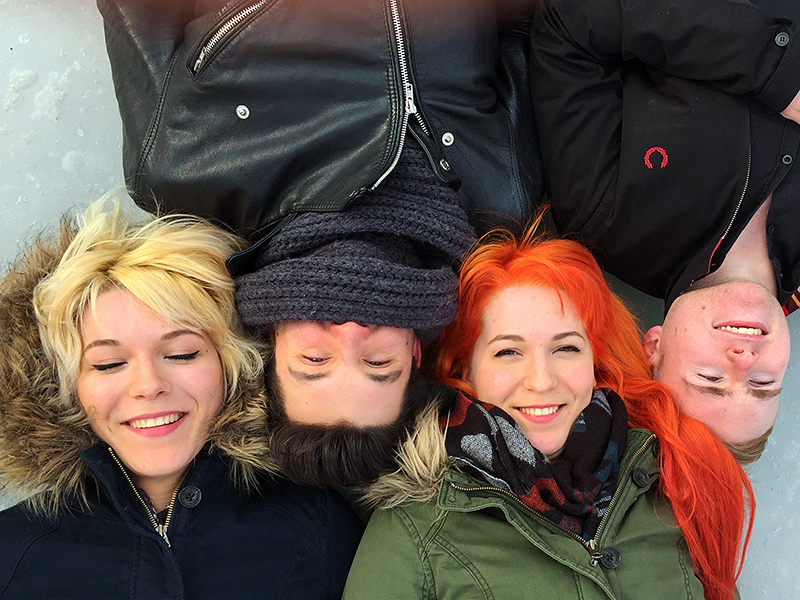 So here we are, goofing around on the frozen-up lake near Tampere Hall, for our parents to do their in-front and behind-the-scenes video-filming ritual that naturally involves our photo drone whenever possible. We might not know birds that well, but sometimes we do cheat a little bit and pretend, just to get that uplifting feeling.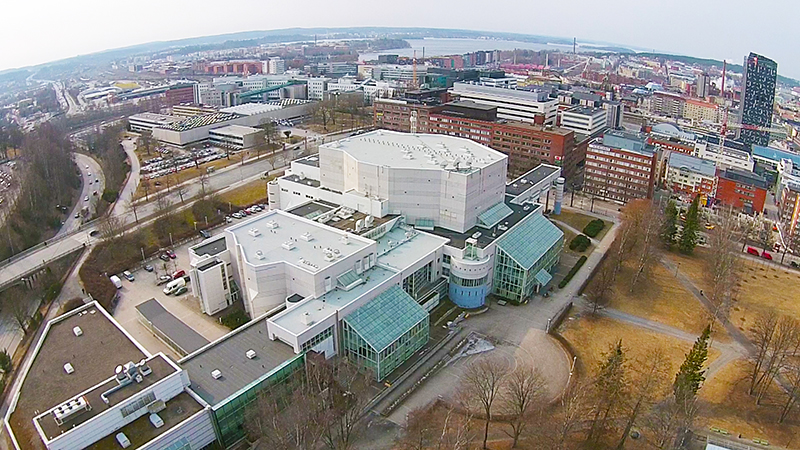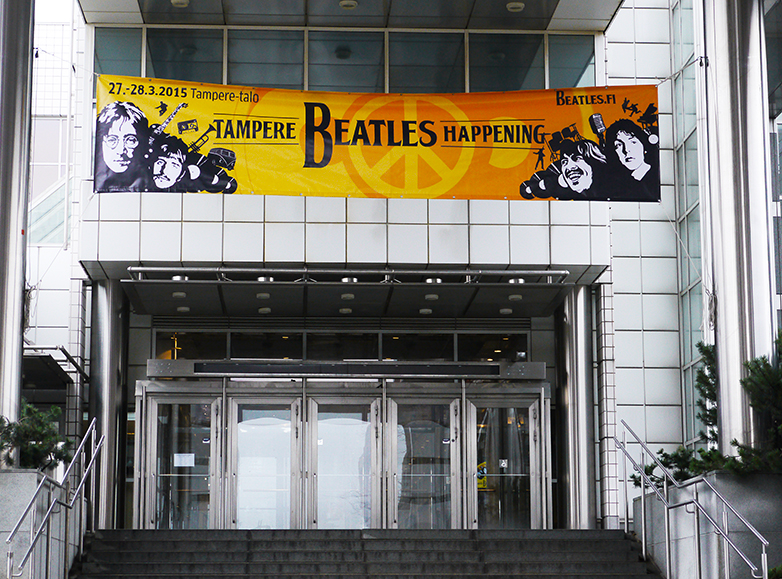 Having landed again, we took a little stroll through Tampere, Finlands second-largest urban area, also being nicknamed "Manse" or "Manchester of the North" because of the various industries they once had. And indeed, some red brick factory buildings reminded us a lot of England.
Not very English though was the weather. What have been Spring temperatures for the Finnish was still quite freezing for us, and the feeling and sounds of walking on all that grit on the streets reminded us of the Austrian Winters. And while we don't miss the cold and dirt at all we would have loved to put on our skates to go for a spin on the icy lake.
But we had better things to do, and it's time to tell you about the actual "Tampere Beatles Happening" now!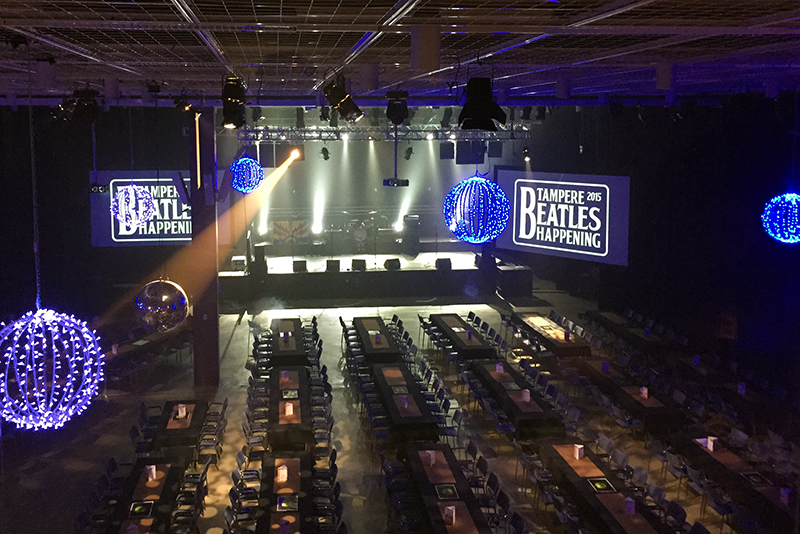 In the afternoon, right before our first sound-check, we were to get a little tour through what is the largest concert and congress centre in the Nordic countries: Tampere Hall. Walking through an endless labyrinth of corridors and some hundred doors we got a good impression of the size of the venue, its auditoriums, stages and backstage areas, but see for yourself!
Left in blue you can see the smaller concert hall, shot from the light engineer's desk on the top floor. This was the stage for our Friday night show and also for the Saturday midnight jam with the Italian "Brothel Creepers" and all the other great bands who made that festival so special and joined in for the Grande Finale.
Down below, in bright yellow, you can see us having sound-check for the Saturday night show in the main auditorium. See that great stage, the 1800 seats' auditorium and that wonderful acoustic roof of the hall? We needed binoculars to see the sound engineer up there. Thankfully we had microphones, and we had to make full use of the camera zooms to get close-ups from the stage.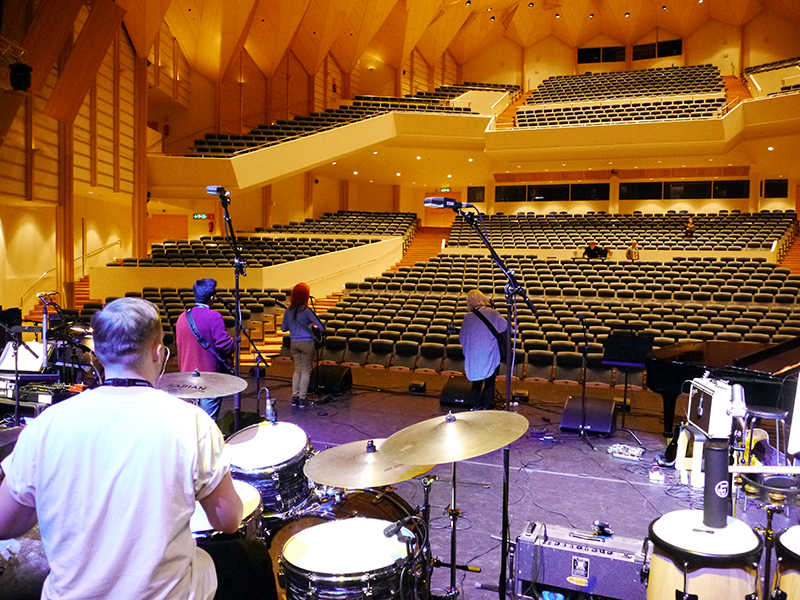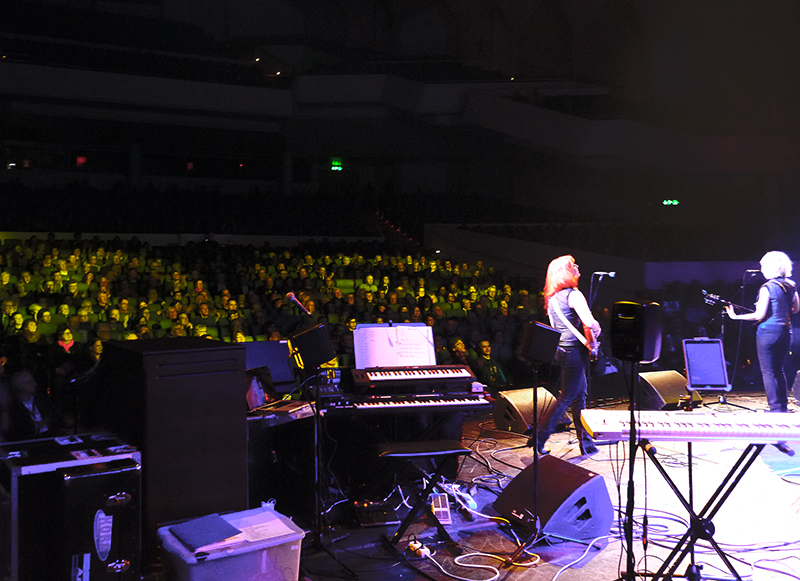 For us and our boys (James Rookyard on bass and Jake Brown on drums) it was an absolute pleasure to sing and play for all the friends we had made last year at Beatle Week in Liverpool and for so many new ones who have come to see us. The atmosphere was cheerful and everyone in high spirits, people singing, clapping and dancing along in front of the stage and in their seats.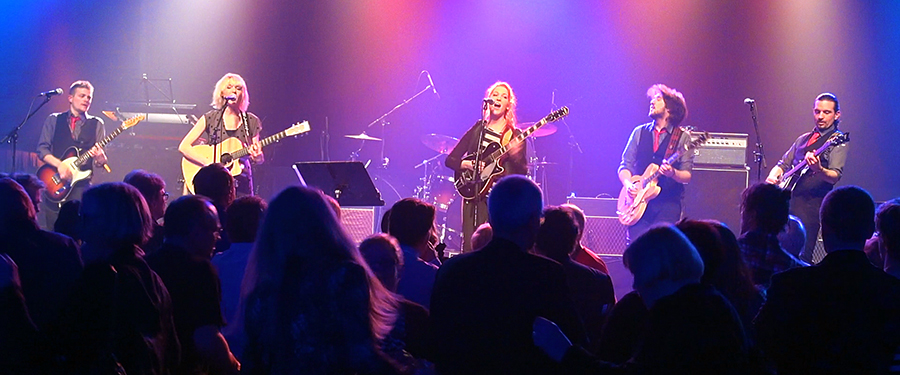 Thanks everyone who came to chat and take photos with us after the shows, and also for taking our CDs and shirts home as souvenirs.
Those four days have been so full of action and great experiences, that it feels like we've been away for two weeks. We want to thank the all the organisers, the artistic director of the festival and all their staff and voluntary helpers for their perfect preparations and on-site help. This couldn't have been more enjoyable for us. You got it perfectly right, and we appreciate all of your work so much, as well did all the other artists.
Talking of other artists: It was a delight to work with all the bands there. Apart from them being great musicians themselves, everyone was kind, helpful and funny, no diva affectations, just one big family indulging in peace and love. Sounds very corny but felt like a soul spa.
Through this festival we made lots of new friends and fans, all of them so lovely, and we consider ourselves very lucky to have been a part of the whole fest. We feel very honored as well considering how this festival came about for us. Last summer a big group of Finnish people (81) had visited International Beatle Week in Liverpool where they happened to see us play many times. Apparently they enjoyed our shows so much that once they went back home they asked the Tampere Beatles Happening organisers to book us. Rest assured, the love is mutual!
You could do the same! If you have contacts to any festivals, venues or happenings that you think we would fit in, let them know about us! It's easier than one might think, and we love that our band is so fan-driven rather than label/management-run. You are our allies, and together we can go anywhere. This weekend has proven just that!
There's nothing more to say other than thanks again, "kiitos paljon", and that we're so much looking forward to our next Finnish adventure at the "Hard Day's Night Festival" on the 18th July in Parikkala. See you all there again and have a good time!
Yours, Mona & Lisa
1 Year Anniversary in Liverpool & "One More Time" live from the Cavern - New Video!
Recently we had a lot more to celebrate than "just" 5 Million YouTube hits:
1. One year ago we set foot in Liverpool and never left again! The Scoustrians were born. To come here was one of the best decisions we've ever made and we can't thank our parents Rudi and Michaela enough for making this big move with us!!
2. It's also the 1 year anniversary of us meeting Tim Quinn who has supported us incredibly during the last 12 months and put so much work into getting our music out there!
3. Our video for "
California Dreaming
" reached 500,000 views today! That's the first of our videos to ever reach that big of a number!
4. Our video for "June" cracked the 50,000 views milestone today as well!!
5. We have been playing a residency slot at the Cavern Club Liverpool every Saturday night for about 6 months now, so we thought it's about time to start sharing with you all some moments of our time there. We just released a live version of our original song "One More Time", recorded on February 15th, 2015. James Rookyard on the bass and Jake Brown works the drums.
Sooo … today is a good day, a very good day indeed.
Guitar Grandmaster Albert Lee invited us to play support
We've got an exciting gig to announce! On May 7th 2015 we will be playing support for the legend that is Albert Lee!! This will take place at the City Varieties Music Hall in Leeds as part of Albert's UK and Europe tour, and we urge you all to go and see his show, especially that one in Leeds! There are only few tickets left: http://bit.ly/1HbZkP6
What an honor to be asked by Albert to open up for his fantastic band! He is one of the most well respected and best guitarists to ever walk on this planet. While having had an impressive career in his own right, he has played with pretty much EVERYONE including Eric Clapton, George Harrison, Joe Cocker, the Everly Brothers, Dolly Parton, Tom Jones, Tommy Emmanuel,… (the list goes on forever).
Lisa is currently practicing her solos and won't be leaving her room until the show.
See ya,
Mona & Lisa
We celebrate 5 Million YouTube hits with Beatles Cover "I'll Be Back" - New Video!
5 000 000 YouTube views as of the minute you're reading this! 5 000 000 x 3.5 minutes (average length of one of our videos) equals more than 33 years. Wait a second, what? Yes, you'd have to watch our videos for 33 years day and night to get to the length of time that people have watched our videos for. Crazy!
To celebrate this wonderful insanity, we made a new cover video for you to enjoy! This is just the beginning of more regular YouTube appearances.
Stay groovy,
Mona & Lisa
"MonaLisa Twins hit London" - a Review
Our friend and Mentor Tim Quinn recently posted his impressions and the feedback he received from all kinds of people after we played our Half Moon Showcase event on 22nd January 2015. Reading it we thought this was such an excellent review that couldn't be more to the point in describing the special atmosphere of that night. So we'll let him speak for a change and just add some photos to the story: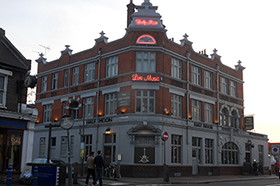 "Where to even start to describe the last few days? "Did you have a nice time?" asked a neighbour on my return. That's a bit like asking Neil Armstrong the question on his return from a giant leap. For we too have just returned from the moon. The Half Moon in Putney, London, where the MonaLisa Twins played the gig of their life.
It's a beautiful venue run by beautiful people. Rolling Stones and The Who and Albert Lee had warmed up the place before our arrival. You walk in and the warmth hits you. A feeling of musical anticipation wraps itself around you and you start bopping before the band hits the stage.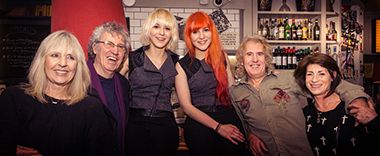 We got there at 11am for the set up and sound check. Excitement mounts through the afternoon. Early birds Steve Grant (Sweet, Animals, Barok) and his wife Deena Payne (Emmerdale's finest actress) arrive and meet John and Barb Cameron. John was Donovan's musical director for the hits and has since worked on many a stage musical around the globe. They all love the Twins and we love them right back. (photo: Camerons left, Grants right)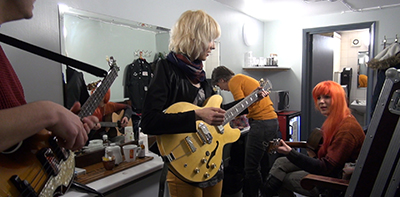 We laugh, we eat, we drink, we rehearse. I pull out of my pocket a short intro to learn for this evening. The bloody thing will not stick in my head. I start to feel nervous. I haven't felt nervous since I had my tonsils out age 10. What th-?! It's a Big night. My brother turns up. We walk past each other because we haven't met in a decade and have aged horribly (in his case more than mine). We finally figure out who is who and hug, only for me to be pulled away to chat to an important person.
A coach pulls up outside the venue and 50 Scousers jump off. They have come down to support the Twins tonight, having fallen in love with them already back in the pool. And then people arrive from Ireland, Belgium, Scotland, the Wirral, and the US. This is going to be a far flung audience. Londoners start piling in. Everybody gets on with their shared delight and MLT love.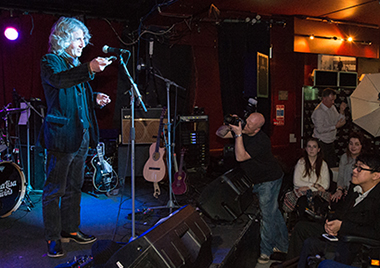 Countdown!
In the dressing room the band are bubbling and admit to a flurry of nerves on top of the excitement. I'm freaking out as my stupid freaking intro will not stick in my stupid freaking brain. The lights dim, the music goes down, I walk to centre stage, look down to a jam-packed audience of happy smiling faces and announce: "The MonaLisa Twins!" They take the stage and take the audience with a roaring rendition of the self-penned 'This Boy is Mine'. ROARRRR! from the crowd. All is well. The band have taken London, leaving it in very, very happy ruins.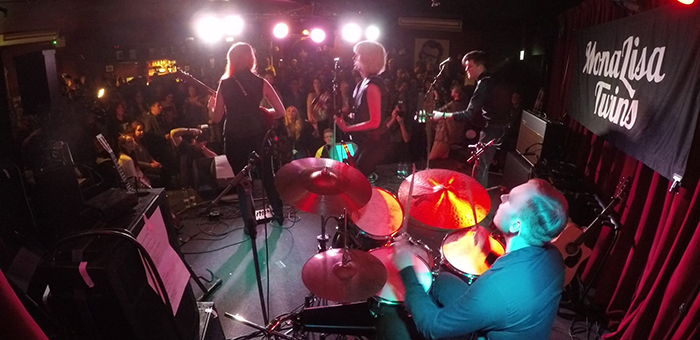 The show continues with a mix of original songs and covers, each one delighting every audience member. "I love you, Mona!" shouts one fan. "Me too!" agrees someone else. "I love you, Lisa!" cries another. There's a whole lotta love going on. I see my brother in the crowd. First time he's seen the Twins. He is smiling the way I remember him smiling when he was given a bottle of warm milk as a baby. "What a bass player," says John Cameron. A good comment as John spent years with John Paul Jones who played with Led thingy (he means Led Zeppelin). "They are superstars," say so many people that I lose count. 'My Generation' takes off the roof, while 'Johnny B Goode' demolishes the walls and ceiling. Life is good. Encore. Moooorrrreee!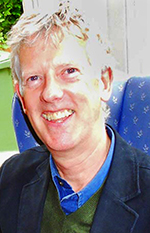 Audience members come up to me and just shake their heads in amazement. I understand. Daniel Wiles, the best producer ever from 'The South Bank Show' documentary series, comes over, shakes my hand and says: "Stupendous, old chap. Absolutely stupendous. They are rocket ships!" I don't know what that means but I wholeheartedly agree.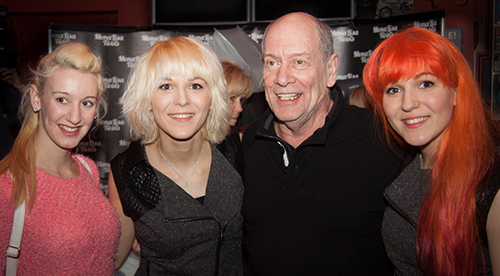 One of my favourite pop shows from the BBC in the Sixties was a series called 'A Whole Scene Going' presented by one of Britain's top DJs, Mike Quinn (sadly no relation). It was somehow only right to see Mike turn up at the Half Moon along with his daughter. Still with his finger on the pulse, Mike had already been making positive comments about the Twins on his Facebook page. This is a man who has worked with The Beach Boys, Scott Walker, Gene Pitney, The Who, Jimi Hendrix and the Bee Gees to name but a few. Soon he and his daughter were bopping in the aisles.

The BBC film crew who have been filming for 'BBC Breakfast' come over, looking shellshocked in a nice way. "Cracking gig!" Mark Aiken, Hollywood star of Kiefer Sutherland's '24' and 'Charmed' wanders over and says: "Good God! That was earthshaking. I adore them." He's not the only one. The band is surrounded by the audience who want to take them home with them. Meet and greet. Mugs, CDs, mouse pads and photos are signed with love.
Finally it is over. Strip the stage. Stand outside in the frost and load the car with guitars, drums and the rest. We look at each other and laugh. On the ride home we take it in turns to bring up the evening's highlights: "Remember when..." Yes, a very, very good night in the life of the MonaLisa Twins. And as for the following day ... Well that's a story for another time. Stay tuned.

Tim Quinn
Here's to a great 2015!
We wish everyone of you a Happy New Year and all the best for 2015!
If you've been following us throughout the year 2014, you will know that the last 12 months have been absolutely great for us in nearly every regard. Our move to the UK totally paid off, and we were and are still giving our best to jump on all the opportunities we are given here.
22nd January: Showcase concert at the Half Moon in Putney, London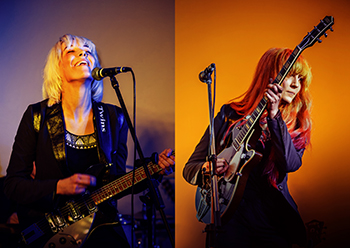 Great things are ahead of us in 2015 and some of them are already planned out. To start with, we'll be having an important showcase concert down in London on the 22nd of January, which was requested for us to do by the "BBC Head of Music Television" after he got introduced to our YouTube videos.
That night we'll introduce our originals to the British music industry - radio DJs, TV producers, press people, bloggers, record shop owners, venue promoters - in the hopes that they'll help us in getting national exposure in the UK.
We really want to get this party going and make the most noise possible, so the more people showing up the better! Everyone's invited to the Half Moon in Putney, a well-known venue that has seen many of the world's most legendary acts so far. So if you happen to be in London that day or if you planned for a city tour for 2015 anyway and want to do it now, please don't hesitate to come and see our show. We are proud to say that we'll have fans coming from as far as Arizona/USA, and also people from Austria and Ireland are already confirmed. So if you're up for a great party and supporting us that evening, please get your ticket here.
Hop on the MonaLisa Twins fan bus!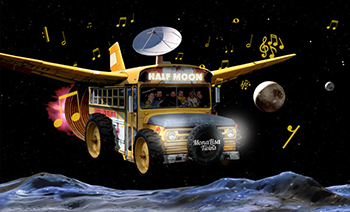 If you are from Liverpool or Stafford areas and don't want to drive all the way down yourself, you can just hop on the coach we provide for our home fans. We'll create our own Magical Mystery tour bus full of fans and friends and we're sure it'll be an absolute blast. Tickets are £ 10.00 including the travel back/forth, the entry to the show and a free drink. If you want to join the ride please don't order your ticket in the link above but instead reply to this newsletter, send us an e-mail or use the contact form on our website. You can find all the information about the coach on our Facebook event and we'll update it nearer to the date in terms of exact departure time and address.
Thanks for your support in 2014. We hope you'll stick around and enjoy our music in the new year as well. We wish you and your loved ones the best of health, luck and fun possible.
Much love and have a wonderful 2015!
Mona & Lisa
"Catch The Wind" live @ BBC Radio Manchester w/Becky Want - New Video!
And another little Christmas present to you! A live version of Donovan's "Catch the Wind", recorded at the BBC Radio Manchester. Thank you to Becky Want for having us on as guests! This year''s Christmas has been one of the best we've ever had, the first time abroad in England but nonetheless an exciting experience. We send much love to everyone back in Austria and of course to all of you. Again, Merry Christmas to you and your families and loved ones.
Mr. Bassman: James Rookyard. Little Drummer Boy: Jake Brown
Here's a little Christmas video for you guys. We spontaneously decided to do "Winter Wonderland" at the Cavern Club in Liverpool last Saturday and went over the song in the dressing room with the boys before the show. Unfortunately we weren't in the best of health and it's only the camera sound, therefore a little rough, but we wanted to share it anyway to wish you the merriest of all Christmases. Have you all finished your shopping and preparations already? We're about ready! First Christmas abroad :)
Mr. Bassman: James Rookyard. Little Drummer Boy: Jake Brown
Here in England we are not celebrating this American tradition but we still want to use this day to say a big thank you to all of you! Besides the core MonaLisa Twins team and some supporters in the industry it is YOU lovely people from all over the world who make living our dream possible every day! You can all pat yourself on the back and then imagine a virtual MonaLisa hug from us. We are very thankful for having you as our fans and friends :)
As a little treat we just uploaded the making-of clip of our new single "Nothing Is In Vain". It features on our newly released DVD "When We're Together" and will be the last behind-the-scenes clip of this DVD that we will publish on YouTube. So if you want to see how we created the rest of our music videos make sure you get a copy in our online store.
Ding, ding, ding (that's the sound of a spoon tapping on a glass)!
Thanks for your attention. We've got an announcement to make. Today we are releasing our first ever official DVD. It contains all the videos for the original songs of our debut album "When We're Together" as well as more than 30 minutes of exclusive bonus footage and behind-the-scenes material, by which we're talking you through the process of creating each one of the 11 videos!
More than two years after releasing the album CD we are proud to have finished this monster project. Not many artists can say that they have made a music video for every single song that they have ever put out on CD, but we are beyond happy that we did! Before we release new original material we wanted to once again celebrate our debut album and give all the videos the proper packaging. Plus, it's the perfect Christmas present, isn't it?
Pssst! Santa's in town already!
In fact we saw TWO of them in Liverpool today, giving their everything to escape the fans that somehow had found out about the new MonaLisa Twins DVDs. We immediately whipped out our cameras and filmed these poor guys running for their lives to save some of the DVDs and stuff for you. Here's the proof. So be quick, don't say nobody warned you!
CHRISTMAS SPECIAL: - 10 % ON OUR WEB SHOP!
Cash in your "XMAS2014" discount code until 24th December 2014!
The Christmas season is an excellent time for us to thank you for your long-time friendship, loyalty and continuous support. Without you making music would not be half the fun that it is! So here's our Xmas present for you: If you are looking for a Christmas gift or want to buy a little something for yourself, you'll get 10 % discount on everything in our web shop until 24th December 2014. So feel free to empty our stock and give our new DVD, our CDs, T-shirts, coffee mugs, mouse pads and posters to everyone you know!
All you have to do is type "XMAS2014" in the "Discount Code" bar after you checked out with your shopping cart and then click "Apply Coupon". The discount code will work till the 24th of December 2014 and you can use it not only once but TWICE (just in case you forgot something ;)!
We wish you and your loved ones a very Merry Christmas,
Mona & Lisa
Our last "When We're Together" music video is finished:
"Nothing Is In Vain" ready to celebrate 4 million YouTube views!
The timing couldn't have been better. Just when we scored 4,000,000 YouTube views we were ready to release the music video for "Nothing Is In Vain". As you know, it was the last song on our album "When We're Together" to get a video, and we went the extra mile to make it a worthy final highlight of the whole project.
Actually, we went a few THOUSAND extra miles when we traveled to outer space to shoot the footage. So the video for this tune is out of this world, so to speak, and the visual atmosphere enhances the psychedelic feeling of the song. We're over the moon to say that with finishing this video we will be able to re-release the whole album as a DVD, together with exclusive bonus footage and behind the scenes clips. The DVD will be available in our web store very soon and we'll inform you on that in a separate newsletter.
We've been working on the "Nothing Is In Vain" video for more than a year now, collecting and shooting footage between other projects. We shot scenes underwater and on the trampoline, and you'll see planets explode and giant goldfish swim through the universe. Enjoy your trip through space - completely without drugs, just music - and let us know how you liked it.
MonaLisa Twins - "Nothing Is In Vain" - Official Music Video
In the wake of International Beatle Week 2014
For those who don't know, IBW is the world's largest annual Beatles related event, with 20 - 40 bands and about 50,000 fans from over 40 countries coming to Liverpool every year. We visited the spectacle in 2009, when we were 15 and weren't even allowed in the clubs. Instead we were busking right in front of the Cavern Club and since then followed our dream to one day play inside.
That became true for the first time last May, when we played there during the "International Pop Overthrow Festival". We applied for International Beatle Week 2014 as well, and as soon as we settled in Liverpool, as a result of being on Billy Butler's Saturday Morning Show on BBC Radio Merseyside every week, we got squeezed in to play 12 shows, although band booking was long finished.
So we had the time of our lives in the Cavern Club, Cavern Pub and other festival locations, and people were talking about the "MonaLisa Twins buzz" going on in Liverpool. If you haven't watched it already, here's a video summary on our last months' activities and successes in our new home town.
Because of our constant presence and our performances during that week many new opportunities arose, and word got out about the MonaLisa Twins. (Certainly a newspaper article like the one in Liverpool Echo doesn't hurt either: "Mona Lisa Twins take the music world by storm".) As an example the organisers of the Finish Beatles Festival invited us to play two shows at their own Beatles Fest at the end of March 2015 as well, and more requests from all over the world are still pouring in.
Our new residency at the world-famous Cavern Club
Another great outcome of Beatle Week is that we not only played a few gigs there during the festival itself but that the Cavern directors offered us a weekly weekend prime time spot, and that's why we are rocking the main stage there every Saturday from 7 - 8 pm and from 9 - 10 pm with two different sets. So if you're around or plan a trip to Liverpool, be sure to come down and see us!
So to use our own words: No, we can't complain, Nothing is in vain ...
With the "When We're Together" DVD production we are very happy to finally have brought an enormous project to an end, and we are equally excited to be able to start new things now.
Your continued interest and support is amazing and so much appreciated, thank you!
The journey goes on, so great to have you on board!
Yours,
Mona & Lisa
"With a little help from my friends" cover live at BBC Radio Merseyside & International Beatle Week 2014 news - New Video!
To keep up with all the great news of the past weeks, we've put up a little video again, summarizing the most important highlights, especially from International Beatle Week 2014, which took place from 20th - 26th August. We had the pleasure to play 15 shows in 7 days, and we had the time of our lives.
The feedback we got from hundreds of fans and many of the inner Beatle circle people from back in the 60s (as you will see in the video) was overwhelming and a wonderful inspirational boost we've never experienced anytime or anywhere before. Still high!
The video soundtrack is from last Saturday on Billy Butler's Radio show at BBC Merseyside, when we chose to dedicate our weekly cover song to the man himself. In the past 6 months Billy had done so much for us. Through him so many people have heard of our music, and they came to see our shows and meet with us. In the video you'll see many other great guys who have helped us a lot, last but not least our mentor Tim Quinn (behind the camera), of course our parents who actively support and work on the MLT project, otherwise not the half of it would have been achieved so far. An extra shout out goes to Geoff Baker, Paul McCartneys publicist for 15 years. The video features a very special sequence of the interview that Mark Lewisohn (world-known Beatles historian) had conducted with him at Beatle Week for hundreds of Beatles' lovers.
Another nice thing is that the Cavern Club directors now want us to have as a residency act with the whole band (not just us as a duo), as they got so much great feedback on our performances. At the moment re-scheduling is going on to get us a better Saturday slot. We'll keep you updated on the live page.
MonaLisa Twins - With A Little Help From My Friends - Cover - The Beatles
"Yesterday's Gone" cover live at BBC Radio Merseyside - New Video!
We put a little video together for you, featuring some of the highlights of the last weeks. The "soundtrack" is from last Saturday on Billy Butler's Radio show at BBC Merseyside, when we chose to dedicate our weekly cover song to our good ol' friend Steve from Miami who had wished for a song by the British group Chad & Jeremy. Watch the video to find out more :)
"Friday On My Mind" - New Video!
I've got Friday on my mind! Especially Friday the 4th of July when we will have the pleasure of performing at "The Met" in Manchester, together with Mike Sweeney from "The Swinging Blue Jeans" & Paddy O'Hare. Mike Sweeney is a well-known radio presenter on BBC Manchester, and just like Billy Butler on BBC Radio Merseyside he's playing our songs regularly. You can get tickets here: +44/(0)161/761 22 16
Until then you can enjoy (hopefully) our version of the song "Friday On My Mind" by the Australian 60s band The Easybeats. The recording is also on our album "MonaLisa Twins play Beatles & more", and we now have a video on YouTube for each and every song from the album, hoorrray! The video was taken from our gig at the Shamrock Pub back in 2012 in Austria with Philipp Wolf on the drums and Michael Mozeth on the bass.
Today is also the birthday of our stepmum who is also our manager, friend, helper and much more. Love you big time!
Mona & Lisa
"People Are Strange" - New Video!
This is our birthday present from us to you! Our life as a teenager is now officially over - we think that is a lot of reason to celebrate. Byebye 19, hello 20! We can't wait to see where life will take us during the next two decades or as we prefer to say: where we will take life next!
One more reason to be happy is that we just reached 15k Facebook likes, that's SO many of you! To celebrate, please enjoy this new video we've put together! "People Are Strange" has always been our favourite song by the Doors and the lyrics, with all the various meanings of "strange", capture the nature of strangeness in such a perfect way. It's off our latest album "MonaLisa Twins play Beatles & more".
Give it up for Philipp Wolf on the drums and Michael Mozeth on the bass!
May Update with "June" video - New Video!
Time for an update! It's been a long time since our last e-mail, and we apologize for that. An overwhelming amount of exciting things have happened, and we will try to summarize everything as well as we can.
Liverpool calling
Most of you do know already that we've moved to Liverpool like we did explain in our April update video. Meanwhile we've settled in, everything is out of the boxes, all the furniture is in place and verrry importantly – we have verrry fast internet! We've even set up a rehearsing space and can play with the full band in our own home, very much to the neighbor's delight ;)
Our first gig at the world-famous Cavern Club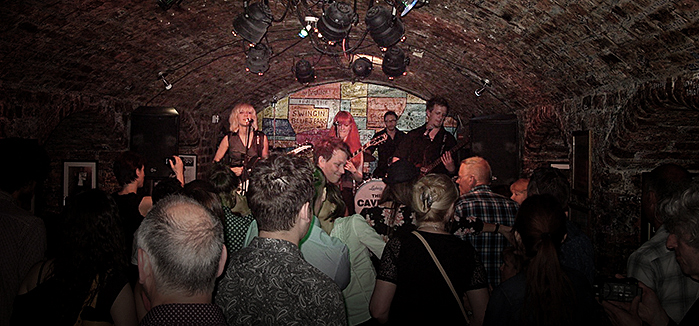 Many great things are popping up here, but the highlight of the last month for us was last weekend, when we performed at the world-famous Cavern Club, where the Beatles played over 300 times back in the early 60s! It was an absolutely magical moment and we enjoyed every second of it. We also played at the Cavern Pub (opposite the Cavern Club) and "Surya" in London, all of that having been part of the IPO (International Pop Overthrow) festival, which is touring the USA and UK every year. Thanks to David Bash for organizing this enormous event and for putting us on the bill!
Back in 2009, when we visited Liverpool for Beatles week festival, we busked on Mathew Street in front of the Cavern Club and would never have dreamt to play inside the venue 5 years later. As you all know, we are the biggest Beatles fans, and this made the moment even more special. Besides that we think we rocked that place pretty well ;) After that gig we are even more convinced that Liverpool is the absolute perfect place for us to live, and we couldn't be happier to have moved here. We are also very proud to announce that we will play the Cavern Club again in August for "International Beatles Week 2014" - 8 gigs in 5 days - see our live show calendar for more details. We would really love to meet you there!
Local and national radio shows, #1 in ECMA UK charts
For some weeks now we also have a weekly spot on the BBC Radio Merseyside Saturday morning show with Billy Butler, a well-known radio legend from the 60s till today! Tune in every Saturday at about 11am to hear us cover a 60s tune requested by a listener! We will also do the same on BBC Radio Manchester with Mike Sweeney, a well-known musician, former member of the "Swinging Blue Jeans" and radio presenter for decades. We'll play a show together with his band on July 4th in Manchester.
We thank both presenters for their immense support, as well as Sally Naden from BBC Radio Lancashire who has had us on her show twice now. She also asked us to perform our song "The Wide, Wide Land" for the start of "Dementia Awareness Week 2014" which was broadcasted live from the Alzheimer's Convention at Burnley Football Stadium. The song is about our grandma who sadly suffered from Alzheimer and passed away three years ago. Our dad, who was her son and who experienced the development of the disease the strongest, wrote the lyrics together with us, which got now printed on post cards sent out by the Alzheimer's Society to raise money for the cause. Singing this song in front of dementia patients and their carers was a very emotional moment, bringing back memories of our own granny! Please help if you can: http://alzheimers.org.uk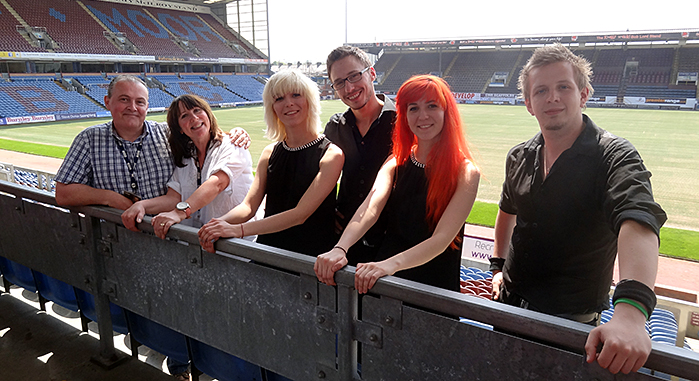 Thanks to a large-scale radio campaign two of our songs - "The Wide, Wide Land" and "This Boy Is Mine" - are getting regular airplay on a couple of other local UK radio stations including BBC 6 music, BBC Radio Shropshire, Kent, Norfolk, Sussex and even Wales, as well as on many more small and big radios all over the world. It is a wonderful feeling to watch the spin reports and see the own songs in powerplay, one of them even on #1 of the European Country Music Association Charts and #20 of their Global Top 25. Big thanks to Stephen Wrench of Musikandfilm.com!
However, the biggest broadcast we got after being in England for just 6 weeks, was the show of the legendary Johnnie Walker on BBC Radio 2. National Radio that is!! We've been part of his segment "Sounds of the 70s" and talked about our favorite tunes of that era. It was an amazing experience at the London BBC studios, and we also want to thank him for his lovely quote:
"Have listened/watched YT vids of God Only Knows, San Francisco and Hotel California - they are incredible. I'll do all I can to spread the word about the MonaLisa Twins." Johnnie Walker, BBC Radio 2
The most amazing quotes of 60s legends we could ever get ...
Speaking of quotes. You would never believe, WHO got to see a bunch of our videos recently, and beyond that, WHO also took their time to write us all these lovely words. To make it short here, please allow us to refer you to the quotes section on our biography page. We hope that you will share our excitement, we're TOTALLY OVER THE MOOOOOON!
Singing along with Mike McCartney at BBC Radio Merseyside
We also would like to share a film clip of us covering "Do You Remember" by the Scaffold, a big 60s band from Liverpool that had 3 top then hits in England, "Lily the Pink" making it to #1 in the charts. In the BBC Radio Merseyside studio with us: Mike McCartney, former member of the band, photographer and Paul's brother. Pretty surreal, isn't it? He seemed to be enjoying our version, we hope you like it too.
Introducing our new band members Jason and Jake
Last Saturday we took our new musicians, bassist Jason Griffiths and drummer Jake Brown, with us to Billy Butler's Saturday morning show to accompany us live on cajón and stand-up bass. This time our press agent Tim Quinn was the lord of the video camera, and we think he did a great job.
"The Last Time" by the Rolling Stones
We also finished cutting together a new live video from a concert we played back in Austria - with Michael Mozeth on the bass and Philipp Wolf on the drums: "The Last Time" by the Rolling Stones, which is also track number 14 on our latest cover album "MonaLisa Twins play Beatles & more"! Hopefully not the last time with Philipp and Moz. Thank you guys for two wonderful fun years of live shows and looking forward to playing a "reunion gig" with you at some point!
And finally 3 million YouTube views and almost 10,000 subscribers!
We celebrate and thank you all with the video to our original song "June":
"June, it has been so long ..." We are really sorry that this has come true somehow and that we have kept you waiting with this one for so long. We wouldn't have thought that this video would be one of the last ones on YouTube, nearly 2 years after the release of our debut album "When We're Together". But Rome wasn't built in one day neither, and we are very proud to be able to look back on two very exciting and busy years with lots of videos, live shows and finally a move to our musical home - Liverpool. "June would you come along and bring my baby home ..." here they are, some eye-pleasing pictures of Austria's finest blooming and blossoming in contrast to the beautiful tidelands of Southport beach.
MonaLisa Twins - "June" - Official Music Video
It's incredible how many things got rolling here in Great Britain within just a few weeks. A big thank you goes out to our UK press agent and friend Tim Quinn and his lovely wife Jane, who helped a lot to make us known here in the area so quickly, as well as to our parents Rudi and Michaela, who made this move possible in such a short time and who are still doing our manangement and loads of work. And of course we thank you, all our friends and fans all over the world, for your ongoing interest, encouraging words and unshakable belief in us and our music. We love you all so much!
Yours,
Mona & Lisa
Liverpool calling! - New Video!
So many things have happened over the last couple of weeks that we weren't able to post about them individually at the time. So we decided to put a video together, taking you with us on the journey of the recent, absolutely CRAZY events.
We are moving to Liverpool and are doing things we could have only dreamed of a few weeks ago. In this video we tried to explain why and how things have happened. It's 5 weeks crammed together in 8 minutes. So good that we filmed everything, otherwise we still wouldn't believe it ourselves!
It's so uplifting to see how the work of the last few years has paid off, and we know that if we continue doing what we do and love, we will have a ridiculously exciting time ahead of us - together with all of you!
Please ask us questions for our upcoming Q&A video, you will hear from us soon!
Much love,
Mona and Lisa
MonaLisa Twins are moving to Liverpool, UK!
Remember that we've been looking for a rental car to get around Ireland? You know, we were too young to get one, and so we have to take buses now instead. But we learned that bus riding in Ireland is lots of fun, and so we thought it's the perfect time to put out a cover of the great Hollies' song "Bus Stop". In our opinion one of the songs that truly catches the essence of the melodic early 60s beatmusic songwriting style.
Also quite a number of our fans kept asking when we would eventually upload that song to YouTube, because they have already heard it at our life shows or when we played it as a duo on London radio shows last summer.
Well, no more waiting, here it is - again with live tracks from Michael Mozeth on bass and Philipp Wolf on drums.
In just 26 days "MonaLisa Twins play Beatles & more" will be released and ready to be purchased on our website and on all the big online music stores including iTunes, CD Baby and Amazon.
Click here to pre-order now
to get
- a 18 % pre-sale discount - € 10.50 (regular price € 12.85)
- your copies signed by us
- your CDs arriving before or on the official release date March, 28th (given that post offices won't mess it up ;) )
"MonaLisa Twins play Beatles & more" is an album that many of you have requested and something we've been working on for the last couple of months. It's a cover compilation with live and studio recordings we did over the last years, going back as far as 2009, when we were just 15. It contains many of our YouTube hits and even a few songs you haven't heard by us before, unless you have seen one of our live shows!
For a quick listen watch our new album trailer:
MonaLisa Twins - "MonaLisa Twins play Beatles & more" - Official Album Trailer
50 years Beatles on the "Ed Sullivan" Show
"Please Please Me" - New Video!
Two weeks ago we celebrated the 50 years' anniversary of the Beatles performing on the Ed Sullivan show with a cover video for "I Saw Her Standing There", a week later they played "This Boy" on the same show (our cover), and today 50 years ago it was the song "Please Please Me" that they rocked the show with.
To celebrate their 3rd week on Ed Sullivan we did a new studio cover of this great song. However, to save some time we took the bass and drums tracks from a live recording we did back in 2013 (played by Michael Mozeth and Philipp Wolf) and just added the guitars, harp and all the voices at our studio. We'd love to cover all Beatles songs ... must. resist. the. urge! ;)
We are playing at IPO Festival at Cavern Club Liverpool!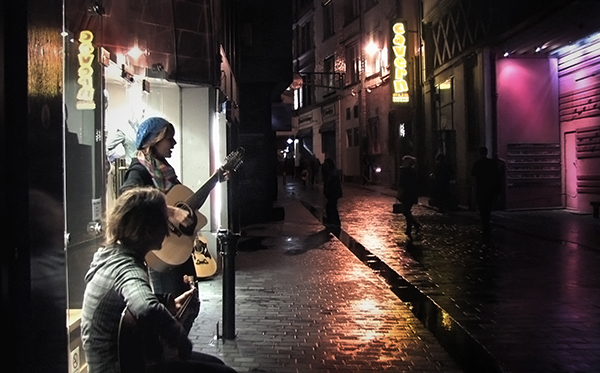 In 2009 we were busking OUTSIDE the Cavern Club in Liverpool. 5 years later we are very happy to announce that we are going to play INSIDE! We are confirmed for the "International Pop Overthrow Music Festivals" in Liverpool and London! We don't know the exact show dates yet, but they will be announced sometime in March. However, you can mark the dates of the festival already, which are:
LIVERPOOL: 2 shows at the "Cavern Pub" & "Cavern Club Liverpool" (or maybe even both shows at the "Club") // May, 13th-20th
LONDON: 1 show at the "Surya" // May, 23th-25th
For those of you who don't know why it is so exciting for us to play at the Cavern Club – the Beatles kind of "grew up" there and performed countless nights in this legendary location, as well as the Rolling Stones, The Kinks, The Who, the Yardbirds, Elton John, ... and many, many more. Now it's our turn – we'll try our very best and hope to see many of your faces!
Updates coming soon!
"All About Falling In Love" - New Video!
Happy Valentine's Day everybody!
It seems like while writing the song "All About Falling In Love" our otherwise rather dormant Austrian musical roots (in this case going back to 19th century "Waltz King" Johann Strauss) decided to pop up. The "groove" is kind of a slow waltz, and the wintery atmosphere of the baroque Vienna City Center with its romantic small alleys and its picturesque City Park was a perfect set for our new music video.
Filmed by our dad and Lisa (with the help of Arnold Holler for the making-of footage), the video is starring Mona Schramke and Mario Slavik, who we think did a great job of getting the message of "All About Falling In Love" across in a subtle and very sensitive way.
Please share this video with your loved ones if you enjoyed it. The matter is very dear to us, and Valentine's Day is a great time to get it around the world.
Spread the love,
Mona and Lisa
top of page
50 years Beatles on the "Ed Sullivan" Show
"I Saw Her Standing There" - New Video!
It was 50 years ago (on February 9th, 1964), during the Beatles' legendary first appearance on the American "Ed Sullivan Show" back in 1964, when there have been no major crimes reported in New York City between 8 - 9 pm, cause even the criminals seemed to join the estimated 73,700,000 viewers in 23,240,000 homes in the United States. Exactly 50 years later they are still likely to be the most influential band that has ever existed. Without them, music wouldn't be the same and a whole lot of great bands just wouldn't exist.
Here is our take on one of the songs they performed at that show back then - "I Saw Her Standing There". These shots were taken at the "BaBü" in Wolkersdorf/Austria on March 7th, 2013, with Michael Mozeth on the bass and Philipp Wolf on the drums. Thank you John, Paul, George and Ringo for evoking our deep passion for music and for changing the meaning of music forever. We also thank every other musician and artist who has the desire to give something to this world and believes in the power of artistry.
"When I'm Sixty-Four" - New Video!
We have been playing "When I'm Sixty-Four" live as a duo for quite a while now and enjoyed doing a proper studio recording of it last week. It's hard to believe that Paul McCartney wrote this song when he was only 16 years old! And now he is 72 and still one of the best performers out there, winning Grammys and all that, crazy! Makes us looking forward to our later days ;) So this is our take on it, lean back, relax and enjoy
"The Wide, Wide Land" - Behind the scenes & bloopers video
Another week, another video! We are slowly getting around to putting together all our "Making Of" clips, and we finished the one for "The Wide, Wide Land" just in time – the official music video passed 15,000 views yesterday! At the day of the shooting with the marching band it was freezing, and we've certainly never been as cold before (It might not look like that, but the wind was PIERCING!). At least that made everyone involved remember that day forever!
"Day Tripper" cover video - live from 28th Sep 2013 at Aera/Vienna
Attention Beatles fans !!! We've got a new live cover of "Day Tripper" for you guys, one of our favourite cover songs to perform live! This should be a good rock 'n' roll boost for the beginning of the week :)
"Wake Up Little Susie" cover video - RIP Phil Everly!
We are very sad that Phil Everly from the "Everly Brothers" passed away yesterday!
We first got into their music about three or four years ago and covered their song "All I Have To Do Is Dream" soon after. When we were deciding on covers to play with our band last year, we knew for sure that we wanted to include one of their songs! They were great and influential songwriters who created some true masterpieces! To honor Phil's work and to give him and his brother back some of the love they shared with the world, we quickly cut together a video today of us performing "Wake Up Little Susie" at a concert about a year ago.
All our prayers go out to their family and friends, especially to Don Everly, who has lost his brother and musical partner.
Phil, may you be happy and free wherever you are!
"One More Time" - Behind the scenes & bloopers video
Our music video for "One More Time" reached 10 000 views last week! On this occasion we put together a behind-the-scenes video of one of our favorite video shooting days in 2013. For those of you who haven't watched the original video yet or want to watch it "one more time": here's the YouTube link. And now have fun on the set!
Merry Christmas with a cover video of "This Boy" by the Beatles!
This video is for Steve, one of the most generous, supporting people we have ever had the luck to encounter.
In summer 2013, during our stay in London, we did a music video for our song "When We're Together", in which we painted a huge picture, together with passing strangers in the busy main road of Camden.
Later we auctioned the painting, and after some shipping difficulties with the original highest bidder, Steve from Miami finally bought the canvas and put it up in his office. We were happy that the painting has finally found a new home, and because of the nice messages and pictures his secretary Mary had sent us, we knew it was in good hands with lovely people.
After that Steve wanted to support us and our music even more, in a way that completely blew our minds, still does and always will! Look at all those wonderful guitars!
He wants nothing in return except for us to continue making music and making good use of the instruments he sent us. So we were looking for a project in which we could play all the guitars and at the same time thank him for his generosity.
We kept close contact with Mary, who told us that one of his favorite songs was "This Boy" by the Beatles, a tune we absolutely adore as well! So we spent the last couple of days in the studio, recording the song and using only the guitars Steve had sent us. The nice bass line was played by our Dad who this time refused to be in the video :) (We'll get him again for the next studio cover recording)
We hope that you, Steve, and all you guys out there will enjoy our version of this gorgeous 3-part harmonies' song. We wish every single one of you a MERRY CHRISTMAS and all the best for 2014!
Much love to all of you and thanks again, Steve!
Mona & Lisa
Guitars starring (in order of appearance):
Epiphone Dove (Acoustic)
Rickenbacker 350v63 / Fireglo
Gibson Les Paul 1959 re-issue / Sunburst
Gibson ES 335 / Cherry Red
Ludwig Drums + Percussion (Mona)
Hoefner 500/1 Vintage 63 Violin Beatles Bass (Rudolf/Dad)
Lead Vocals: Lisa
Back Vocals: Mona, Lisa
"Mercedes Benz" cover video - live from 28th Sep 2013 at Aera/Vienna
"Revolution" cover video - live from 28th Sep 2013 at Aera/Vienna
"For What It's Worth" cover video - live from 28th Sep 2013 at Aera/Vienna
"I Wanna Kiss You" - Behind the scenes & bloopers video
"Behind the scenes" and bloopers from our latest music video "I Wanna Kiss You". We always end up with lots of footage that we can't use in the actual clip, so we thought we'd cut together some of our favorite out-takes. Have fun watching!
"I Wanna Kiss You" - New Video!
"I Wanna Kiss You" is track number 10 on our album "When We're Together". Like for every one of our videos we thought about something special again, that would fit the rather bold announcement (I wanna kiss you) and the happy Rock 'n' Roll sound of the song. It really was a lot of fun to play around with the green screen and various effects, which took us longer than the whole filming procedure. If you thought the video was funny and interesting, please share it with your friends so they can enjoy it too ;)
We send virtual kisses to all of you,
Mona & Lisa top of page
"Can't buy me love" cover video - live from "Vienna Hafen Open Air 2013"
We think this is absolutely awesome and we are very, very happy and grateful for having such unbelievable supportive fans! What makes us happy the most is the consistent positive feedback we're receiving on both, our covers and also original songs, as well as your many thumbs-up, thoughtful and detailed comments and heartfelt letters!
That number still seems unreal to us and probably always will, but we are jumping with joy. We also reached 5400 subscribers, and many of our covers come up first place when you search for "songname – cover" on YouTube! Please continue spreading the word, sharing, liking, writing, singing, dancing, ...
What better way to celebrate this than with a new video from a live concert we performed in Vienna on 28th September, at which we had the honor to have fans from France, Bulgaria and even from the USA attending the show. Here comes our cover of Chuck Berry's "Johnny B. Goode". Have fun and let's keep it rock 'n' rolling!
Mona & Lisa top of page
New Music Video "I Don't Know Birds That Well"!
On our way back from Plymouth, where we were guests on the "BBC Devon Morningshow", to London, we discovered an extremely idyllic village called "Abbotsbury". It seemed like the perfect place for our video, after we had been searching for days to find something suitable: a secluded ruin/church on a hill, surrounded by grassland, lots of birds in trees, but all WITHOUT huge bus parking lots, info-centers and loads of tourists.
And so it happened that there was St. Catherine's Chapel right next to this small village, the sea in the background, and, as if we weren't lucky enough already, this chapel was home to a bunch of white doves – it could have been scripted!
Of course, a "birds" video wouldn't be a proper "birds" video without any aerial shots, so, like in other videos before, our dad navigated our Octocopter, and our stepmom operated the camera. Not easy to coordinate, especially when it's windy too :)
At the end of the day we all were very happy to have shot all the footage on the single sunny day during 3 consecutive weeks of rain. But now, relax and watch the world from the birds' eyes view!
Our painting has found a new home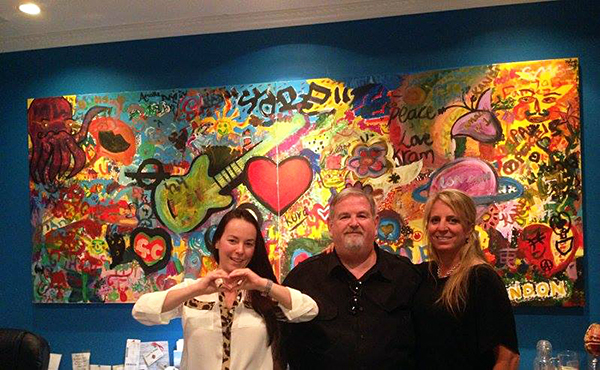 London - Vienna - Miami - what a journey this painting made since June! After the eBay auction failed in August, there have been a couple of fans interested in buying the painting from our "When We're Together" video, but Steve from Florida settled the race. Together with his team he rearranged a large wall of his office to get this piece a worthy spot. We thank our fans from USA for their enthusiasm and love with which they treated the picture and ourselves. We are truly happy that our painting got such lovely new owners who seem to share this "When We're Together" kind of mindset!
An utterly crazy surprise caught us some days later, when we received a parcel from Steve. We, as utmost Beatles fans, are still speachless!!! ... don't know what to say ... it's up on our studio wall ... :)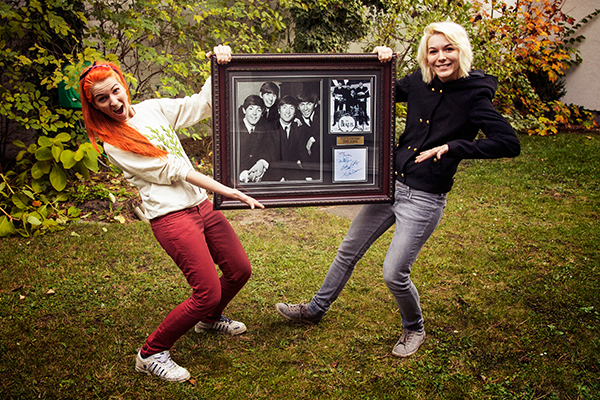 We shot it during our 6 weeks' stay in London this summer and boy did we get lots of funny looks and comments about walking around town like we did. Shopping for these outfits was a blast by itself, however, unlike one might think, make-up and hairdos weren't less time-consuming than for other videos.
We don't want to know how many of London's myriad CCTV cameras have "Dreams" video footage on them too, but it must be enough for an excessive length Hollywood movie. Although we have to say that London's Bobbies have been very friendly to us when investigating why we attended "Trouping the Colors" (the Queen's official birthday parade) in pyjamas. And then there was this nice "Transport for London" officer who advised us that video-filming in tube stations is forbidden AFTER he made sure that we had finished our work. When we came back in the evening he and his collegue had already checked out our website and wished us lots of success with our projects.
However, although we were trying to get across our message in a rather "unserious" way - the song and meaning behind it are very dear to us. For giving the piece a personal touch we invited this little stuffed toy lamb to co-starr. It is as old as we are and it has been sitting in Lisa's bed (or beside or under it) for the last 19 years. It's been with her everywhere around the world, and even when she had lost it someplace, someone found it and brought it back. Meanwhile it has lost 90% of its fur from these exertions, but since it has been watching over Lisa and her dreams for such a long time it HAD to be part of the "Dreams" video.
"MonaLisa Twins Radio Party" at Aera - Announcement
Listening to the radio is great, but listening to the radio "When We're Together" is even better! In this sense we will meet up with band musicians, fans and friends at Aera to listen to the one-hour live concert that we played on Sunday, 29th of September at the "ORF Radiokulturhaus", and which will get aired on Radio Vienna that day.
From all around the world you can listen via live stream or, if you are living or visiting Vienna during that time, make sure to stop by at the "Aera" where we will listen to the show together and celebrate afterwards!
Date:
Sunday, October 20th, 2013
Time:
6 pm: Doors open
7 - 8 pm: Broadcast of the "Radio Vienna Clubconcert" that we played at ORF Radiokulturhaus
Afterwards we'll be playing some songs for you unplugged!
We are very looking forward to chatting and partying with you. Aera's food is great, and we'll prepare some small snacks for you as well.
Location:
Café Aera, Gonzagagasse 11, 1010 Vienna
Table bookings: Aera - Phone: 0043/676/844 260 270
How to get there:
U4, U2 and Tram lines 1, 2, 31 - all station "Schottenring", Bus line 3A station "Rudolfsplatz"
Find more details on our Facebook-Event.
Music video "Dreams" to be released on 10th of October!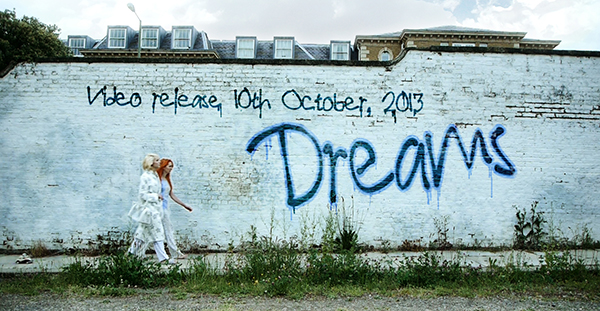 Our next music video will be the one for our unusual and bizarre ballad "Dreams", which we'll release a week from now - on October 10th. And because we stick to our own advice and "never give a dream away, no matter what they say", we came up with yet another quite weird idea for a video and had a fun time shooting the scenes in London this summer - some parts of it in the deadly serrrrious banking district "City of London" and at the super officcccial Queen's birthday parade. This alone wouldn't be that unusual, but you'll soon get to see WHY we had such a good time with many officers and people on the streets and underground London. In addition, imagine how some Australian outback takes from back in 2009 would fit into this whole scenario, and now mark the release date ;)
Clubconcert at Austrian national radio station "Radio Vienna"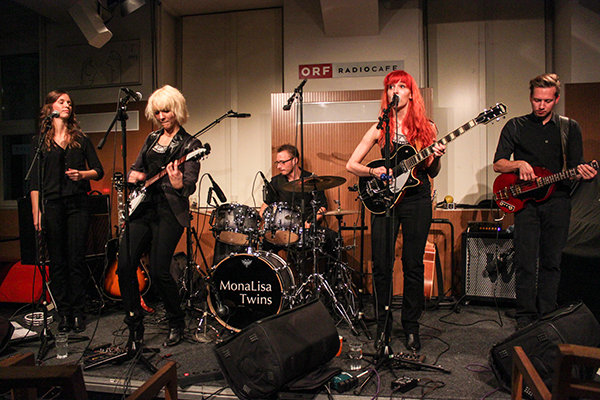 Yesterday we played our probably most important concert up to this date. We did a one-hour club concert at the "Funkhaus" (radio house) of Austria's national radio and TV station "ORF". The whole gig got recorded and will be aired on Vienna's biggest radio station ("Radio Vienna") on October the 20th, to about 300,000 listeners! The station usually airs these club concerts live, but in our case they had to report the whole evening on the results of the legislative elections, which took place in Austria that very day. For us this is a little advantage as we get announced and promoted on the radio a second time.
Despite being quite nervous we could really do our best. Everything went well, only Mona nearly dropped her guitar once since the strap came loose. However, she managed to balance it on one knee, and while a guy fixed the thing for her, she sang and played like nothing had ever happened. So you won't be able to hear it on the radio, since it was more meant to be an acrobatic stunt for the live audience. But have a listen for yourself - on October, 20th from 7 - 8 pm CET, on this live stream or join our radio party at Aera!
We want to say thank you to Mr. Michael Komoly, program director of "Radio Vienna", and his team for his invitation and the opportunity to reach so many new listeners!
Mona & Lisa top of page
Live Concert with CRÆSH at Aera, Vienna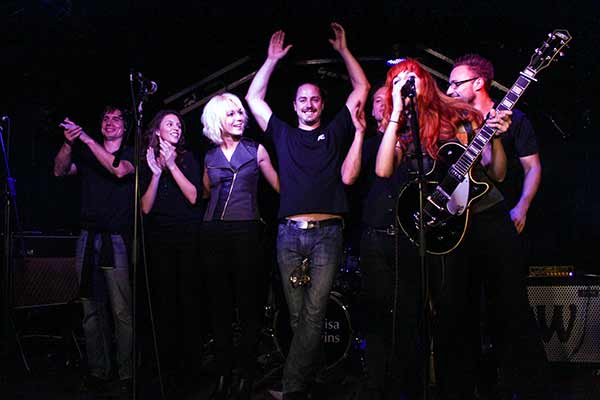 What a gig last night! Thanks to everyone who came out to the "Aera", and big hugs to the boys from "Cræsh" for sharing the evening with us! This time lovely Julia Schaffer supported us on backing vocals and percussion. On the bass and drums as usual Michael Mozeth and Philipp Wolf. For this special evening we arranged our encore "I Want You Back" by the Jackson 5 together with Cræshmen Jakob and Jimi on guitar and trumpet, which gave this concert a very bombastic finish!
So you see, we really had a blast! The whole thing was crowned with two long-time fans from France and Bulgaria travelling to Vienna just for this very gig, which definitely blew our minds. Another friend and fan from USA was watching via Skype, so you could say that we really had an international audience yesterday! Sometimes this is just too much to comprehend and we can't thank you guys enough, last but not least "Aera" manager Werner Ambros who invited us to play at his place for free!
Today we're off to another adventure, namely to the club stage of Austrian national radio station "Radio Vienna"!
See you,
Mona & Lisa top of page
It's Friday the 13th - bad luck day? New Video!
Mona might agree! Watch our latest video "Won't You Listen Now" and you will know what we are talking about. Since we've been giving Lisa a hard time in the "One More Time" video we thought it should be Mona's turn now to struggle a bit. She plays a girl that is hopelessly in love but unable to get her crush to listen. A simple phone call might change things but even thinking about it freaks her out. Instead she prefers to dream about telling him her true feelings but also her imagination is playing tricks on her.
We shot this a while back and are thrilled to finally present you the polished version! It's probably the most folky song on the album and the first one we used the harp on. Jack, the dog was so adorable and it was a pleasure to work with our team once again. We were lucky to get all the shots done right before sunset!
Have fun with Mona, her boy, dog "Jack" and the band:
Album reviews in well-known media outlets
Our album "When We're Together" was released over a year ago and now the first reviews in well-known media outlets start to pop up. Our London adventure seemed to got things rolling on a broader level as international music blogs and magazines are coming up with posts about our songs and videos. Here's a fine selection- you could support us a lot if you would like, share and comment these articles.
"MonaLisa: They've Got the (Back)Beat!" Celebrity VIP Lounge
"The Next Big Thing? The Mona Lisa Twins", Soletron
"The MonaLisa Twins Update 60's Pop Sound On 'When We're Together'" Truth About Music
"MonaLisa Twins – When We're Together Review" What Culture
"Artist Spotlight: MonaLisa Twins" I Heard In
Backyard Festival 2013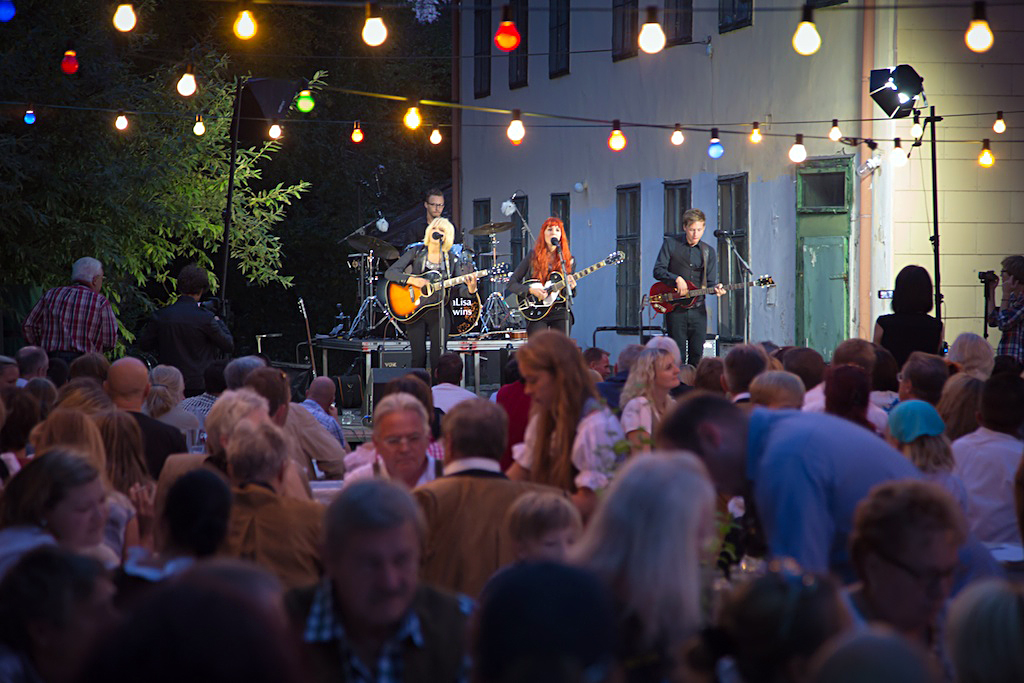 This was the second time for us to perform at the Backyard Festival, which is a traditional costumes festival, like one of the many "October Fests" that are so popular, at least in Europe. Again it was a perfectly warm night for beginning of fall. As the location was quite near to the Austrian airport there were planes coming in very low every 5 minutes, but no one could hear them anymore, cause we made so much good 60ies noise as we possibly could, yeah!
Photo: Bernhard Beilner
The video for the title track of our album "When We're Together" is finally finished! We were thinking about a creative way to get lots of people involved in a connecting, artistic project, all in the meaning of the song title. We were curious about how many people would pause their daily routine out of their love for adventure to be part of a spontaneous happening.
We went out to Camden, the famous art district of London. Equipped with two huge canvases, lots of brushes and all kinds of paint, we put the blank canvas up on a wall on the by far busiest road in Camden, right in front of the "Stables Market". We started out by painting a big red heart in the middle of the white space. Immediately people of all ages, nationalities and gender, speaking all kinds of different languages, joined in and helped us create a unique and colorful painting within a couple of hours!
Not a single policeman told us off. It was so heartwarming and inspiring to see how many people joined in and it was a pleasure to meet each and every one. Businessmen, cyclists, musicians, little children and elderly people alike were painting side by side, laughing and sharing their thoughts and even very personal stories. Lots of people took photographs and walked away with a smile on their face. This day was another evidence for us how much the arts are able to lift up the spirits and make people happy. It was only later that we realized the project also fitted quite well our (band) name MonaLisa. ;)
Have a look - The painting is up for auction on eBay now!
Enjoy and let's make this world a brighter, more colorful place!
Mona & Lisa
Our show at Vienna Hafen Open Air in Austrian national TV
Right after our 45 minutes performance, still on stage, we got interviewed by the Austrian national TV station ORF. They used parts of the interview for their news report about this Festival in Vienna. We are happy that they picked us to be featured on television. You can see us performing our song "When We're Together" and you can hear another song of ours ("Nothing Is In Vain") in the background. Here's the link to ORF mediathek - (click "Hafen Open Air" on the right)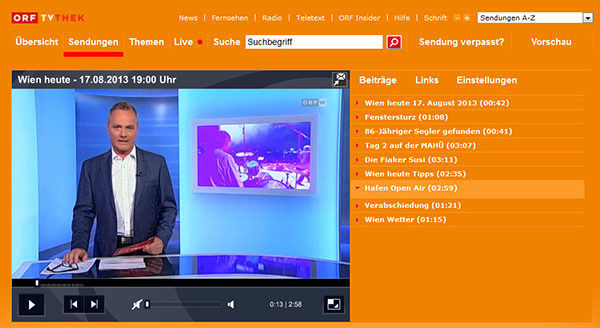 top of page
Vienna Hafen Open Air 2013 - the stage was ours!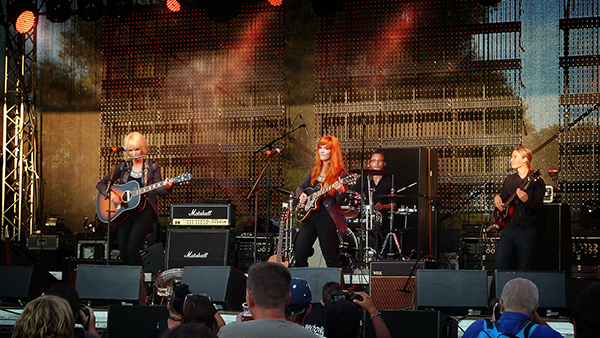 It was great fun for us to present all our own songs to another new audience on the big stage of the Viennese Hafen Open Air Festival. This time, and for the first time, we had Robin Gadermaier on the bass! You rock!
Our thanks go to the event organizers for another great opportunity to make our music known to the public and the media for their interest in reporting about us!
It's been a pleasure,
Mona & Lisa
top of page
Announcement in popular Viennese newspaper
The Vienna Hafen Open Air is already getting huge promotion in Viennese media outlets, and we are able to become known to the broader Viennese public via the "Heute" Magazine (about 500.000 copies a day and 810.000 online users) as well.

top of page
"One More Time" on Shoreditch Radio, UK
Just found that on "Mixcloud": Our song "One More Time" on Zoe Cunningham's Unsigned Music Show, with a very nice introduction of host Zoe Cunningham of Shoreditch Radio. (From minute 28:53)
Smile,
Mona & Lisa
top of page
"One More Time" on Shoreditch Radio, UK
Just found that on "Mixcloud": Our song "One More Time" on Zoe Cunningham's Unsigned Music Show, with a very nice introduction of host Zoe Cunningham of Shoreditch Radio. (From minute 28:53)
Smile,
Mona & Lisa
top of page
Playing at Wiener Hafen Open Air Festival 2013!
Coming back from London and immediately receiving a wonderful e-mail: We were chosen to play at Wiener Hafen Open Air Festival 2013 which will be taking place on August 16th/17th in Vienna! We got a super slot on Friday, 6.45 pm, right after the official salutatory and at the beginning of TV broadcasting.
We are very happy to being able to join the festival and to present our own songs to such a big Viennese audience.
On our way to the rehearsal room,
Mona & Lisa
top of page
Another day, another radio
This time we made a trip to lovely Reading which is just an hour's drive away from our place in London. The Reading Community Radio invited us to be on their one hour "Passion" show where we got to chat with Pete Burton and perform one of our songs live in the studio. It was truly a pleasure talking to him about our music and our lives and the hour went by in a blink of an eye. We had lots of fun but also very interesting topics to go through and could have kept talking for hours more! We discussed songwriting, future plans, our background, a few details behind our songs and much more.
You can listen to the whole show here and watch some pictures.
Thanks again to the Reading Community Radio team for having us on the show, maybe we'll see each other again soon!
Mona & Lisa
top of page
Live on BBC Radio Devon's Morning Show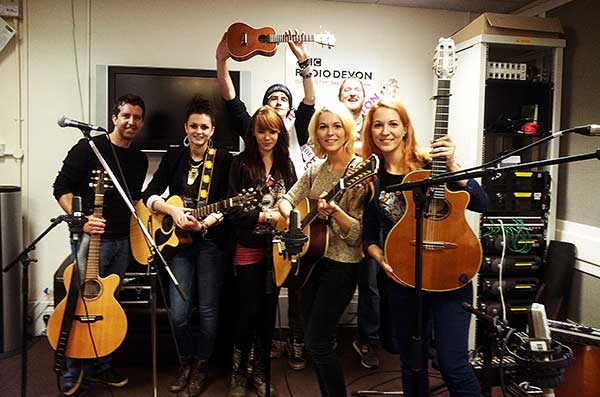 We've been on BBC radio!
That was an experience we'll certainly never forget and definitely one of the highlights of our UK visit so far. We performed on BBC Radio Devon, a station located in Plymouth, Devon County, about 250 miles southwest of London. We ate our own body weight in cakes and pies, laughed a lot and spilled tea all over the place. Everyone there was so welcoming and nice and we felt very comfortable.
Together with artists Emma Lauran, Los No Boss, the duo Jodie and Calum and many other great people, we spent 4 hours on air at the Saturday Morning Show that was hosted by the great John Govier. From 9am to 1pm we all were goofing around in the studio talking and performing some of our original songs. In the end, all the invited artists had about 40 minutes time to come up with an "end of the show-jam". We went with the "Kings of Leon" song "Use Somebody" since that was a track a lot of us knew how to play. We were 7 people singing, 5 of us playing guitar and one the Ukulele and only had about 2 play-throughs before we went straight on air.
You can listen to it on Soundcloud to see how it turned out. More Infos on the show here.
A big thank you to John Govier for the invitation and we'll hopefully be back on his show, next time with the whole band :),
Mona & Lisa top of page
Live at "Fiddler's Elbow", Camden, London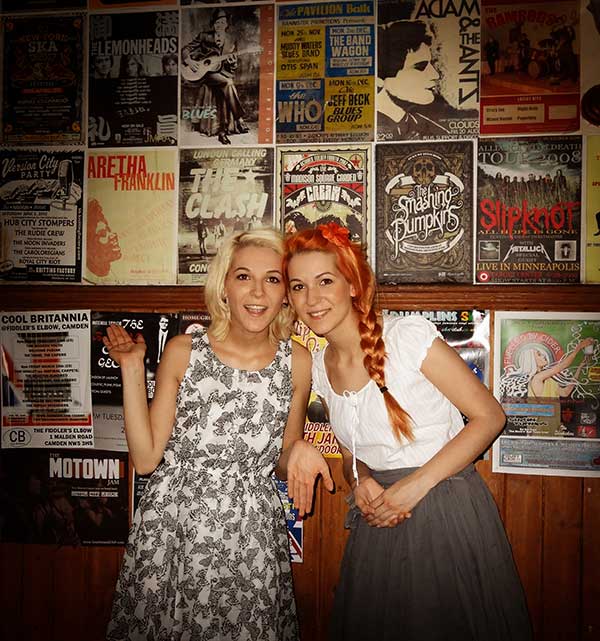 Only three days after our 19th birthday we played at the legendary "Fiddler's Elbow" in Camden Town. Many big London bands have performed there in their early days and we were definitely looking forward to that night. We were not disappointed! Together with the two bands "The Plastic Barricades" and "The Bandit" we experienced an exciting evening with great vibes all around and delicious chicken wings from the take away next door.
For us performing is always a joy and to see how others are liking our music is overwhelming every single time. We don't have any more concerts planned for the last two weeks in the UK. We'd rather try to catch the rare sunny moments here and finish filming for some of our new music videos. But if we find time we will try to do some busking or play at a few more pubs.
We hope you are all feeling marvelous,
Mona & Lisa
top of page
Live at "Barrel & Horn" and "Melrose", London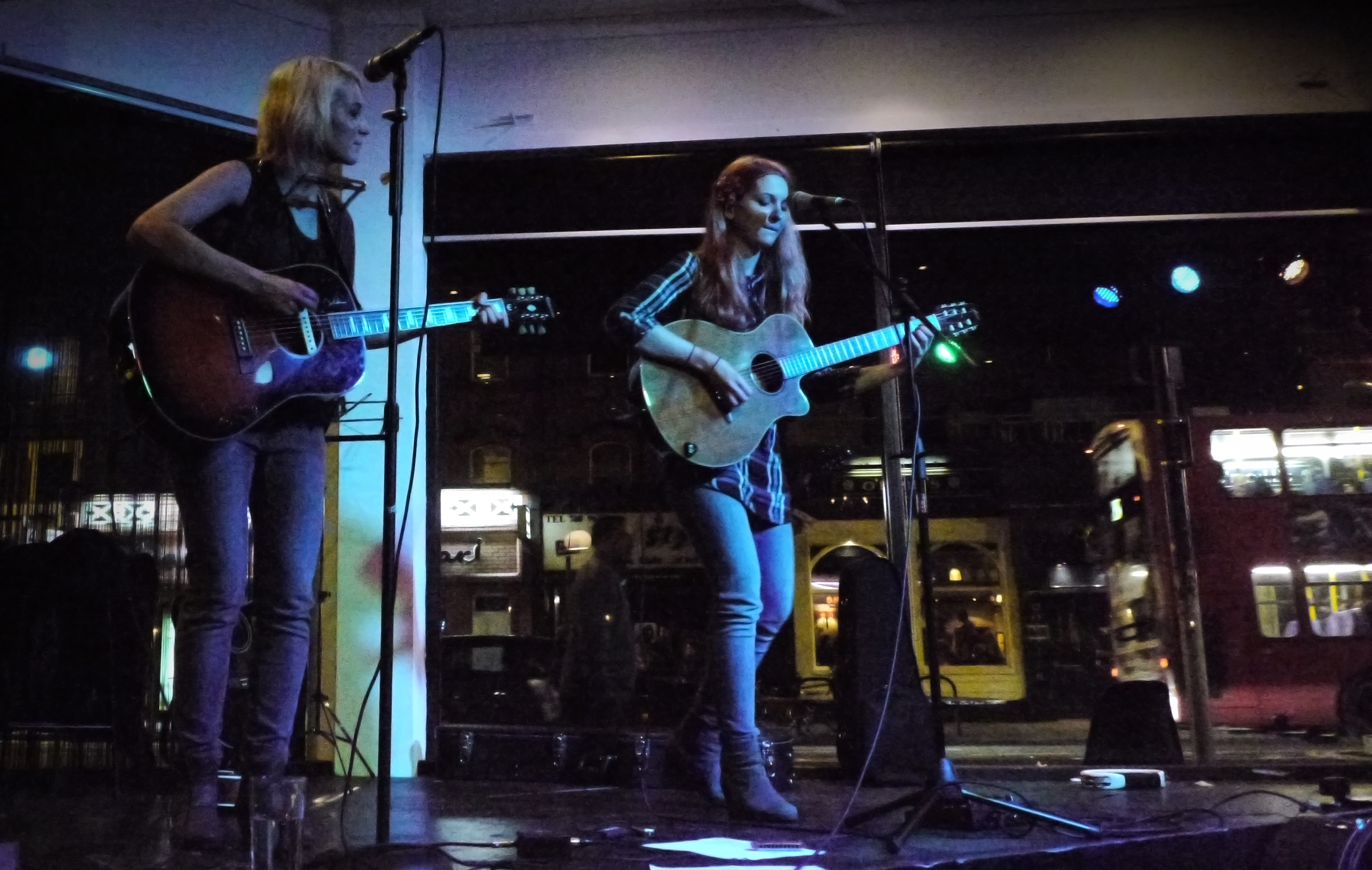 We've now been playing shows in a couple more pubs here in London and it has always been an absolute delight. Thanks a lot to the "Barrel & Horn" (Bromley) and "The Melrose" (Sheperds Bush) for having us and the nice people who came, listened and bought our CDs.
Besides that we've been working a lot on a new, quite dreamy music video *hint hint* and have been doing some more busking and open mics just for the fun of it. More live gigs and radio interviews are about to come: make sure to check our live schedule regularly.
See you,
Mona & Lisa
top of page
First London gig: "House of Wolf"!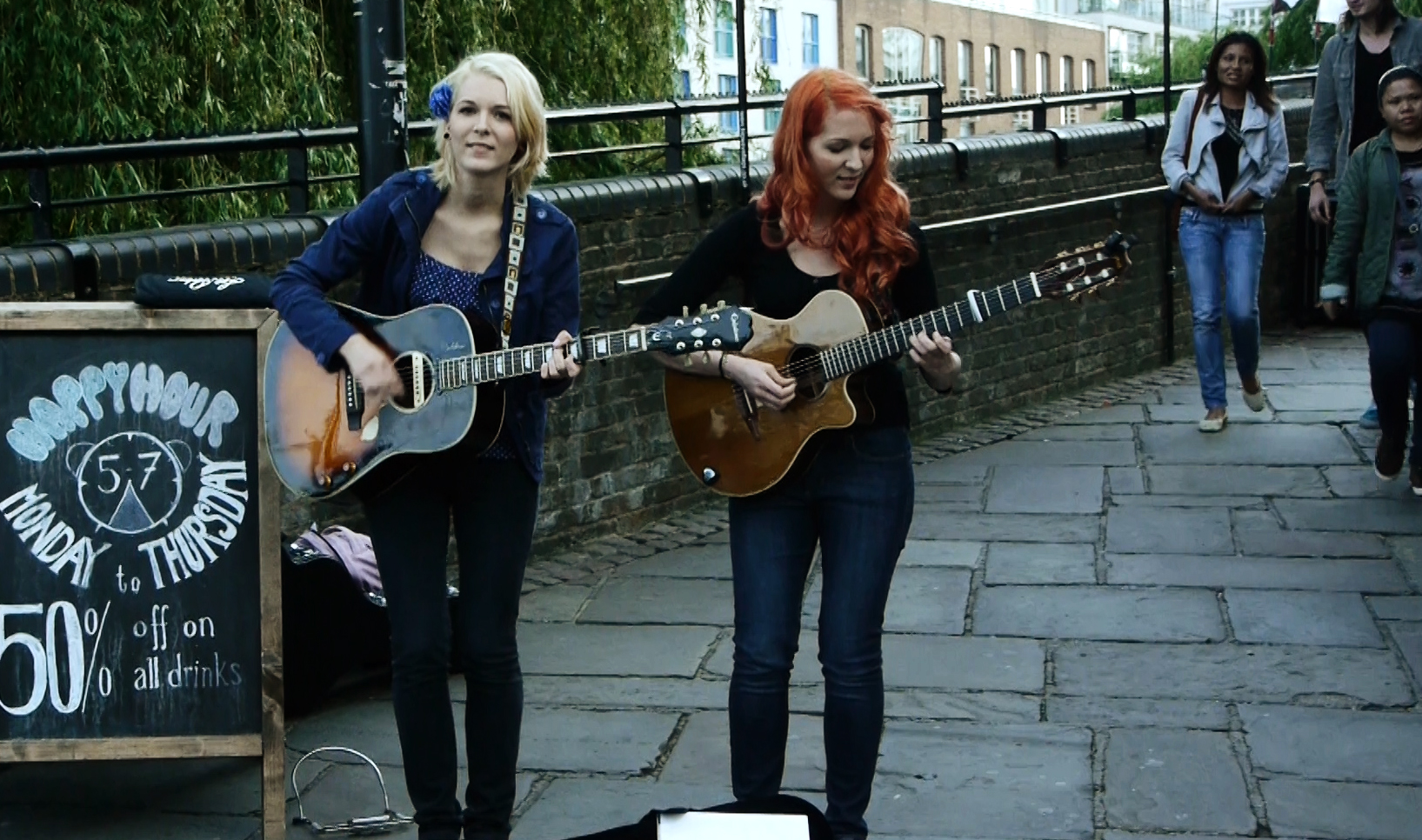 We went busking to Camden today, and the first thing, you know, a venue promoter walked up to us and asked us to play a gig at her place the next day. So we performed at the "House Of Wolf" is Islington, together with another musician, Tony Bowen, who was fantastic himself! Our duo-set really fits the local Pubs and it's always a great opportunity to meet some new, interesting people. Things seem to be happening very fast here, so besides a few more gigs that Tony had organized us for us, we also got two radio interviews confirmed for next week. One simple thing leads to so many more opportunities! We are overwhelmed with the amount of venues, bands, musicians and music interested people in general here :) Since we are here we started to use Twitter more often, so make sure to follow us if you have an account.
Cheers,
Mona & Lisa
top of page
MonaLisa Twins live at Bolero Club, Switzerland
The folks of the Winterthur/Swiss Bolero Club got to see a TV report on us last fall and asked us to play as live acoustic duo at their "Flower Power" motto party. For a club of this kind this music style was certainly something special and unusual. Nevertheless nearly everyone followed the dress code and people were in finest hippie mo(o)d(e)!
We had a great time with y'all, love & peace!
Mona & Lisa top of page
We've got a new music video for you: "One More Time"!
We are utterly proud to present you this new clip earlier than expected!
This song was the first one we wrote for our album "When We're Together" but the last one we recorded. We really wanted to go "back to the roots" with this tune and write an exciting Rock 'n' Roll that makes it hard to sit still while listening. For the video we tried to show the actual story of the song. The outcome was a kind of self-mocking, modern silent movie, something very different to everything else we've done so far.
We have already told you a bit about the actual video shoot in an earlier post. For everyone who was part of the project: Even if you ended up in the video for only a few seconds, after spending hours on the set, believe us, you are rocking every one of it! You all did a fantastic job! We are very delighted and hope you are too :)
A project of this magnitude wouldn't have been possible without the help of so many dedicated, nice people:
"Shamrock Pub" – the Irish tavern was our main setting. We want to thank Gerhard and Tina Krammer for providing us the location and the whole team for their hospitality and catering on the Mother's Day Sunday. The food was excellent and we can always recommend a visit at the "Shamrock" :)
"Boogiehasen" – the Viennese Boogie danceclub was an essential help for making this video so fun and dynamic. Our thanks go out to Andreas Aigner & Elsa Koeck, who despite sickness and Mother's Day, brought those great couples to the set! They also showed us some nice dance moves for the final scene ;) Filiz Tremmel & Gregor Koeck, Brigitte & Peter Blaha and of course Andi & Elsa – you were wonderful!
Actors – Lukas Spinka (playing the male protagonist), a friend, former classmate and actor in training, who in our opinion did a fantastic job! Sascha Ortner (Mona's dancing partner) helped us tremendously by styling all the male performers. This Pomade-quiff prof is always a joy on the set ;)
Furthermore we simply want to say THANK YOU to all the extras for their spirited performance: Stefanie Hummer (waitress), Lina Eid, Nadine Hagmann, Tamás Künsztler, Aurica Jelinek, Benjamin Jelinek, Lorenz Hinterberger, Daniel Logar, Johann Redl, Mario Yukaew, Katja Vymyslicky, Pascal Sokal, Lukas Greber, Manuel Gaviria, Petra Unger, Alex Lechner, Jakob Dietrich, Michaela Wagner as well as Georg Siebert from a Viennese dance school.
Videoteam – concept and script by MonaLisa Twins as usual. While shooting the scenes our dad got help from David Prokop and Thomas Fuchs who also shot all the amazing photos!
Gerhard Gruen is the owner of the beautiful baby-blue Oldtimer Vespa you can see at the beginning of the video. We're glad that he lent us the bike so willingly and spontaneously and even brought it to the shooting location!
Finally our biggest thank you goes to our parents Rudi and Michaela. Together we were able to successfully organize this exciting, fun, sometimes maybe a bit stressful shoot and create this video!
We are very, very curious to hear your thoughts about our new baby!
Tell us what you think and enjoy this wonderful day,
Mona & Lisa
Videoshooting for "One More Time"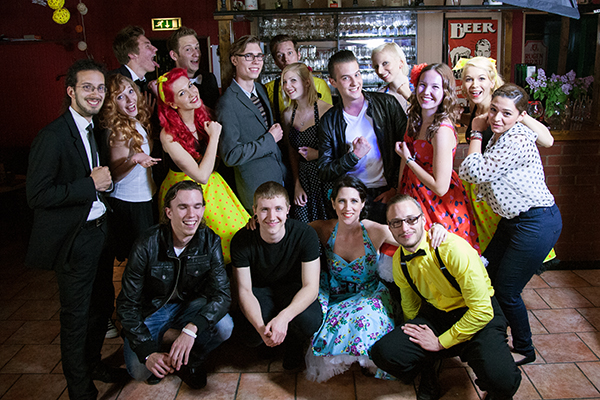 Today it was Mothers' Day. So that at least some mothers could get a rest from their children for a while we scheduled the videoshooting for our next music video for today :). There were up to 40 people on the set who seemed to have lots of fun. Probably because we put them in 50ies outfits, pasted them loads of pomade on their hair, plenty of red on their lips and played them the same song a 100 times. But maybe they were just happy to survive all the stunts and the hours of dancing and standing ;) However, at the end there was still enough energy left to take lots of fun group photos.
The time schedule was a tough one and we thank the dancers, the band, the (background) actors and of course the camera crew for their full mental and physical dedication so that we could do the lion's share of the shooting on that very day.
We'll announce the release date as soon as it's set and will do our very best to present you the video soon!
Mona & Lisa top of page
MonaLisa Twins live at Bolero Club, Switzerland
The folks of the Winterthur/Swiss Bolero Club got to see a TV report on us last fall and asked us to play as live acoustic duo at their "Flower Power" motto party. For a club of this kind this music style was certainly something special and unusual. Nevertheless nearly everyone followed the dress code and people were in finest hippie mo(o)d(e)!
We had a great time with y'all, love & peace!
Mona & Lisa top of page
2.000 Facebook Likes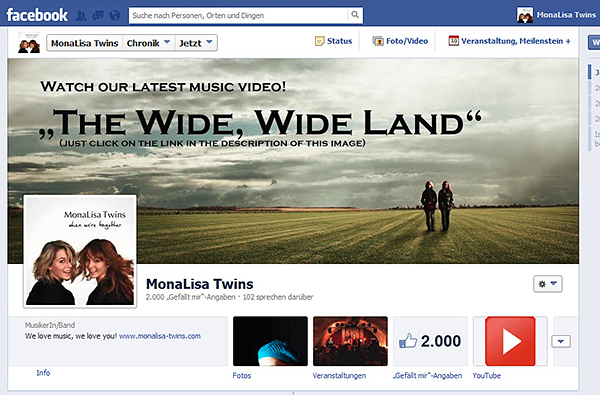 Today at 2:20 pm we could celebrate the 2.000 th subscriber on Facebook! We say thank you to all of our fans for their support and fidelity. You are the best!
We are happy with every one of you,
Mona & Lisa top of page
Newspaper features our "The Wide, Wide Land" video
For easier reading please use "Ctrl/Apple +" to enlarge browser view. This article is written in German though.
The report talks about us having made 3 new music videos and then continues to feature the background story and video shooting details for "The Wide, Wide Land" video: How we were allowed to use the fields of a well-known turf company for the "wide land" impression, how we filmed the time lapse skies that we inserted afterwards, how we got local brass band's musicians (and their uniforms) to join our "marching band". They also say that one of our live concerts will get aired live in an Austrian radio in fall and that we are going to Switzerland and England this summer to play more live shows and do more videos.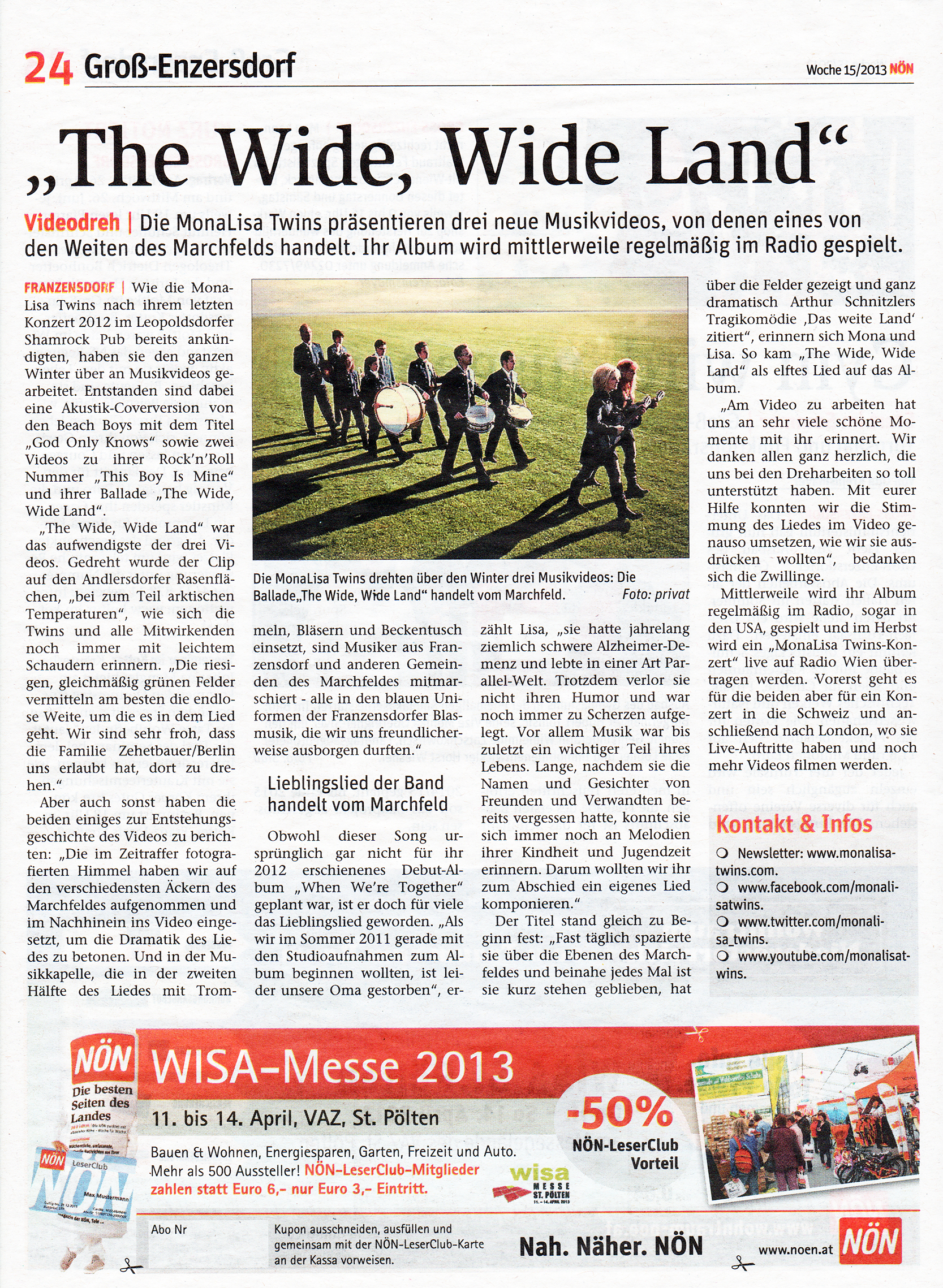 One whole page! We're out of words ...
The "star" of this report can be watched and listened to here: "The Wide, Wide Land"
Many thanks to NÖN,
Mona & Lisa top of page
Our songs on Austrian radio!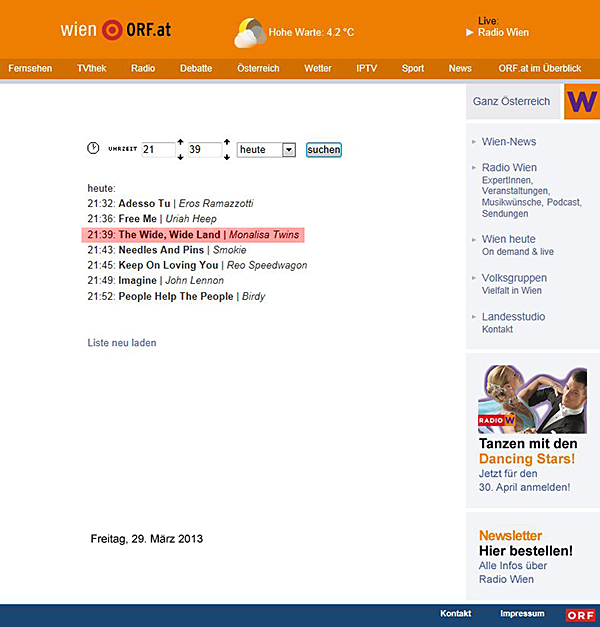 One of the biggest radio stations of Austria's capital Vienna is playing some of our songs, that's very great news for us!
We can also announce that we'll be playing a concert with our band on 29th September 2013 at Radioculture-Café that will be aired live. Although you can stream it everyone is kindly invited to come to the show and help us send the radio listeners some great vibes! The café is nice and cozy and you can get snacks and drinks. For tickets and more infos visit our Live Shows page.
Oh, and by the way ... Happy Easter everyone!
Mona & Lisa top of page
"The Wide, Wide Land" on turf company website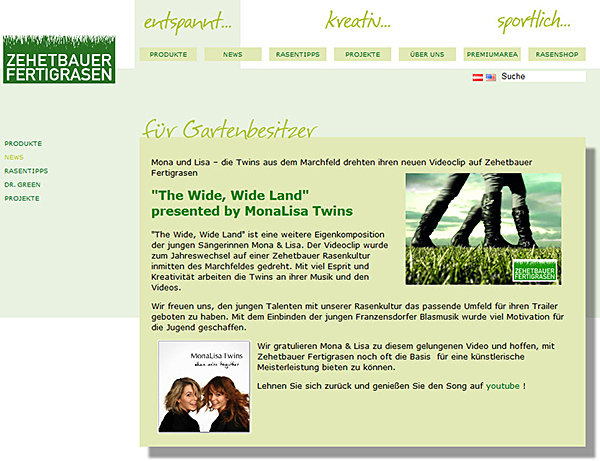 The enourmous lawns on which we filmed our video for "The Wide, Wide Land" were the fields of our local turf company "Zehetbauer" - you know the perfect ready-made grass you can buy! We couldn't have wished for a better place to translate our ideas for the song into pictures, and we thank them a lot for allowing us to shoot the video there.
In addition they wrote a lovely article about the finished clip on their website.
Thanks a bunch,
Mona & Lisa top of page
Radio commercial for our debut album on "Cruisin' 92.1 WVLT"
Check out this absolutely AWESOME commercial that the Philadelphian radio station "Cruisin' 92.1 WVLT" made for our album! We were blown away when we first heard it! Big THANK YOU to the staff of the station and especially to Cory D'Amore, host of the show "The Wolf Den" which is on tonight (and every Monday) at 10 pm EST. Be sure to be tuned in for great music incl. a few of our songs: The Wolf Den Live Stream!
"The Wide, Wide Land" is another original song of our debut album "When We're Together" which we released in spring 2012. Though it wasn't even meant to be on the album in the first place it became many people's favorite. That's why we chose to make a video for it right after "This Boy Is Mine". Sometimes life just seems to write its own stories.
Songwriting for the album was actually finished and recording work was scheduled to start when our grandmother happened to pass away right at that time in July 2011. She had been suffering from Alzheimer's disease for years and was not able to relate to our world anymore. In the end she didn't know who anybody or anything was, she lost her speech and the ability to hold a thought. But she would always laugh and smile and, as long as she could, dance and sing. Even if she forgot the words she would still hum the melody. This was somehow inspiring and so we thought the most beautiful thing we could do for her was to write her a song.
It was clear from the beginning that her tune could only have one name. She used to take long walks across the planes of her hometown, and every single time she would stop for a moment, look over the country and meaningfully quote Arthur Schnitzler's tragicomedy "The wide land". And so it went on the album as the 11th song.
We miss our granny a lot and working on the video has brought back some very strong and sweet memories. We hope she likes the song - wherever she is now!
"The Wide, Wide Land" official video release date is 21 March 2013!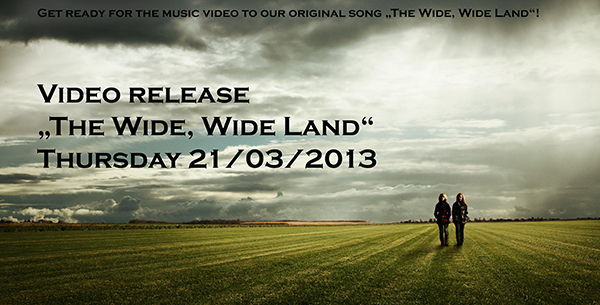 The date is set! The 21st of March is not only the official beginning of spring but also a big day in the MonaLisa Twins world. We'll present you our music video for our song "The Wide, Wide Land"! We know it's many people's favourite song on the album, so get excited!
We certainly are! ;)
Mona & Lisa top of page
Live at Babue in Wolkersdorf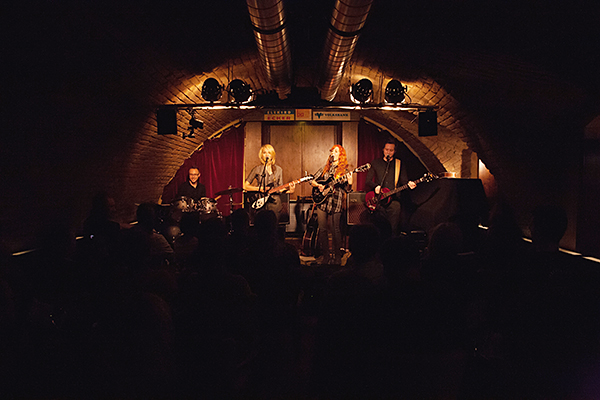 After a nearly three month break we played a concert again with our band at the Babue, a very cosy location in a village near Vienna. Considering the amount of people attending our show it seems that they missed us as much as we missed them. People got quickly infected by the music, they sang and clapped along, so everyone was in high spirits. The location has a really nice flair to it. It's a quite small cellar but with great acoustics so the sound was really good. We were happy to see so many new faces and it was even better seeing them smile with joy after the concert!
Now it's back to video editing again which we can promise to present soon.
Mona & Lisa top of page
Videocutting "The Wide, Wide Land"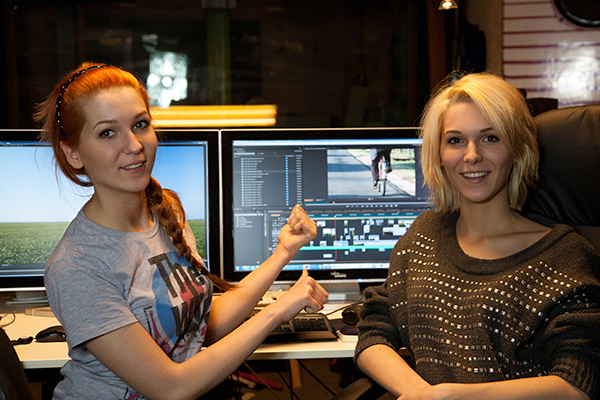 During the last weeks we did lots of filmshooting for our next video "The Wide, Wide Land". Unfortunately the weather didn't like us that much and so we had to postpone the shootings many a time. Besides it had become necessary to "quickly" upgrade processing power and memory capacity of our computers so that we are able to process this huge amount of data at all.
Now we are all geared up, and meanwhile we have finished the shootings and are diligently working on cutting and editing the material. We are experimenting a lot with new filming techniques and effects and we can promise you even now that the new video will be something very special!
Let yourself be surprised!
Mona & Lisa top of page
Audio File of the American radio show "The Wolf Den"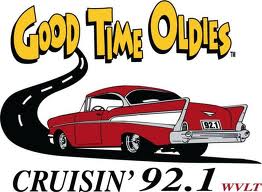 Some of our fans who live in the Philadelphia area (US) were able to listen to the show live on "Cruisin' 92.1 WVLT" on 3rd December 2012. Some others (eg. from Europe) stayed up the whole night to join it via internet live-stream and chatted with us on Facebook which was great fun! But there were too many of you who had no chance to hear it, so "Wolf Den" host Cory d'Amore was so kind to send us an audio file of it.
Everyone who would like to re-listen or simply missed out to be with us that day has now the possibility to
download it here: (http://tinyurl.com/a6unng7)
The sound quality is not always the best but we don't mind. If you want to hear our music in crystal clear sound, feel free to buy our albums :)
All in all they played 4 titles of our new album "When We're Together" and some covers of our "First Live Concert 2007" and "California Dreaming 2008" CDs. They even pulled off our "While My Guitar Gently Weeps" cover of Youtube. Cory also invited his listeners to call in and share their opinion on our music which they did. So this was one hour of full blast featuring MonaLisa Twins, and that was absolutely great!
And here's what Cory commented on our Facebook post right after the show:
"I plan on playing one of their songs every week on my show. So MonaLisa Twins have a home on my show on the "Wolf Den"."
We can only recommend listening to it live or via live-stream http://www.wvlt.com/listenlive.html if you like good 50ies, 60ies and 70ies music which the average oldies stations won't play very often: Join them every Monday 10 pm Eastern Standard Time which is Tuesday 4 am Central European Time.
Happy listening,
Mona & Lisa top of page
Videoshooting to "The Wide, Wide Land"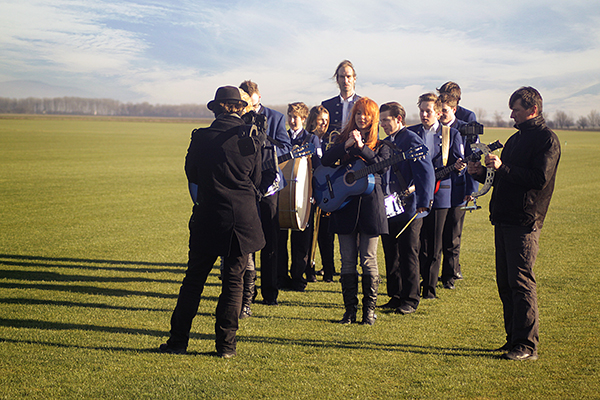 We have finished shooting another video last weekend and are now going to start sorting out the footage and cutting it into place.
The song the video will be for is a lot of peoples' favourite on the album and is called "The Wide, Wide Land". We wrote it for our grandma soon after she passed away in 2011 and it is one of the most meaningful songs to us.
This video will take a bit longer than the last one but we're very positive that it'll turn out great!
Also, thanks for all your Happy New Year wishes :) We had a great night and are really motivated for 2013 - We hope you are too!
Mona & Lisa top of page
Welcome to 2013!
For us the last year was full of excitement, amazing moments, hard work, new experiences, meeting awesome people and most of all lots of fun!
We released our new album, presented you the new MonaLisa Twins website, got to know our great band musicians Philipp and Michael, played more than 30 live shows, have been on television and radio shows in Germany, Austria and even America AND we released a couple of new videos: amongst others there was the one for our first own song "This Boy Is Mine".
The list goes on but we mainly want to thank YOU, our fans, supporters, friends, family and good hearted people for helping us so much throughout this last unforgettable year!
We will be doing the best we can to work even twice as hard this year and reach for the moon! Let's see what 2013 will bring!
Love to all of you!
Mona & Lisa top of page
We did it! The music video of "This Boy Is Mine" is finished and ready to be sent out to the big wide world! It's the first video for one of our original songs of our first album "When We're Together"and you can now watch it on our Youtube channel, our Facebook fanpage and of course here on our website.
You are also very welcome to comment and rate it on Youtube and of course subscribe to our channel which will become much busier in the next couple of months since we are already filming and working on further videos! Share it with your Facebook friends, on Twitter and if you want to feature it on your website you can find the "embed code" by clicking on the "share" button of the video. Help us to bring this happy rock 'n' roll song into the world and in everyone's head! "This Boy Is Mine" got requested a lot during live shows and in radio and TV interviews so we thought we'd release this one first :)
We want to thank our great audience, our supportive fans, bassist Michael "Moz" Mozeth and drummer Philipp Wolf, our producer, sound engineer and director Rudolf Wagner (aka daddy), Michaela Wagner for project planning and organization, our camera team David Prokop, Sebastian Kübl and Thomas "Fuxi" Fuchs and last but not least the MAMAS bar team for making this possible!
Let's celebrate the end of the world with a world class song! To infinity - and beyond!!!
Last live concert 2012 incl. videoshooting to the official "This Boy Is Mine" music video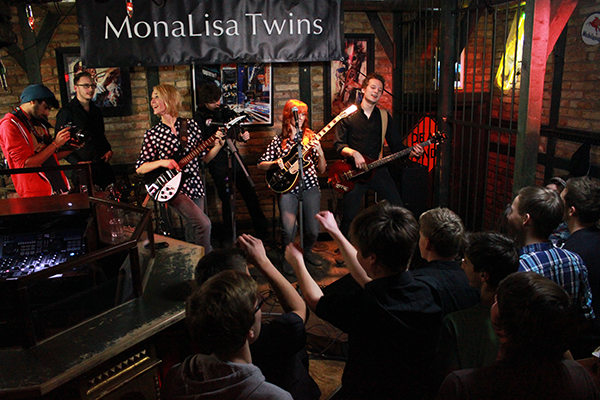 One week before doomsday we decided to use the remaining valuable time and played another exciting gig at "Mamas Bar". Before and during the concert we also filmed a lot of footage for the official music video to our song "This Boy Is Mine" which we have already looked through. By now we can promise you an upbeat and hot video for your last hours before Armageddon!
We say thank you a lot to everyone who supported us with the video shoot and promise to try everything to present you the finished clip before the 21st!
All the best,
Mona & Lisa top of page
MonaLisa Twins on American radio!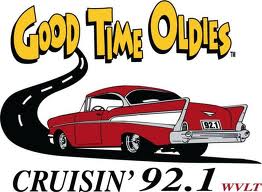 The MonaLisa Twins on "Cruisin' 92.1 WVLT"
Recently we got a request from a young radio host who is moderating a show called "The Wolf Den" on the American radio station "Cruisin' 92.1 WVLT". He discovered some of our cover songs on Youtube back in 2007 and was following our activities since then.
His radio station is devoted to good music from the 40's to the 70's, and our music fits into their format very well. That being the case he offered to play our album "When We're Together" during his own and other hosts' shows and to even promote it with commercials!
The station airs in and around Philadelphia, on the borders of the four states Pennsylvania, New Jersey, Delaware and Maryland on the northern Eastcoast of the US and is reaching exactly our target audience! The DJ received our CDs a couple of days ago and is delighted. His favourite tracks are "This Boy Is Mine" and "June". So very likely the Americans amoungst you will get to hear these songs soon. He also asked a friend of his to play our music at an event the other day, and people spontaneously got up dancing ...
Long story short, we are now happy to announce the date when our songs will be played on the American radio for the first time:
Today, Monday 3rd December 2012, 10 pm Eastern Standard Time!
You can listen to the station via internet radio everywhere on this world. Depending on where you are from it might happen to be on at daytime :) Here is the link to the live stream: http://www.wvlt.com/listenlive.html. Just click on your favourite player.
For those of you who missed it we will hand in a recorded audio file later :). If you live in the Philadelphia area you are more than welcome to call the station and ask for your favourite song or give them some feedback on our music!
We will be online on Facebook and Twitter during that time, so feel free to talk with us while listening to the show!
Mona & Lisa, excited with joy ... top of page
Concert reviews in Austrian Newspapers
We thank the Austrian newspapers "NOEN" and "Bezirksblaetter" for their generous reviews of our live concert at Shamrock Pub / Leopoldsdorf,
Mona & Lisa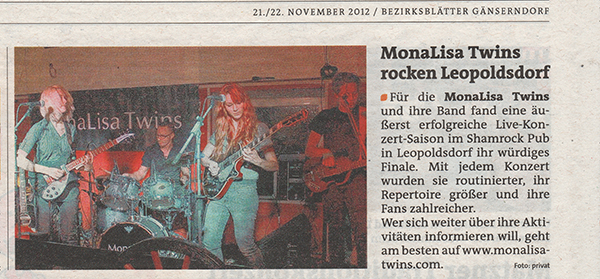 Translation:
MonaLisa Twins rocked Leopoldsdorf
For the MonaLisa Twins and their band an extremely successful live concert season found its worthy finale at the Shamrock pub in Leopoldsdorf. With every concert they got more experienced, their repertoire became bigger and their fans grew in large numbers. If you want to keep yourself up to date on the twins' activities, please visit www.monalisa-twins.com.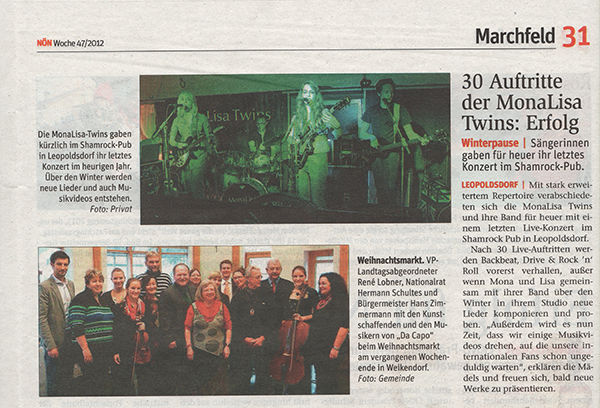 Translation:
30 concerts of the MonaLisa Twins: Success
Winter break / Singers played their last live concert for this year at Shamrock pub.
LEOPOLDSDORF / With a much larger repertoire than before the MonaLisa Twins and their band said goodbye for this year and gave their last live concert at the Shamrock pub in Leopoldsdorf.
After 30 live shows Backbeat, Drive & Rock 'n' Roll will fade away for the winter months unless Mona and Lisa are going to write new songs and rehearse with their band in their studio. "Plus it's time to film some music videos which our international fans are already eagerly waiting for", the twins explain and are looking forward to presenting some new works soon.
top of page
Live at Shamrock Pub, Leopoldsdorf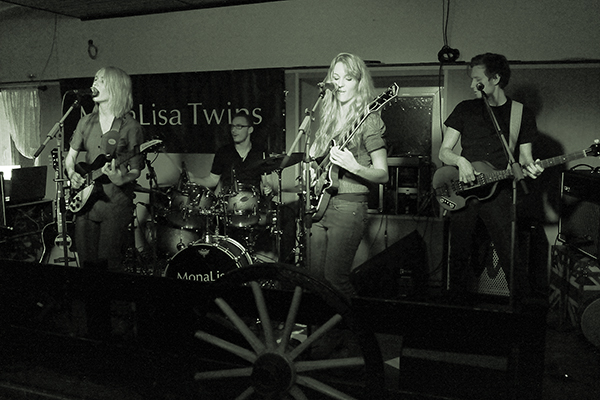 Backbeat, Drive & Rock 'n' Roll at the Shamrock Pub - and hell broke loose :). With many new songs we surprised the audience and all our new fans from this area who got to know us shortly at an unplugged gig at Café Cult in Gaenserndorf. We are happy that you made it out to see us with our band and we would really appreciate it to have you back at Mamas bar when we will end our live season 2012 with a grand finale! The acoustics there is great and the atmosphere and the drinks are legend anyway. We are very much looking forward to see Max and his barkeeper crew again, they will welcome you all!
See you soon,
Mona & Lisa top of page
"Drive my Car" (Beatles-Cover) - New Live Video!
It's been quite a while that we published a music video on Youtube! But we haven't been idle: Since the trailer video to our first album "When We're Together" in March 2012 we've been playing nearly 30 live shows to make our music and band known to people. And of course we've collected video footage of these gigs like squirrels use to collect nuts for a long winter. Since our international fans deserve to see more of us again and to "be live at our gigs" retrospectively we'll spend our next weeks and months with some video-cutting :).
Here comes the first live cover "Drive my Car" (Beatles) which we shot at the Saloon in Vienna shortly. You are welcome to rate and comment the video on Youtube, to share it with your friends and on your websites and to subscribe to our Youtube channel.
We dearly thank our great audience and true fans, of course our bassman Michael "Moz" Mozeth and drummer Phillip Wolf, our sound engineer Dad as well as our camera team Johann, Robert, Sebastian, Jacki and Michaela for their dedication!
Live at Indian Saloon, Vienna
The Indian Saloon is one of the best known live venues in Vienna if you want to listen to Rock 'n' Roll, Country or Blues musicians. At the end of our live concert season 2012 we have accumulated a repertoire of about 45 songs which we performed there with our band for a delighted and attentive audience. The location was booked out 2 weeks in advance but the lovely waiters always managed to find additional chairs for people who decided spontaneously to see us.
For us it was a highly successful concert and it was really good to see so many fans who just got to know us this very summer and yet are visiting our concerts regularely. And we enjoyed it very much to perform for many old friends of tender years who we haven't got to see for a long time. However, now you know what we have been spending our time on for the last couple years :)
It was our absolute pleasure!
Mona & Lisa top of page
Live Open-Air in Stockerau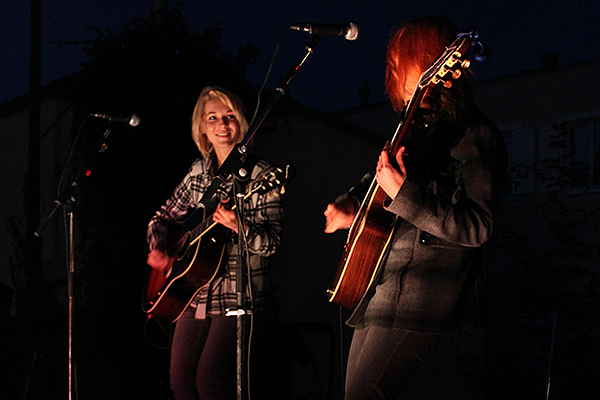 It's getting colder here in Austria so the open air concerts start to get more challenging. This time we helped ourselves by drinking lots of hot tea. It was a great pleasure though to play for so many nice people in Stockerau and we are glad you liked it!
Mona & Lisa top of page
On set for the movie "Edge Becs"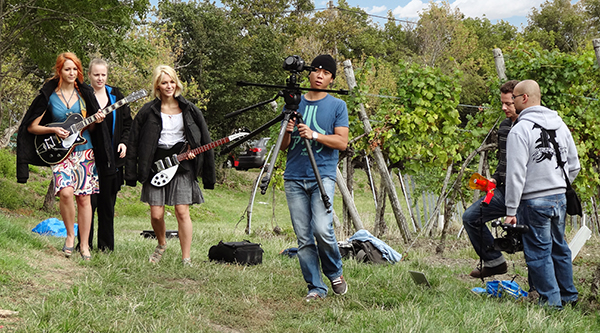 For a change to playing live we were on the set of the Austrian movie production for "Edge Becs" today which is in the making right now. This film is set in our hometown Vienna and features lots of well-known Austrian actors, comedians and musicians ... including the MonaLisa Twins ;) The movie will come into Austrian theatres next fall and will get aired on television about a year later. Of course we'll keep you up to date about that!
In our shot we're performing the title track of our new album "When We're Together" while two of the actors are dancing along - not gonna tell you more yet ;) We're looking forward to the finished production!
Mona & Lisa top of page
The time has come: The MonaLisa Twins in "ML monalisa Magazin" on German State Television (english subtitles) - Video!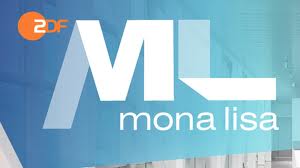 You'll probably remember that we had a German film team at our studio and at Cenario Concert at the beginning of June who filmed some scenes for the German TV magazine "ML monalisa Magazine". Then the months passed by and we often got asked when the thing would air. The time has come and we are happy to announce: The silly season is over and waiting has an end.
As already announced our segment was on air Saturday 15th September 2012 at 6 pm (European Central Time)! (1.35 Mio viewers). For all our non-German speaking friends: Here's the piece with English subtitles
Backyard fest at Groß-Enzersdorf town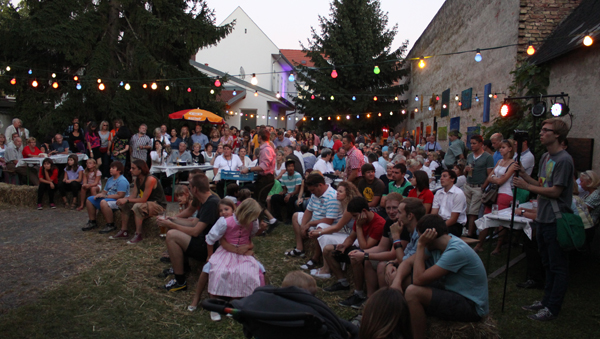 We had a big backyard festival in a nearby town last Sunday where many private backyards were opened for the public. All kinds of bands were performing in the different courts and people could wander around town all day and got to see a lot of different acts, shows, art and activites.
At the end of a wonderful late summer day we brought our 60's music to one of these beautiful backyards. It was such a pleasure to play there and we are so happy about all the people that came out to see us on a Sunday night! :)
Yours, Mona & Lisa top of page
Some kind of different stage at organic farm ADAMAH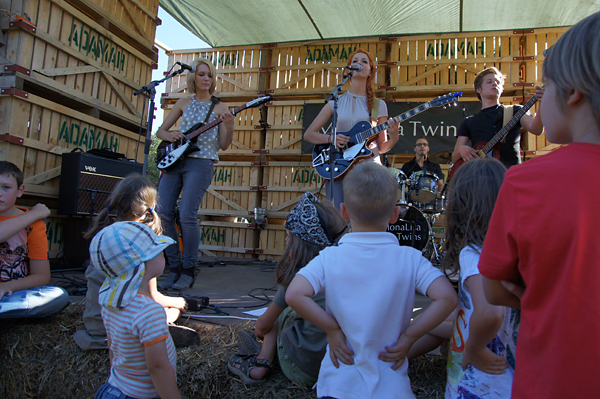 Althought it's a bit unusual for this time of the year in Austria we had a hot and summery weather this weekend when we played at the big fest of the organic farm "ADAMAH". More than 1000 visitors came to spend a relaxing and entertaining weekend at the farm with delicious organic food, beautiful art displays and a whole lot of interesting activities for the old and young!
The picture shows the "organic" stage on which we were invited to contribute to the cheerful atmosphere by playing there for a good 2 hours. We want to thank the farm team again for the generous and really tasty catering.
Mona & Lisa top of page
Band Quartet at Viennese "Replugged"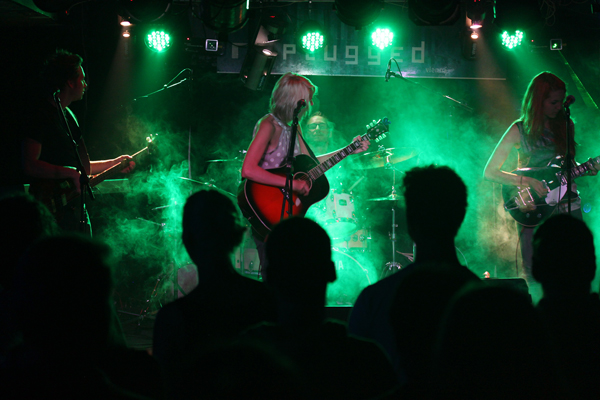 We didn't think of coming back to Viennese "Replugged" so soon but then we got invited to be the fourth quarter of the band quartet "Captain of Coyotes", "Coby Trip", "Include me out" and "MonaLisa Twins".
The fans of all bands were also the audience for all bands and so all of us were able to listen to different kinds of music and make lots of new friends. It was great to create so much interest and atmosphere among the mostly young people with our 60ies music and own songs.
We wish the other bands all the best and lots of success! Thanks for the great and varied evening!
Mona & Lisa top of page
Beachparty at "3er Wirtshaus" (= "3rd inn") in Zwerndorf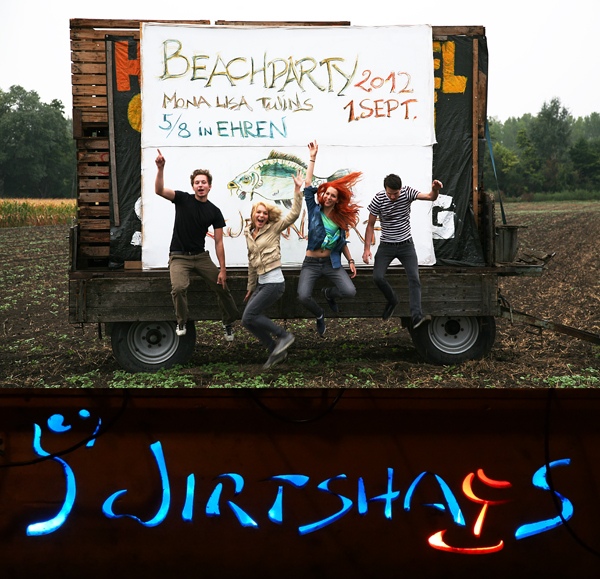 "A beachparty in September?" you will ask.
Yeah, for Austrian weather conditions this is rather unusual but unusual things are quite common at Pepi Helm's "3er Wirtshaus" at the Zwerndorf lakes. And his guests love him for that!
The "3er Wirtshaus" is the last of formerly 3 inns at Zwerndorf village and it has kept its rustic-romantic character. The host personally is cooking yummy meals, for special events he lightens up the idyllic garden with "tree candles" and inside as well as on the outdoor open air stage one can watch the finest music acts throughout the year. It is hard to believe but the "3er Wirtshaus" at the Austrian-Slovakian border is well-known internationally because of its world-class musicians that got to play there over the decades!
Unfortunately there has been rainy weather the days before, so not everyone was in beachtparty-mode. Some non-visitors obviously "relocated" their beach to their living rooms. Bad luck! For the sky cleared up that very evening and in- and outside people were having a great time with cool drinks and hot music.
A band that had won the Austrian Amadeus Music Award 2012 in the Jazz/World/Blues category played before us and afterwards we "backbeated" with a largely expanded repertoire that the walls were trembling :).
Many thanks to all who danced, sang and clapped along! You were great!
Mona & Lisa top of page
MonaLisa Twins unplugged at Cultures' Festival Favoriten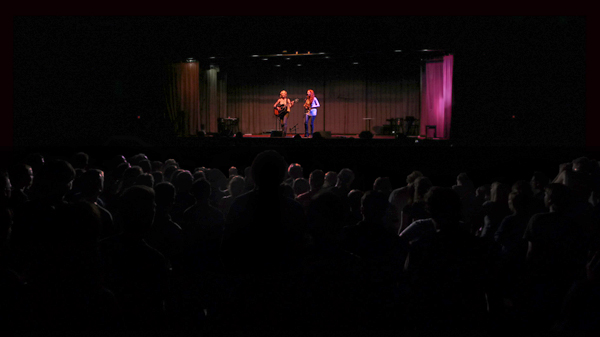 Originally the fest was planned as an open air event at the beautiful Laaerberg Park in Favoriten, the 10th district of Vienna. But the weather thwarted these plans (typically Austrian), and so we played at the Favoriten Event Center with its big hall and stage.
Estimated 300 people got to know MonaLisa Twins "unplugged" and they obviously liked it. Some of them even bothered to post their delightment on Facebook. We are happy that our music found such an echo and we cordially welcome our new fans!
Mona & Lisa top of page
Vernissage of Regina Unger and Martin Suritsch in Deutsch-Wagram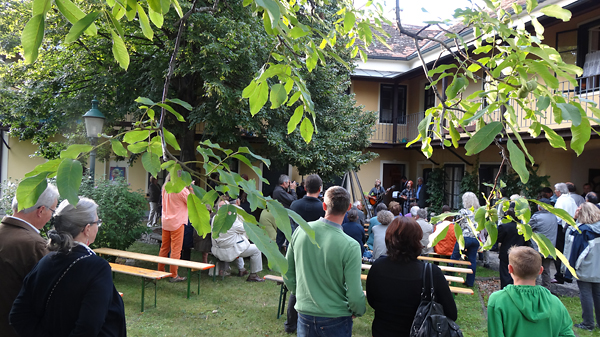 Recently we got invited by two local artists to deliver the musical frame for their vernissage - this time MonaLisa Twins as a duo. More than 100 guests as well as fair head and readhead had an art- and wonderful evening in the picturesque ambience of the local museum of Deutsch-Wagram, a nearby small city.
Although we did not consider us the "main act" but rather the support for this event, we were quite delighted to see old and new fans eagerly listening to our music despite of darkness and cool temperatures until late at night. One guy took quite a car ride just to be able to see us live that day and many people bought our new album which is great!
As usual you'll get to see more pictures in our Facebook album, also the "official" one with artists, mayor and city councillor in charge of cultural affairs.
We took the chance and ended the day with some yummy tartes flambées at City Pub Deutsch-Wagram. For those of you who did not try them yet: On October 11, 2012 there will be a good occasion to catch up on that, namely with a good glass of Irish beer and jiggy MonaLisa Twins 60ies live music - with band! Reserve your seats!
See you!
Mona & Lisa top of page
Live concert review in "Bezirksblatt" regional newspaper
Wow! In our mail there has landed the next wonderful review of our Wittau concert! It's getting better and better - And now please: Austrian Kurier, Frankfurter Allgemeine and New York Times. We wouldn't mind a different order of appearance though :)
Translation:
MonaLisa Twins present debut album in Wittau
WITTAU. The MonaLisa Twins presented their debut album "When We're Tog ether" at a live concert in Wittau. With great voices, excellent 60's sound, hot Backbeat and Rock n' Roll, paired with an atmospheric lightshow, the Twins impressed more than 300 visitors. Not only the girls convinced the audience, also drummer Philipp Wolf showed off his skills and bassman Michael Mozeth delivered a perfect vintage sound. The best for the newcomers: The original songs from their debut album got complimented a lot. After long ovations and various encores the four happy musicians left the stage to sign their new fans' freshly purchased CDs.
Classics of rock-history, adapted by the MonaLisa Twins in a young and new way.
Many thanks to "Bezirksblatt",
Mona & Lisa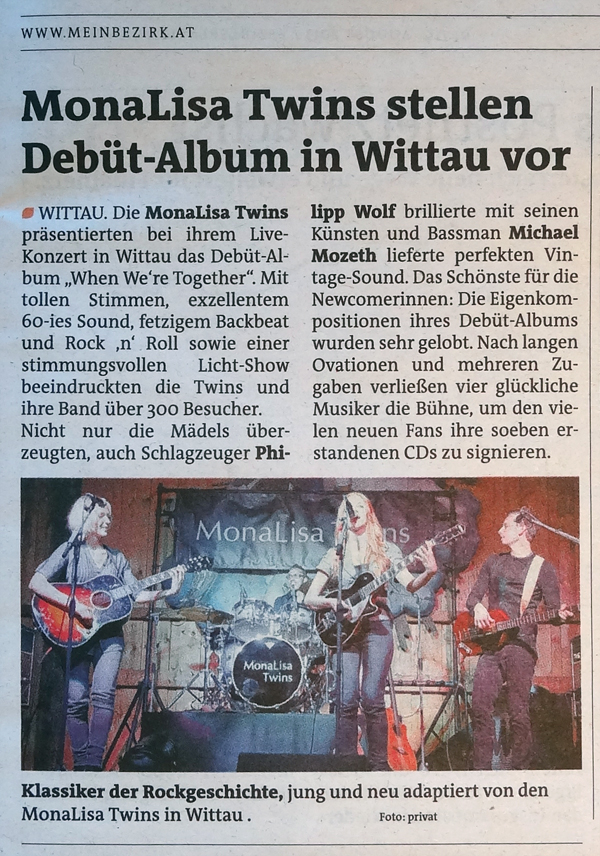 top of page
MonaLisa Twins live concert review in "Niederösterreichische Nachrichten" regional newspaper and online
"MonaLisa Twins celebrate success" - so when it's written in the papers it has to be true right? :)
Wittau concert, "Summerscene Festvial" Gaenserndorf, Annerlfest Rutzendorf - all complete. We are happy with this wonderful article and will surely continue to give our best!
Mona & Lisa
Translation:
MonaLisa Twins celebrate success
GIGS / After the successful MonaLisa Twins show in Wittau they played two more concerts at the Summerscene Gaenserndorf and the Annerlfest in Rutzendorf.
Gaenserndorf / The well known MonaLisa Twins and their band had another big success with their concert in Wittau. Great voices, excellent 60's sound, groovy Backbeat and Rock 'n' Roll as well as an atmospheric light show fascinated more than 300 people from Vienna and the whole region of Marchfeld (part of Austria). The debut album of the delighted twins, "When We're Together", really caught on! People were happy to see them again last Saturday at the "Summerscene Festival" in Gaenserndorf and later that day for a midnight appearance at the Annerlfest in Rutzendorf.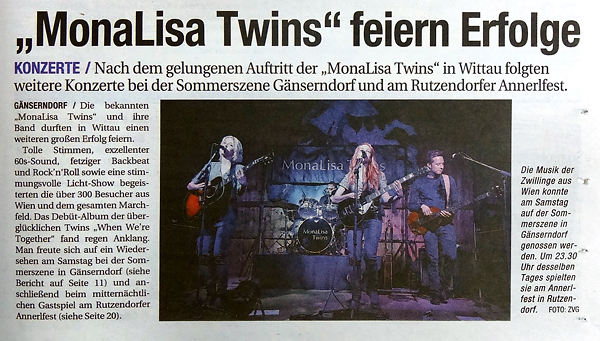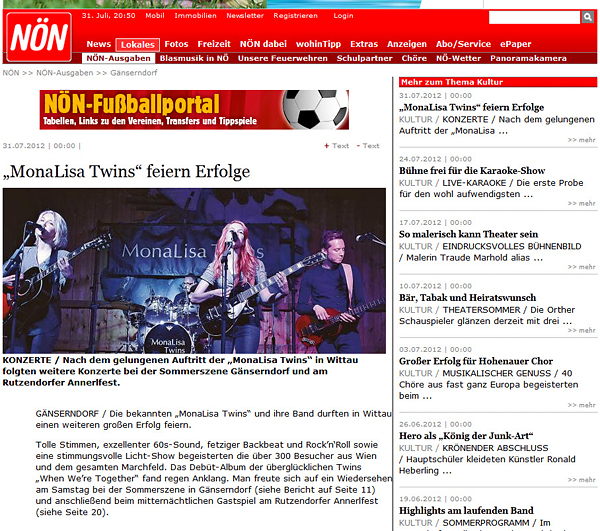 top of page
Annerlfest Rutzendorf - New Video!
26th of July is the day of Saint Ann, the mother of Virgin Mary. She's the patron saint of horseback riders, housewives, grandmothers, cabinet makers, unmarried women, women in labor and miners. In some cities and villages this is celebrated as a church ceremony, in some others more like a festival. In our nearby village Rutzendorf there always is both - a mass in the afternoon and the folk festival in the evening.
This year we got invited to play a short midnight show. So after the concert at "Summerscene Festival" Gaenserndorf we packed our stuff together and hurried to get everything built up in Rutzendorf again.
Pleasantly surprised we got to look into a still very crowded hall with about 550 people as well as in the familiar faces of some true fans who followed us all the way down from Gaenserndorf. So we started playing our upbeat Rock 'n' Roll songs right after the tombola. As you can see in the video the dancefloor filled up quite fast and nicely. Of course the people's good mood, the big applause and the dancing was a great compliment for us which we are happy to return. Our album's title "When We're Together" is no coincidence and this evening showed again how much more fun it is to enjoy and share music together. We say thank you for another great chance to get known with our music and we hope that we get to entertain as much people as possible at our future concerts.
Here you'll get to see our Facebook album.
If you allow, we are gonna enjoy bathing in the waves of sympathy for another moment :)
Yours, Mona & Lisa top of page
"Summerscene Festival" Gaenserndorf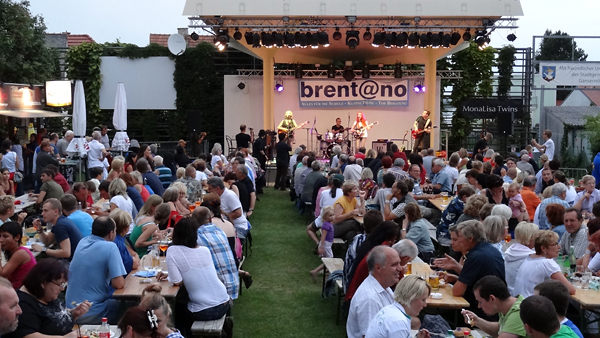 Not only the size of the billboads is growing, also the number of people who visit our concerts is increasing dramatically! Last Saturday we played for 300 people, today at "Summerscene Festival" Gaenserndorf there were approx. 800 folks who gathered on the beautiful festival lawn to enjoy a cozy evening with culinary and musical delicacies.
The program promised just the very best: 7.30 - 9.00 pm MonaLisa Twins and afterwards a famous Viennese songwriter :) Not even the storm alerts for Eastern Austria could keep people at home.
And indeed - at the end of our concert we had this additional "adventure-factor" when it suddenly became stormy and the rain shower which was hanging over us for 2 hours like the sword of Damocles finally came down. People quickly put on their raincoats and umbrellas and the sound operators hurried to cover the monitors and PA. It looked like we were playing on a building site but we continued with 60ies music and kept up the good mood.
When Roland Neuwirth and his band started to play the weather was peaceful again and this wonderful summer night continued - both for the lovers of this special kind of Viennese Song and for us. Cause we quickly packed our instruments and equipment in our trailer and hurried to our next performance at the legendary Annerlfest at Rutzendorf (a village next to ours).
Many thanks to all the people who listened so interestedly despite the rain and to the many fans who extra travelled to Gaenserndorf to see us.
More pics ... Facebook album :). Most of these wonderful, partially even artful photos were taken by our friend Thomas "Fuxi" Fuchs. The other great pictures we found in our grandpa Franz' and our own archive :) Some of them might look like they were posed and shot in a studio but they are all live.
That brings us to our next story ...
Mona & Lisa top of page
25 July 2012
MonaLisa Twins are "Regio Composers"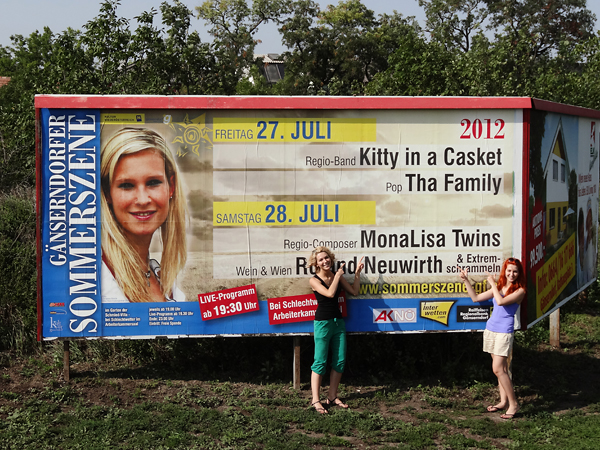 OK, we still have to share the walls with other musicians but at least our names are printed quite big on this large billboard! And we are "Regio Composers" - damn right! :) top of page
Our Live Concert in Wittau was a great success!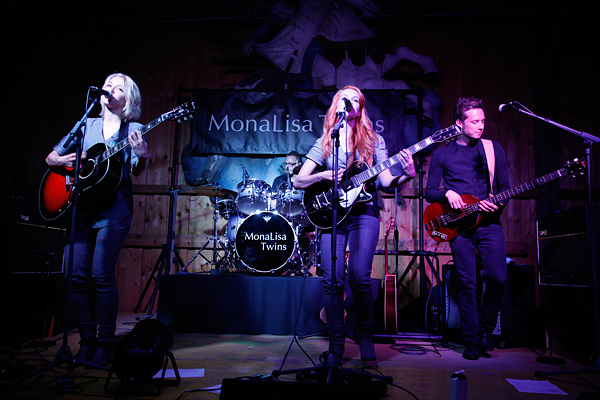 Seems like cloud 9 got our new home. Since April we are playing one wonderful and successful concert after the other but Wittau topped everything so far! 170 fix reservations were remarkable already but that in the end more than 300 people would visit our concert we could only vaguely hope. It's a good feeling when the street gets barred extra for us! Our massive advertising attack on Marchfeld (the region where we live) seemed to take effect ;)
The bigger the pleasure, the bigger the excitement too. Cause this concert should be our musical debut in the region and for this reason as terrific as possible.
Now we are more than happy that so many people gave us their time and attention (from 3 to 92 years we had all age groups there!), and this despite of heavy rain and sometimes quite long car drives.
We are especially delighted that we did not only impress people with our vocal and musical skills but again with our self-composed songs and that we were allowed to sign so many CDs. That gives us another boost and the energy to write new songs and keep going with our music.
Our drummer Philipp, bassman Michael and we two had an awful lot of fun playing for all of you. Thanks for giving us ovations and cheering and for dancing and singing with us! You made this evening unforgettable for us!
The ones who can't get enough of MonaLisa Twins are invited to join us coming Saturday, 28 July, 7.30 pm at Sommerszene Gänserndorf as well as right afterwards at midnight at Annerlfest Rutzendorf. We would love to see you there again!
As always you'll find more pics in our Facebook album.
Yours happy,
Mona & Lisa top of page
20 July 2012
Wittau Live Concert announcements in the newspapers
Cool! The 3 most important regional newspapers wrote announcements for our Live Concert in Wittau this evening. Let's see how many people will come to see us tonight!
Anticipation an excitement are growing with every hour! See you!
Mona & Lisa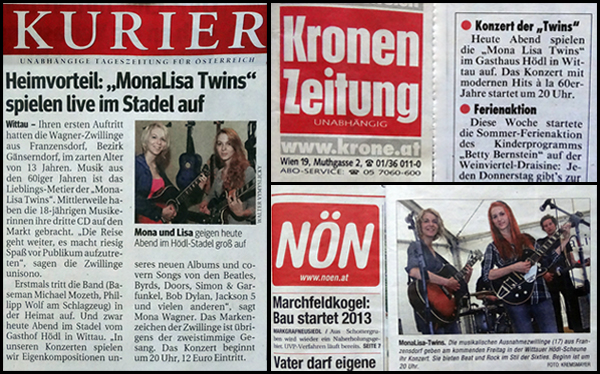 top of page
Grand opening of the new pub at Deutsch-Wagram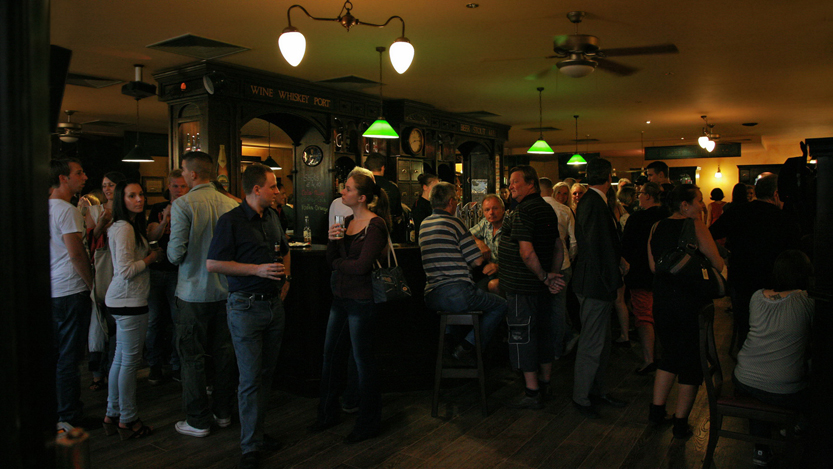 On Thursday, July 19th, we got invited to musically inaugurate Irmgard & Markus Fink's new pub at Deutsch-Wagram. The event attracted some hunded people and it was great to be there playing just that evening. The guests kept the landlords and their waiters' army on the go until late at night and and we also were only allowed to pack our stuff after three and a half hours and several encores. It was a very successful evening with lots of good spirit and people danced and sang along with our music. We are really looking forward to our next gig on October 11 when we will play there again!
For more concert pics please visit our Facebook album.
See you!
Mona & Lisa top of page
16 July 2012
MonaLisa Twins Video Clip on Wien.at - New Video!
Viennese "Prater" - 37 degrees (Celsius) in the shade - Wien.at filmed a video with and about us - have a look at the outcome.
Many thanks to camera operator Kristina Sumper!
14 July 2012
Interview on radioYpsilon
Last Monday we were live on air at radioYpsilon "Fauteuil" (which means armchair) - by and with Ursula Zechner. We got the chance to talk about our music, our background, our daily routine in the studio and on stage as well as our future plans for a full hour. Inbetween she played tracks of our new album "When We're Together" to give the listeners an impression of our music.
Everyone who would like to re-listen the interview or simply had no chance to be with us that day, has now the possibility to download it here: (http://www.radioypsilon.at/Download/Fauteuil/TR20120709_165959.mp3)
Meanwhile, getting interviewed is becoming another part of our business as we keep getting more and more invitations. "Jumping in at the deep end" sometimes is the hard way to learn something but very often also the best way since real life provides real sceneries. We want to thank all press and radio people who so favourably gave us a platform to present our music to the public so far.
Happy listening,
Mona & Lisa top of page
Cenario III - Backbeat, Drive & Rock 'n' Roll!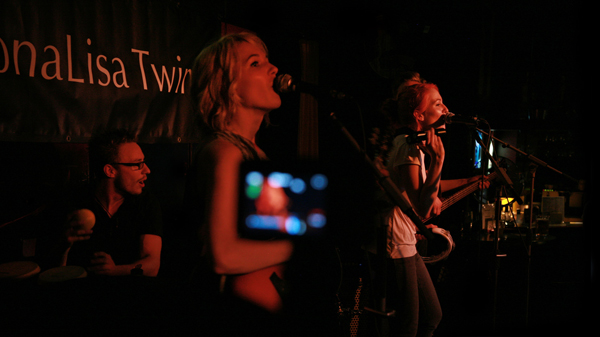 All good things come in threes so we played our 3rd and last show in the Cenario Club in Vienna yesterday.
Absolutely cool we found that some guests had detected us in Google's internet jungle and followed us all the way down to our website and Youtube right into the club. That's the kind of stalking we could tolerate more of!
We really enjoyed entertaining the audience and making them dance and sing again. And all the great feedback on our original songs confirmed and encouraged us to continue with our music exactly like we plan to do!
If some of you might want to experience us live too, you are very welcome to visit Scheune Hödl on July 20th at 8pm in Wittau. Things will get kind of intense there - we are planning a big show for our debut in our home area!
Let's rock 'n' roll Wittau - see you there!
Mona & Lisa top of page
College Party of Electrotechnical Institute of Technical University Vienna - New Video!
So when electrical engineers of Viennese Technical University make a party all hell is let loose! Great that we were allowed to join and play the whole evening for you. It was a pleasure for us again to find people with the same taste of music and to be able to thrill them. Obviously it was meant to be a wonderful evening as even the moody weather god seemed to like it!
We are happy to present you and our other fans a little best-of video of this awesome party. Hope to see you again soon!
Have a wonderful and well-earned summer,
Mona & Lisa top of page
Cenario II, this time with ZDF (one of the 2 biggest German Television companies)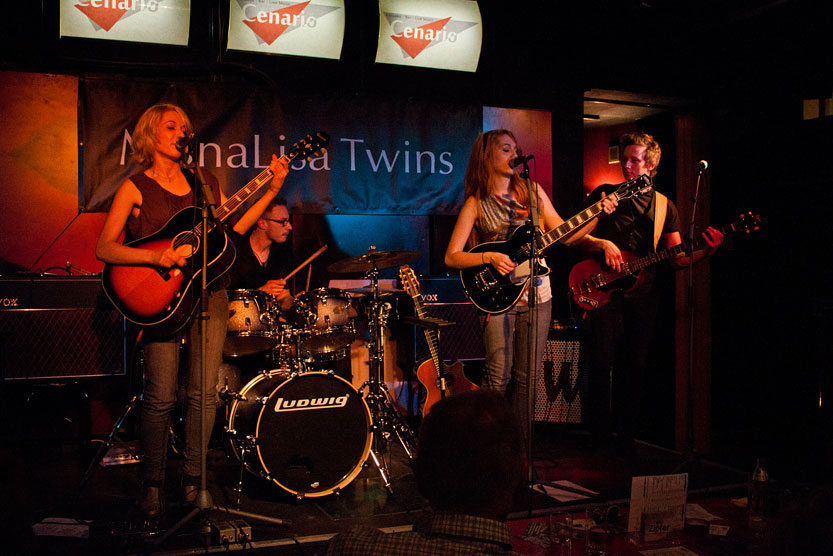 That's right! The German State Television company ZDF attended our live concert at the Cenario (Vienna). Mrs. Inken Jakobi (ZDF) came all the way from Munich to Vienna to film some footage for a MonaLisa Twins video report in their "ML monalisa" magazine - although we are Austrians! (Yeah - This was a little hint to ORF - Austrian State Television, just in case someone is reading this ;)
Today morning we already filmed the first part of the video on the riverbanks of beautiful blue Danube. Together with the Viennese camera guys Ralph and Michael we will continue at our studio tomorrow.
Thanks to our wonderful audience which we again could fascinate and which supported us so fantastically and also thanks to the pleasant and funny work with the filmteam we were able to expierience just another great weekend we won't forget for a very long time! Of course we will tell you as soon as we know when the ZDF show is programmed to be broadcasted. And we will post the video here on our website and on Facebook so that you guys will be able to watch it.
Another great pleasure for us was that one of our American fans, Brad from Iowa - musician himself, organized his travels for Europe in a way that he was able to attend this live concert! It was great meeting you!
Life is beautiful!
See you on cloud 9,
Mona & Lisa top of page
Busking at Viennese Danube Canal Festival 2012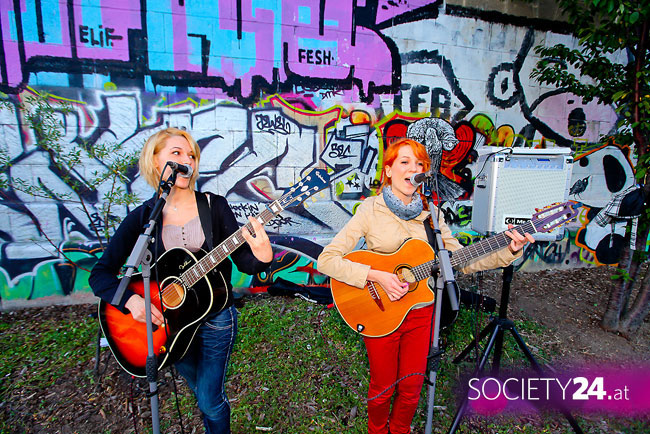 What are you doing when you get a neatly printed festival programme of the Viennese Danube Canal Festival 2012 for the coming weekend in your mailbox and you know that it's too late to get booked for one of those stages? No, you don't wait for next year - you make use of a Viennese regulation that allows busking at Danube Canal the whole year long, place yourself right in the middle of the hustle and bustle and just sing. Passers-by enjoy it very much and think that you are part of the festival. That's what we did this Friday.
Making music this way is a lot of fun because you are playing for the people who stop just to hear you sing. You get in contact with many nice folks, have some good chats, do a little promotion for your next concert. In passing you sell a few CDs, get a little money in your guitar case, some new names on the newsletter-list, run into the "Austria/Society.oe24.at" -photographer, ... But the best of all that: You perform for people who love exactly this kind of music and partially keep sitting on the quay wall right in front of you, intently listening to you the whole evening.
On Sunday we grabbed instruments and amps again, went down the stairs to the quai, ran right into a friendly guy who offered us to play on the terrasse of a Café instead of "on the street". An African drummer postponed his workshop for half an hour just to play us a perfect backing percussion. In the end we learned that the friendly and now enthusiastic guy was not the Café owner but the festival organizer! So we asked for his contact data to apply for a next year's stage. With big smiles on our faces we found our next spot to put up our mics and amps and continued playing. It was a wonderful weekend despite the changeable weather. Life is live!
Happy,
Mona & Lisa top of page
30 Mai, 1 + 6 June 2012
Press-Echo in 3 regional newspapers and wieninternational.at (Vienna international) online news
As a newcomer you can only wish for such a bombardement of press articles!
Big thanks to Mrs. Ursula Kremsmayer for her wonderful half-page article about us.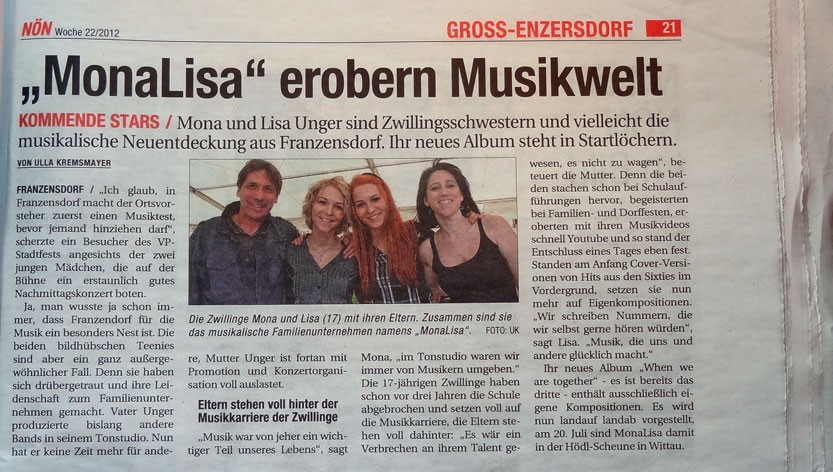 Translation:
"MonaLisa" take over the musicworld
RISING STARS / Mona and Lisa Unger are twins and may be the new musical discovery of Franzensdorf. Their new album is ready to take off.
FRANZENSDORF / "I think, Franzensdorf's mayor let's people take a musical test before they are allowed to move in", one of the visitors of the festival was joking after he saw the two young girls performing a surprisingly good afternoon show. Yes, we always knew that Franzensdorf is a very good home for music. The two gorgeous teens are a special case though. They were brave enough to make their passion into a family business. Until now dad Unger produced other bands in his recording studio but now there is no time for that. And mum Unger is henceforth busy with promotion and concert booking.
PARENTS TOTALLY SUPPORT THE TWINS' MUSICAL CAREER
"Music has always been an important part of our lives", Mona says, "In the recording studio we've always been surrounded by musicians". The 17-year old twins left school three years ago and are now completely concentrating on their musical carreer, their parents fully support them: "It would have been a crime not to try it, considering their talent", mum says. Because they already stood out in school performances, family and village parties and got very successfull with their music videos on Youtube, the desicion was clear one day. At the beginning they started off with cover versions of hits from the 60's but now they are focusing more on their original songs. "We write songs which we ourselves would enjoy listening to", Lisa says, "music that makes us and others happy". Their new album "When We're Together" - it's their third one already - only has original songs on it. It's now getting presented all over the country, on the 20th July you can get to hear MonaLisa in the Hödl-barn in Wittau.
The Photo article and the 3-column text (with a short note on the cover page by the way!!) in 2 different regional Austrian newspapers were written and photographed by Mr. Walter Vymyslicky.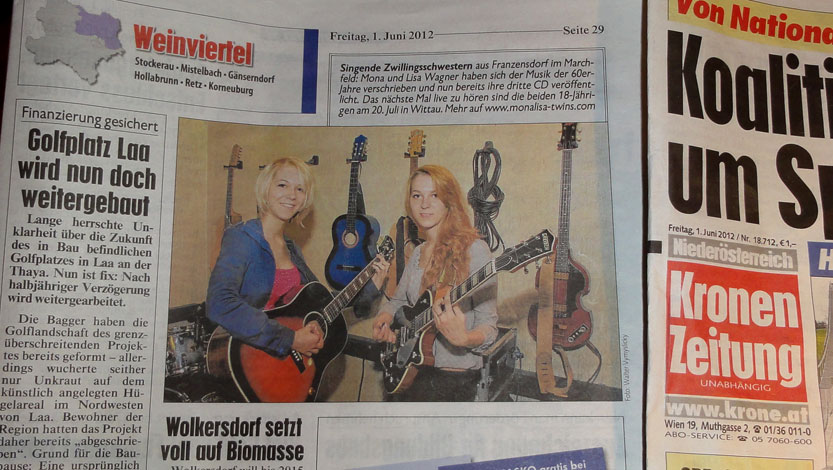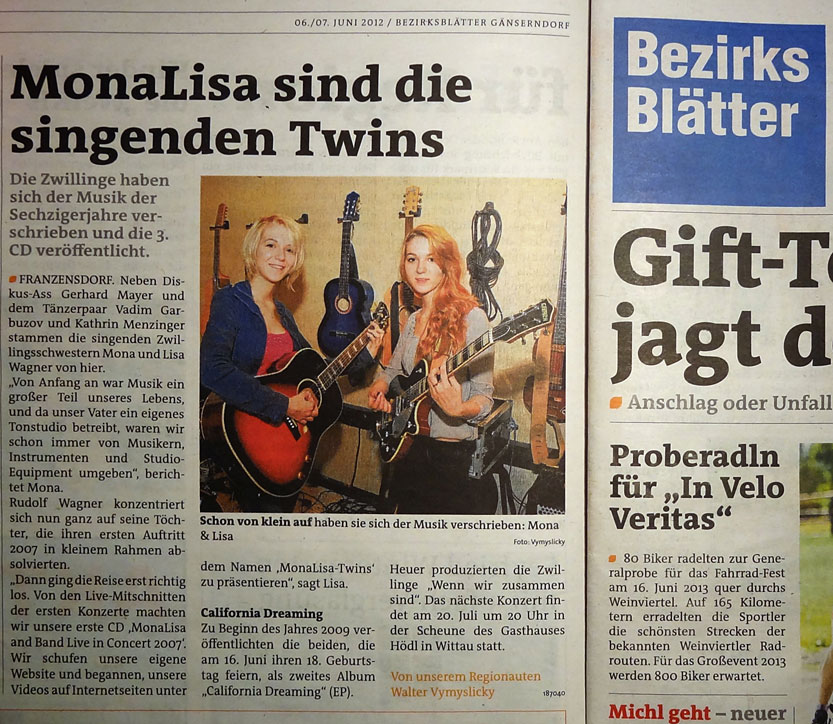 Translation of the 3-column article:
MonaLisa are the singing twins
The twins devoted their music to the 60's and now released their 3rd CD.
FRANZENSDORF. Besides discus-star Gerhard Mayer and the dancing couple Vadim Garbuzov and Kathrin Menzinger (Austrian "Dancing with the stars" show) the singing twin-sisters Mona and Lisa also come from there [Franzensdorf].
"Music has always been a big part of our lives and as our dad used to run a recording studio we have always been surrounded by musicians and studio equipment", Mona says.
Rudolf Wagner now only works with his daughters which performed their first concert back in 2007. "That's when the journey really started. With the live recordings of this first concert we produced our first album "MonaLisa and Band Live in concert 2007". We built our own website and started putting our music videos on the internet under the name of "MonaLisa Twins", Lisa explains.
CALIFORNIA DREAMING
At the beginning of 2009 the two girls, which will celebrate their 18th birthday on June the 16th, published their 2nd album "California Dreaming" (EP).
This year the twins produced "When We're Together". The next concert will take place on July the 20th at 8pm at the barn of the restaurant "Hödl" in Wittau.
From our regional autor Walter Vymyslicky
Mr. Hannes Höttl of "wieninternational.at" (Vienna international) online news did a long interview with us and another Austrian band. Under http://www.wieninternational.at/de/content/zurueck-die-zukunft-de you can read the whole text. We have no translation for that until now but you can use Google translator or similar tools. Like in all the other news we find ourselves portrayed in a very positive way.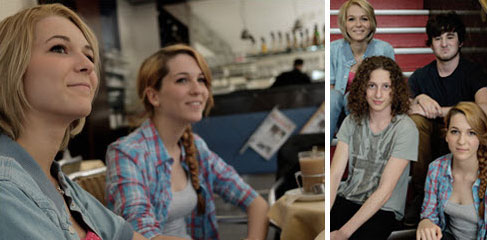 We thank all reporters very much for their interest in us, in our music and in promoting youth in general. We are very happy about this support!
Thanks,
Mona & Lisa top of page
Live at Mamas Bar and at Groß-Enzersdorf City festival (both Lower Austria)
We are very well in the trade - another weekend with two great conerts - this time at Mamas Bar in Kirchberg/Wechsel and at Groß-Enzersdorf City festival!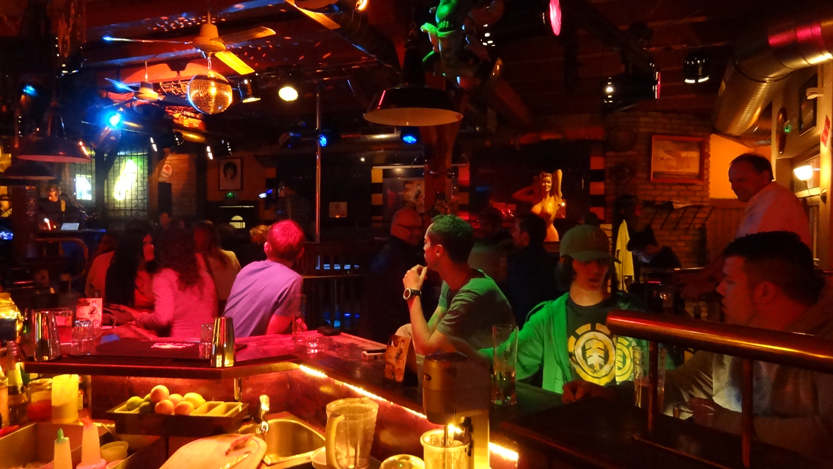 Mamas Bar in Kirchberg/Wechsel, Lower Austria is a very nice and comfy venue with a really cozy bar room and a beautiful new open-air lounge and bar. Owner Max and barkeepers Blaze and Michael were funny, smart and cheerful the whole evening which rubbed off on the guests. Never before have we been so generously hosted with food and drinks and mood-support like here at Mamas Bar. The audience and atmosphere were great and we felt very homelike. We are really looking forward to coming back! In fall/winter we will likely play there again, so if you are from this area make sure to check our live schedule regularly to not miss a new date.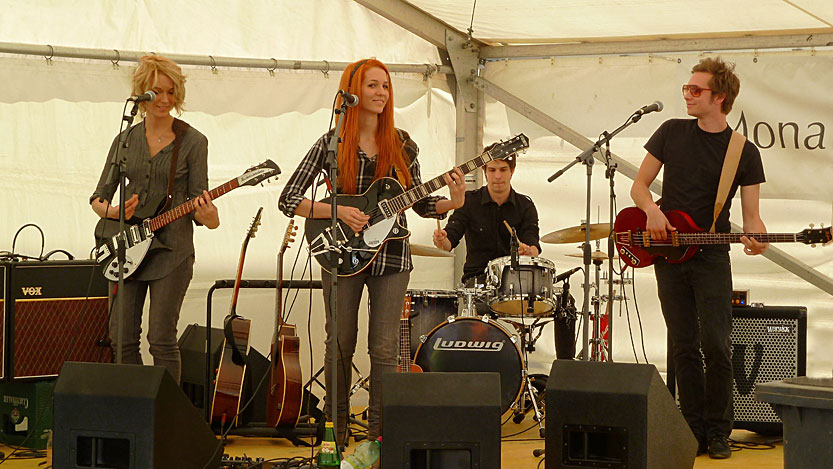 On Saturday we put up our "new" (used) big JBL sound system for the first time, namely in the big festival tent which was built up in the large castle yard of Groß-Enzersdorf. We were a bit lucky to play there at all. Actually we wanted to play a private concert at City ballroom, right next to the castle yard. But the city festival was on the same day, so their musicians and we would have played "against" each other. Thank God the festival organizer yet needed a band for the afternoon and we got booked. So everyone was happy, and this way many more people got to see and hear us. Now we are well known in our hometown, and many new bookings got initiated.
For more concert pics please visit our Facebook page.
Thank you,
Mona & Lisa top of page
Live at Cenario/Vienna and at Streetfestival Aspern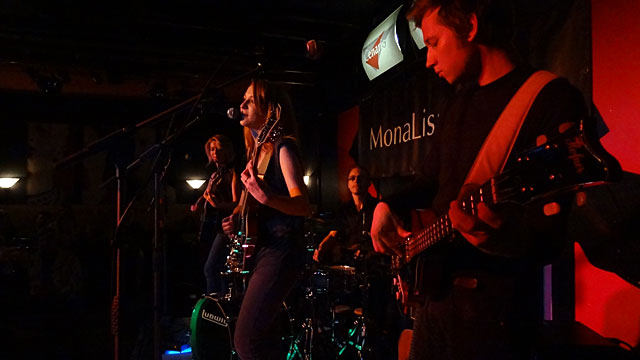 We had quite an exciting weekend with two gigs - one at Cenario/Vienna and the other one at the Streetfestival Aspern!
The atmosphere was terrific at Cenario, and we are really looking forward to playing there again on 8th June, 8 pm. Of course, all of you are more than welcome to visit us and bring your friends.
Saturday we played at Streetfestival Aspern which is a district of Vienna. We thank the organizers that we got the opportunity to perform a full MonaLisa concert on Saturday evening - instead of just 2 songs at the band-contest on Sunday afternoon. We also say thank you to the wonderful audience which kept faith with us despite the tombola, the well-known Viennese band on the second (main) stage and the little intermezzo with a torn string we had to fix. We are very happy that people liked our own songs so much and about all the praise for our music. As always we got actively supported by Michael Mozeth on the bass and Philipp Wolf on the drums!
Next weekend will be quite similar, we will play Friday night at Mamas Bar/Kirchberg and at a City Festival in our neighborhood on Saturday. That's how we really love it! We hope that we will get to see all our new listeners at one of our next shows. Please don't forget to reserve your tickets in time!
All the best,
Mona & Lisa top of page
Live at Replugged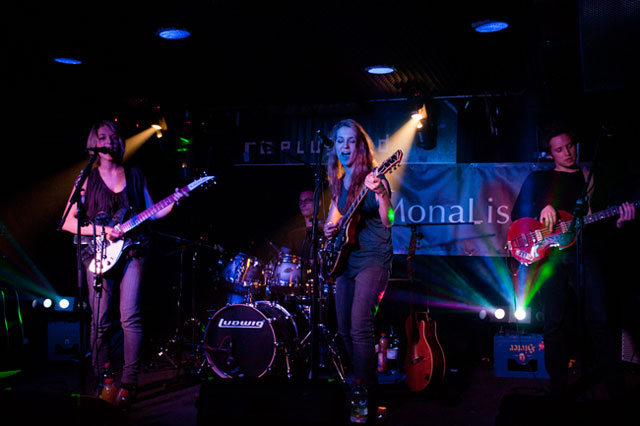 First full-length concert passed successfully! On Tuesday we played our first real show with our new band (Philipp Wolf - drums, Michael Mozeth - bass) at the Replugged in Vienna.
We had a real blast and we think we did pretty well. We're happy to be rocking the stages again and we want to thank everyone for coming to see us! We are looking forward to the next gig already and for those of you who weren't able to make it - reserve your tickets for our next show!
For more concert pics visit our Facebook page.
See you,
Mona & Lisa top of page
Live at May tree party Franzensdorf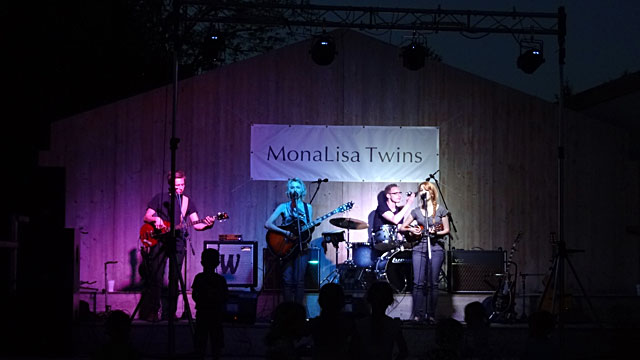 Today we played a short gig at the Franzensdorf May tree party that was organized by the youth. Thank you for your great feedback. We had lots of fun with you!
Mona & Lisa top of page
Live at Aera/Vienna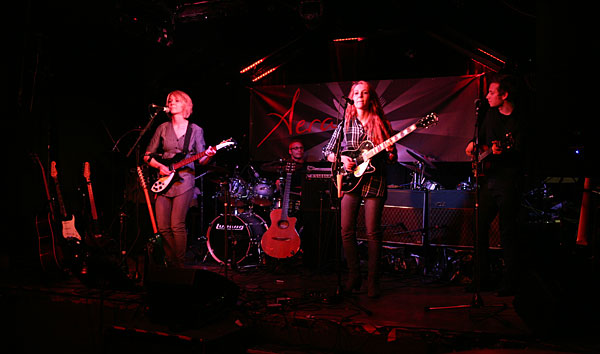 Just played a concert at the "Aera". A fun and successful first gig with Michael Mozeth on the bass and Philip Wolf on the drums! Thanks to everyone who listened and to "Part 7", the second band of the evening, for their great show.
Looking forward to a spring and summer with lots of live shows!
See you,
Mona & Lisa top of page
16 April 2012
Please vote us to the biggest Open Air Festival in Europe!
We are taking part in the "Rock the Island" band contest for the famous Viennese "Donauinselfest 2012". For this purpose we have uploaded 3 songs of our new album "When We're Together" (which you can listen to in full lenght there). This festival is Europe's biggest open air, and the 4 winners get the chance to play a live concert at one of the largest stages, sponsored by Austria's biggest radio/TV station!
What we now need is votes! Each one of you can vote once a day for each of our songs, until May 24 2012. The 8 bands with the most user-votings will get rated by a jury. The 4 bands with the highest totals will then be invited to play on June 23 or 24 in front of thousands of people.
So please forward the following link http://rock-the-island.at/stage/radio-wien_hitradio-oe3/monalisa-twins to your relatives, friends, band-, club-, school-, study- and working colleagues and ask them to vote once a day for our 3 songs. We caught up a lot but we need to make it under the first 8 fast!/p>
With this link http://rock-the-island.at/#!stage/radio-wien_hitradio-oe3 in the section "Meistgewählte Bands" (most voted bands) you can always see the current rank. We currently are rank 10, so we have a realistic chance. But now it gets really tough and we still will need to stay within the first 8 until May 24.
How to register / login / vote:
In the upper left corner of the website, click where it says "Login/Registrieren" in the blue-green bar.
1) You can login with your Facebook Login, scroll down to the songs and vote for each one of them.
2) You can register with your e-mail address: Click orange button "User registrieren", fill in username and e-mail, check the small box "Teilnahmebedingungen" - which is terms of use and say "registrieren"). Then check your e-mails for the password, go back to "Login/Registrieren" at top of page, fill in your username/password and say "login".
Scroll down to the 3 songs and press the "vote" buttons. You are allowed to vote once a day for each song. Then you are barred from voting for the next 24 hours. E.g. if you vote at 8:00 am today you can vote again from 8:01 am tomorrow. In order to not miss a day of voting, best is to have a fix time where you are usually on your computer. If you attempt to vote for a song more than once a day you'll get the German message: "Du hast heute schon auf diesen Song gevotet." which means you have already voted for this song today. Another note: This website is not the fastest, therefore it can take up to some minutes till you see your vote, but your vote does get counted!
We know it's all German but we trust in your intuition to find the right buttons :). We hate to tout like this but in such a voting system the "best" 8 bands will be the ones with the largest and busiest fanbase. Playing at this festival is one of the most effective ways for a newcomer band to get known in Vienna and across its borders at one stroke. Usually bigger things like radio, TV and more concerts would follow.
We have noticed happily that most people who listen to our music really get enthusiastic about it. So we need to reach a broader audience! Please help us with that and give us your daily votes!
Thank you,
Mona & Lisa top of page
15 April 2012
Radio 88,6 – Interview with live performance
Tomorrow at about 7 pm (CET) there will be an interview with us on the Austrian radio channel 88,6. You will get to hear a live version of our song "I Don't Know Birds That Well" (track number 4 on our new album) which we performed right at the 88,6 studio. They will also play "This Boy Is Mine" (track 3) from the album. 88,6 is one of Austrias most polular radio stations! We are really happy about this and want to thank Markus Binder for the great interview. You can listen to 88,6 on webradio. So don't forget - Tune in on 88,6 on Monday (April 16) at 7 pm CET!
Take care,
Mona & Lisa top of page
13 April 2012
Puls 4 – Café Puls morning TV show - Video!
Two days ago Plus 4 TV brought a video clip about us in their morning show. For all of you who could not watch or not even receive it, here's the video - we added English subtitles.
Have fun,
Mona & Lisa top of page
11 April 2012
Puls 4 – Café Puls morning TV show
Last week an Austrian TV channel shot a video interview with us for their daily morning show. From the 4 hours footage they cut a 3 minute clip that will air tomorrow (April 12). It will all be in German and on European channels, but for those who want to see us on TV though, we'll try to post it online as soon as we got our hands on the video material. So keep an eye open for it here on our website and on our Facebook page.
Lots of love,
Mona & Lisa top of page
4 April 2012
Live Shows scheduled!
Meanwhile we have quite a nice list of venues where we will play live concerts in the near future, including some open airs. We are doing lots of rehearsals with our band right now and it is pure fun! If you happen to be in Vienna and environs during the summer, why don't you have a look at our event schedule and visit us? Indeed we have one overseas person confirmed already! You could definitely take us by surprise too.
In case you have friends in Austria (or surrounding countries) who could be interested in one of our concerts you can send them a note via our Facebook-Events that we created for people to easily invite their friends.
See you,
Mona & Lisa
top of page
14 March 2012
We proudly and officially present our debut album "When We're Together" and the new website!
Finally, after months of very intensive work, our debut album "When We're Together" is out and ready to order! We know, some of you have been awaiting it for a long time and we are SO excited to finally be able to share it with you. The CD contains 11 original songs which we wrote over the last two years. It was the first time we really got into song-writing and we are very pleased with the outcome. We even made a little trailer for you so you can get an insight and feeling of what the songs sound like.
Also welcome to our new website! Do you like the new design? It is all themed around the album project and you can now watch all our videos, listen to the audio samples, buy your favorite CD and easily download the songs.
You can't believe HOW glad we are to have come to the point where we can present you everything we've been working on for so long. We four went through a lot of rough times during both, CD and Website making. We thank our stepmum Michaela a whole lot for giving our website such a great makeover and our dad for his support in song-writing, the engineering and the producing of our CD.
Now dive right into it and tell us what you think!
Much love,
Mona & Lisa top of page
23 February 2012
The CDs are here!
Yesss, the new CDs are here! Today the truck arrived and a nice man unloaded a whole pallet of boxes full with copies of our new album. The packing list said: Weight 1100 pounds! Of course we immediately opened a box and proof-listened a CD. Thank God! No errors found - neither in the booklet nor on the CD itself.
We know it's teasing to tell you but you need to wait a little more! It might help you to know that this bugs us just as much as you since we are really curious about your feedback already. But we hope that you'll understand that we don't want to release our first own album on the old website but on our new one which is a lot more professional too. It will have a beautiful design, lots of audios, videos and pictures and even a real professional shop with shopping cart, shipping cost calculator and several payment methods, where you can buy our CDs and downloads.
As always, whenever you work with computers, software and servers, there are lots and lots of troubles. Whenever we fix one issue there are 5 new ones popping up. Unfortunately we are no web professionals, so it's basically all learning by doing. But we don't give up, we want our website to work on all browsers and even Apple devices.
We are working day and night so we can release the album as soon as possible. Thanks for all the nice and encouraging letters! It seems like our fans are getting used to being patient but we promise you'll be rewarded soon!
Much Love
Mona & Lisa top of page
10 February 2012
Album is at the Pressing Plant!
Finally our new album "When We're Together" is at the pressing plant! Now we can't change a thing about the content anymore - can't make a Snare louder or a guitar more quiet. After pretty much 2 years of dedicated work it is done!
It is a little bit nerve-wracking to know that they are making so many CDs and in case we made a mistake it would be on every single one of them. But at the same time it's very relieving and good to know that the studio- and artwork of the album is now completed. We proof-listened to the recordings over and over again, making sure that we brought the best out of every song.
We dare to say that some of you guys are really gonna enjoy our new music. We personally are very proud of the outcome. We also put a lot of effort into the whole artwork of the CD - in the booklet you'll find a page with photo and lyrics for every individual song!
Before we are going to release the album and start with the live shows there is still a lot to be done. We need to get the website ready, with all stories, photos, videos, audios, download-files and shop-features, film the first music videos/trailer ... I'm sure we won't get bored.
Lots of love,
Mona & Lisa top of page
15 December 2011
Music and Pizza
We just wanted to give you a quick update on what is going on at the moment. As you might have already heard, we finished the recordings for our new album "When we're together" a couple of weeks ago.
It's going to be a CD with 11 original songs and at the moment we're still mixing them, which is quite a tricky business.
It's like you've got all the ingredients for a great meal and now have to find the perfect recipe for the "fine-tuning". You pretty much know how it's supposed to taste in the end but in order to get there you have to find the right spices and figure out the right cooking time etc. You can prepare a meal with the same basic ingredients in a 100 different ways and it will taste completely different each time.
When you eat pizza you wouldn't want the dough, the tomatoes, the ham, the cheese and the spices served separately. One that's shredded in a blender won't make you happy either. Sorry for our rambling about food here, seems like we are just a little hungry. That makes us think about the guitar track as a piece of bacon ... anyway, we are still working to make each song as tasty as possible.
Besides that, we're spending the rest of the time working on the album layout (we're shooting individual booklet fotos for every single song) and a completely new website with a whole bunch of new features.
We know you don't really see us doing much but believe us, we're working like crazy behind the curtain which we will drop soon!
Again thanks for your patience, we're now going to order some Pizza and certainly won't blend it.
Cheers,
Mona & Lisa top of page
2 December 2011
Paul McCartney concert
Yesterday was SUCH an amazing day! We flew to Cologne/Germany to see a 3 hours concert of Paul McCartney at the Cologne Lanxess Arena. We're still overwhelmed and a bit dizzy in the head but the 3-hour concert already owns a spot in the "5 best moments of our live" ;)
For us it was so great to see our biggest idol and the man we look up to the most live on stage so we're still running around the house with the biggest smiles on our faces. We'll certainly never ever forget that day!
Before the concert we met up with a lovely local fan and today (before we the took the plane back to Vienna) we visited the new "Music Store" in Cologne which moved and is even bigger now. You could probably spent days in there!
We just came back from the airport and we'll go to bed soon but we just had to tell you about this first!
Tomorrow it's time to get back to work!
Mona & Lisa top of page
20 November 2011
We're close to being finished!
We just came back from a photoshoot we did for the CD booklet of the "soon the be released" album "When we're together". At the moment we are working simultaneously on the CD cover/booklet design, the new website/shop and of course on mixing the songs. We are doing very well and the end is definitely in sight! We will let you know as soon as you can start pre-ordering the album!
Mona & Lisa top of page
3 November 2011
Recordings Finished
Today we finished all the recording work so we can now start mixing! Even though you didn't get to read that much on our website lately we are still working hard on our new music and we can't wait to present you the new album. More details will be announced soon! Until then, have a great time, stay happy and healthy and keep smiling!
Mona & Lisa top of page
5 September 2011
Album Recordings nearly finished
Hey guys! The album work is going along really well. We did a lot of experimenting with some new equipment and vintage gear we got (also guitars) and we are getting closer to the sound we have in our minds.
Unfortunately there have been some unexpected things coming up the last weeks that delayed work a bit but we are enjoying making this CD a lot and really try to make it as good as possible.
You can follow us on Facebook and Twitter to stay up to date and of course subscribe to our newsletter. It's an easy way to talk to us and stay up to date and get to see some new photos and background info. More details will be announced soon!
Take care!
Mona & Lisa top of page
20 June 2011
CD Production Update
The last couple of months we have been working on our new album with original songs. We finished writing all of the songs and have recorded a lot of them already. As usual we're working in our own recording studio with our Dad as the producer. It's lots and lots of fun and we thank you guys for sticking with us even though we haven't released much lately. We are working hard on the new CD though and are looking forward to presenting it to you. We'll hopefully have it finished in a couple of months!
Have a great time,
Mona & Lisa top of page
18 April 2011
While my guitar gently weeps - New Video!
Late night show - It is 5 o'clock in the morning as I am writing this (Yes, I'm forcing myself to write this NOW ... more authentic ;)). Lisa is at the studio with Dad giving the new song "While My Guitar Gently Weeps" the finishing touch. We worked all night as we are leaving tomorrow (well, today actually) for a short holiday with our little cousin.
For the video we used a lot of footage from our trip to the Frankfurt music trade fair and the Musicstore Cologne. The rest was filmed in our studio. The guitar parts were quite challenging but it I think they turned out pretty well. Thanks to our guitar teacher for letting us borrow his custom Fender! (Our Stratocaster-like guitar doesn't have a decent Tremolo).
It was a great song to work on and we tried to make it sound close to the original with a bit of a MonaLisa signature. The new video will be up by the time you read this. Enjoy, and let us know how you like it!
Mona & Lisa top of page
13 April 2011
Back home in Austria
Our trip to Germany (to the Frankfurt music trade fair and the Musicstore in Cologne) is over and we're back home again. We really enjoyed it and learned extremely much about guitars and technical stuff. We're now going to look through all the flyers, information and booklets we got there, have saved all the photos and started recording a new cover song we want to make for you, taking some of the video footage from our trip. We are using the new guitars we just bought and which sound awesome so far. In a few days we'll start cutting the video and in about a week you should be able to watch it online. Fun, fun, fun!
Mona & Lisa top of page
8 April 2011
Music Trade Fair Frankfurt
Today was the 2nd day at the fair. We'll still be here tomorrow and then leaving Saturday morning. This was beyond our expectations ... We knew the fair was gonna be big but this is MASSIVE. There is just SO much to see! We spent the whole first day in just one building and there are like four or five of them. It is a lot of fun here - we are learning about a lot of stuff and got to test even more awesome guitars. We also decided that we wanted to do another cover song for you (as it will still take a while until you'll get to hear the originals) so we are filming some things that we could use for the next music video. Won't tell you the name of the song yet ... get excited!
Mona & Lisa top of page
5 April 2011
Musicstore Köln (Cologne)
Today we spent the second day at the Musicstore in Cologne. It's amazing here! We tested SO many guitars and stayed in the testing room for pretty much the whole day. We got to try out nearly everything we are interested in and now have a really good overview about what we need in order to get the sound we want. It's really late at night here as we also visited the Vintage shop "Musikkeller Dorsten" after the Musicstore had closed. It's a rather small Vintage shop (which we didn't know before) in the north of Colougne that someone from the Musicstore recommended to us. It was insane! SOOO many old guitars and basses! Of course we couldn't leave empty handed ...
Mona & Lisa top of page
31 March 2011
Germany's waiting
We're going to Germany! Last week we decided that we wanted to visit the Musikmesse Frankfurt (a big trade fair visited by thousands of people every year). We have never been there before and want to get an overview about what's happening on the instrument & recording market. We will be there on the 6th, 7th and 8th of April. If anyone of you will be there just let us know so we can meet up.
Before we go to Frankfurt we'll also stop in Cologne for two days (4th and 5th) and visit the "Musicstore Cologne", Europe's biggest music shop. We'll test lots and lots of guitars as we discovered recently that many instruments we wanted to try out are just not in stock here in Vienna. Again, if you live in Köln, let us know!
We are super excited!
Mona & Lisa top of page
4 February 2011
All I have to do is dream - New Video!
We finally made a new cover video! Last week we went on a skitrip to Salzburg/Austria and decided to record a cover song there as we had to make a break from working on our new album at the studio back home. It's a classic by the Everly Brothers which has a lot of nice harmonies: "All I have to do is dream".
We recorded it live in a little room of our holiday house where the acoustics were quite nice. We also went outside and shot some footage to cut in the video. It snowed a lot while we were there so we had the beautiful white alps as a pretty background scenery. Even for us it is always amazing when we visit the western part of Austria with all the mountains and snow. We can't wait to go back there next winter ... Unfortunately there are no alps in Vienna.
We hope you like the video.
Lots of love,
Mona & Lisa top of page
24 December 2010
Merry Christmas!
We want to wish you all a Merry Christmas and a Happy New Year.
We've been writing more songs lately and started to do some proper recordings. It's going really well at the moment, even though you guys didn't get to see that much of us in the last time. Thanks for your patience though, we're sure it will pay off! Enjoy this peaceful time of the year,
Mona & Lisa top of page
19 September 2010
Until today we have had Youtube players embedded on our website. We've now uploaded our own players to be more independent. So in case we get in troubles with Youtube again, you'll always be able to find the videos here on our website. In the future you may find clips here which are NOT on Youtube so keep your eyes open for ML video specials!
Mona & Lisa top of page
5 August 2010
We're going to Croatia for a week and thought of something we could share with you guys before we leave. We had the opportunity to go to a Simon & Garfunkel concert in 2009 and have been playing their song "Mrs. Robinson" for the last couple of months. We thought we might as well film it and share it with you. We hope you like it and wish you a wonderful summertime!
Mona & Lisa top of page
6 June 2010
This is the 2nd Beatles video of the series of covers we did in Liverpool. We stayed there during the "Beatles Festival" and used the opportunity to film a couple of videos. We just finished "In my Life" which is one of our favorite songs written by John Lennonbecause of its words and honest message. We knew it was going to be hard to obtain the "light" but melancholic feeling that the original has but we tried our best and made it our own. We decided to make it more an acoustic version and think it turned out well. The scenery of Albert Docks and Liverpool harbor was just amazing and suited the song perfectly.
This is our tribute to the Beatles, the most significant band in the history of music!
Peace & Love
Mona & Lisa top of page
4 April 2010
Wonderful world - New Video!
A quick new cover video for you? We started to write some original songs and already began to record some demos. That the gap between new releases won't become too big we played a little song for you in our backyard. We're singing "Wonderful World" (made popular by Louis Armstrong), only using two guitars. That was kind of a spontaneous thing. We hadn't been in the backyard for a couple of days and when we went outside this morning there were thousands of dandelions growing on our meadow. It looked so happy and peaceful that we just had to sing about what a wonderful world it is we are living in. So sit down, listen to it and relax!
Make this world a wonderful world,
Mona & Lisa top of page
23 December 2009
Ho, ho, ho! Merry Christmas!
Today, one day before Christmas, the temperature rose from -10 to +10 degrees Celsius (from 14 to 50 Fahrenheit) and all the snow that has fallen the last days has melted - what a bummer! It doesn't seem like we will have a White Christmas this year so we hope you're having more luck. However, we still wish you a MERRY CHRISTMAS! It's known to be the time of love and peace, and we wish you both with all our heart.
Now, have a wonderful, peaceful Christmas eve and a fun New Year.
May all your dreams come true,
Mona & Lisa top of page
1 October 2009
We came back from our trip to Liverpool about a month ago and have been working quite a lot since. We went there during the Matthew Street Fesival / Beatles Week and took the chance to film some videos for a couple of Beatles songs. Here we want to present you the first of our Beatles covers: "Blackbird". We will release one every couple of months (if we can fit it in between working on our original music) so stay tuned for the other ones.
Shooting the Blackbird video was a lot of fun. Some of the scenes were done in Sefton Park and on the Liverpool Cathedral. The inside shots were recorded in our apartment. We are quite proud of the outcome, so let us know what you think about it.
Take your broken wings and learn to fly,
Mona & Lisa top of page
29 August 2009
Liverpool, here we are!
We are in Liverpool and it's even better than we thought it would be. The town is much prettier than we had expected and the people are lovely!
We have already shot most of the videos scenes we have planned for a couple of Beatles songs and have been to all the sights, Beatles museums and tourist attractions. Now it's time to enjoy the Mathew Street Festival / Beatles Week for the next couple of days. It has started today and the atmosphere is great. There are two stages just 10 minutes away from our apartment so we spent the day checking out the various bands and acts. Going out at night is quite stressfull right now as the streets are litterally stuffed with people and it seems like we are the only sober people in town right now. We wonder why people go to listen to great music but then get so drunk that they won't remember anything the next day anyways ...
Oh well, we are having a fun time anyways and being surrounded by such good music can only make you happy!
Lots of love,
Mona & Lisa top of page
10 Juli 2009
Liverpool & Beatles
Waking up hasn't been better in a long time ... Today we got out of bed and on our desks we found tickets to Liverpool! As you probably know we are huge Beatles fans and we've always wanted to go to the Fab Four birthplace one day. We didn't know it would happen that soon though!
Anyway, in two months our parents (God bless them) and we will go to Liverpool for 10 days. At that time the Mathew Street Festival / Beatles Week will take place so there is going to be a lot of live music on many stages in the city! Like we did with our California Dreaming project we will also shoot some music videos there for a couple of Beatles songs we want to cover. The next weeks that we're still at home we will record our favorite Beatles songs at the studio and then shoot the videos when we get there.
When we return back home we will put music and video together and you'll get to see the results! We are sure it's gonna be a great trip and can't wait to go. Send us a message if you are in Liverpool for the festival at that time too, so we can meet up.
Have fun, fun, fun,
Mona & Lisa top of page
5 July 2009
Goodbye, Down under! - New Video!
After a 6-months student exchange in Australia we are now back home in good old Austria. It was really good to see our family and Austrians friends again but on the other hand we had to say goodbye to so many beautiful people in Australia. That was kind of sad as we simply had an amazing time in Adelaide, learned a lot for life and made such good friends. But we know that we will see them again one day. Who knows - maybe we'll do a world tour through Australia in ten years time?
When we went to high school in Australia we had an "International Day" going on and our music teacher there asked us if we could perform a German song together with some other foreign acts. We chose "Jetzt ist Sommer" (It's summer now) by the "Wise Guys" and performed it in front of nearly 3000 students. Now that we are back home we took our time to film a proper version of the song at a little lake behind our house and cut in some short clip fragments we filmed during our stay in OZ. This video is for all the amazing people we had the pleasure to meet!
Love,
Mona & Lisa top of page
13 April 2009
Updates from Down Under - New Videos!
Hey everybody!
Long time no see. Sorry that we haven't talked to you in quite a long time but we've just been inhaling our time here in Adelaide / Australia. We love it so much and thinking about leaving makes us sad already. We made such good friends and had some great experiences. We love the people, the weather, the Aussie-lifestyle, our host families and even our school is great.
At highschool we're doing a lot of really cool subjects such as music, art, drama and dance, we take guitar and voice lessons and are in the choir and the guitar ensemble. We had a couple of performances here already.
Easter holidays ended a couple of weeks ago and during those two weeks our parents have come to visit us! That was great because we missed them a lot. We had an amazing time driving through the outback and visiting Uluru (Ayers Rock) and other cool places in the Australian wildlife such as the opal town "Coober Pedy" or "the Olgas".
We also recorded "8 Days a week" by the Beatles and "I'm Yours" by Jason Mraz at the Ayers Rock so that we have some new videos at a fun location for you to watch on Youtube and our website. We played the songs kind of "inside" Uluru which basically means that there was a little cave where the acoustics were amazing. We did not need any amplifiers or mikes because the sound in this cave was great as it was. By the way, we played the songs on our new guitars we bought here in Adelaide. That's two "Maton" steel strings, one of them is a 12 string. We've never played on a 12 string before but when Lisa first tried it she fell in love with it's great sound instantly and just had to get it.
We also went busking a couple of times with the new guitars and two small amplifiers we also bought there. It is very easy to get a busking-license here compared to Vienna and it is a lot of fun plus we're earning quite a lot of "pocket money". So on weekends we sometimes pack our stuff and go to the main shopping mall "Rundle Mall" where we play for about 1-3 hours. We've met a lot of other great musicians that way and it helps staying in shape musically.
Even though we love it here so much, we're missing our family and friends back home so we're sending many kisses to Austria!
Lot's of LOVE to everyone!
Mona & Lisa top of page
24 January 2009
MonaLisa on Air!
G'day mate how 'ya doing?
As you may know, we're in Down Under at the moment but today we're going to be on a show for an Austrian Radio Station! How that's even possible? Last December "oe1 campus Schülerradio" (Pupil's Radio) asked us if we wanted to do a radio show about our music. We have worked on a school project together with that radio station where we got to know each other. We recorded a show and they said it's gonna be on air on the 24th of January which is today. It's in German, so sorry for all the English speakers out there.
Mona & Lisa top of page
1 January 2009
We're leaving – in a good way :)
First of all we want to wish everyone a Happy New year - let's hope it'll be a good one.
For us it's going to be really exciting - that's for sure because WE'RE GOING TO AUSTRALIA!!! We will be on a half-year student exchange in Adelaide / South Australia.
Our plane will leave in 3 weeks and I guess you can imagine how excited we are already. We've been planning on that for 6 months but time went by really fast. We're gonna live with two separate host families so it will be easier for us to improve our English and get more confident with the language. That way we wont speak German to each other all the time. English simply is the universal language and in order to write good song lyrics we need and want to be able to talk properly.
The school we're going to attend is called "Charles Campbell Secondary School" which is offering a lot of musical and performing arts subjects. We are SO looking forward to our stay as we just love to travel and to meet new people and places.
Just so you know, we won't be able to do any recordings while we are gone and it might be a little break regarding releases and muscial projects. But "English wise" we'll get ready for later ... We will try to post some updates from time to time though!
Let's meet the kangaroos!
Bye bye for now,
Mona & Lisa top of page
10 December 2008
"California Dreaming" - Released EP + New Videos!
Today our new EP gets released! The album contains three songs - "California Dreaming", "San Fransisco" and "Hotel California". We recorded them at our Dad's studio at home in Austria. The Sax is played by our stepmum Michaela, our Dad recorded the bass and the keyboard and we (Lisa and I) did all the singing and the other instruments (guitars, drums). Our Dad produced & recorded the EP and mixed and mastered all of the songs. The album art was done by Michaela. It really was a whole family project :)
As we told you in earlier news-updates we filmed the music videos for the songs in California. We then recorded the music at home in Austria. To work on that EP and to shoot the videos was a whole lot of fun and we learned a lot of new things about filming and recording. It was definitely a good way to improve in the studio! We also want to thank YOU for sticking with us and send love to everyone for their support!
Get the EP now in our webshop, at AMAZON, ITUNES and CDBABY!
Take care,
Mona & Lisa top of page
27 July 2008
California Video Shoots
Hey guys! The last three weeks our Dad and we have been shooting the music videos for "California Dreaming", "Hotel California" and "San Franscico".
While doing so we have been horse riding, motorboating, busking & dressing up, whale whatching and went to Hollywood, San Fransisco, Palmdale and many different beaches.
It wasn't always easy to find the right location to shoot but with the help of local friends we always found the place we were looking for. Shooting was a LOT of fun and we got to see many different places and met quite interesting people. We didn't have a script or anything planned out - just our imagination and individual ideas that we wanted to realize in those videos. I think that is going to make the cutting of the video really interesting. We have a whole lot of cassettes with footage on them and as soon as we come home from our trip we will start working on them. For the music video of "California Dreaming" we might also shoot a few more scenes back home in Austria, for the "All the leaves are brown, and the sky is grey" – part ;). We are looking forward to the final outcome and hope you'll have as much fun watching them as we had doing them. You'll get to see them in a couple of weeks.
Love,
Mona & Lisa top of page
10 July 2008
Gig at Laguna Beach Tomorrow
Finally we're in California and once again it is just amazing here. We've already made some friends who also do music, and played together at their "Independence Day Party" which was lovely. Tomorrow we'll play at the Hennessey's in Laguna Beach at 8:00pm and we'd love you all to come.
The address is 213 Ocean Avenue and it is a really nice pub with good music. Thanks to John for organising us that gig. He will play there too, together with Mike Vitale. These guys are great - check them out! (Links)
And on the 11th (the day after) we'll play at the Sol Grill restaurant in Newport Beach at 8:00 pm where we played already last year. The address is 110 McFadden Place. You're all very welcome to stop by.
At the end of this week we will start to shoot some footage for the California related music videos that we are planning to make during our stay. Wish us luck!
See ya,
Mona & Lisa top of page
1 July 2008
MonaLisa go America - again!
Hey there, guess what?! We're going to America AGAIN! But this time not only for vacation but for actual work. "Work" in a good way though.
We want to combine our this year's vacation with a musical project which we are going to call "California Dreaming". The idea is that we record the 3 California based songs "San Francisco", "Hotel California" and "California Dreaming" and shoot some music videos for them right IN America. We'll then make an EP with these songs and put the videos on Youtube and our website.
It is going to be great and we are really excited!
Have a good day and see ya soon!
Mona & Lisa top of page
9 June 2008
We're in the "City & Life" Magazine
Hey, exciting update! "City & Life", an Austrian magazine wrote an article about us and our music. The mag is free and you can find it in most schools and public buildings in Austria. You better get one and show it everyone because it is pretty DAMN cool that we're in it!
We got that opportunity because Mona was at the "City & Life" editorial department for "work experience" days earlier this year. That's a program our school offers every now and then where every student should find a place to work for a week. The staff was really nice there. Mona told them about our music so they wanted to write an article about us.
And here it is! If you have the chance try to get one!
Cheers,
Mona & Lisa top of page
29 May 2008
Videoclips on our Website & Youtube
We finally finished cutting ALL clips from the MonaLisa Concert in October 07. We uploaded them on Youtube and you can watch them on our website as well. It really was a lot of work (mainly for our Dad) to cut the music videos for 24 songs but we are really pleased with the result and hope you are too.
You can find us on Youtube under "MonaLisaTwins". Write comments and subscribe if you want. Let us know what you think about the clips and show them to your friends if you like them.
All the best,
Mona & Lisa top of page
26 April 2008
Making music videos
Good Saturday morning everybody! We have some great news! Do you remember the CD we released a couple of weeks ago? Well guess what - we are now making music videos for those 24 tracks. At the two concerts in October we had four cameras filming the show. We now collected all the tapes and our Dad digitalized them and started to cut some videos. The clips should be finished in about a month and we can't wait to share them with you. We hope you'll like them.
We'll keep you updated. Much love,
Mona & Lisa top of page
18 December 2007
"MonaLisa & Band Live CD" Release
Yippy! Our new (and first) album is released! It is a double CD and has got 24 songs on it, the ones we covered with our parents and performed for our family, friends and people we know. We finally got the CDs from the pressing plant and you can now buy it at our store here on the website or on Itunes and Amazon!
Of course we'd love you to order a copy as we're sure you're not going to regret it? 24 songs really is a lot of music! The album art is designed by out stepmum Michaela and our Dad did all the recording, mixing & mastering with us. The whole process of making a CD was really new for us but it was so much fun that we can't wait to do a second one.
We hope to see you soon with some more updates!
Mona & Lisa top of page
17 November 2007
Studiowork – MonaLisa CD
We told you about the CD we are gonna make until the end of this year. We live-recorded the two concerts we did in October and are now putting it all together to an album. We re-recorded a few tracks again but tempo and most of the things you hear are still from the live concert. We coulnd't use all of the recordings as our mixing console (with which we recorded) had problems with one of the "cards" in it so it didn't record a clean sound. Some of the tracks just had these funny whooshing noises on it so we had to record them again. Still, the tempo and most of the tracks are the original live recordings from our concert in October.
We are quite proud of what we have so far but we (and especially our Dad) still have quite some work ahead of us. The CD should be finished before Christmas though and you can pre-order it at any time by contacting us. We are looking forward to releasing it!
Stay tuned,
Mona & Lisa top of page
9 Oktober 2007
Our first Live concert
We did it! Last week we had our first two live concerts and it was great! The last months we had been practicing so much and it was definitely worth it. We had two shows, one on the 29th September and a second one the 5th of October. All in all there were about 150 people coming! For us that is just unbelievable.
We now know that we really want to do music for a living later - It's just so much fun to play live and to see that people like it.
We played 24 songs from all kinds of bands and all kinds of eras starting with The Beatles and The Troggs right through to Deep Purple, James Blunt, and Falco. Looking back to it now we really learned a lot during the last months. The fact that we covered many various songs made us learn a lot of different techniques and styles on both the guitar and the drums. Mona even played the keyboards in one of the songs!
We recorded the two concerts and hopefully will be able to have our first Live-CD done by the end of this year. We got a lot of pre-orders already so we will try to release the CD as soon as possible so you guys can also buy it on the website.
We want to thank everyone for coming and we hope to see you and even more at our next concerts.
Peace and Love to all of you,
Mona & Lisa top of page